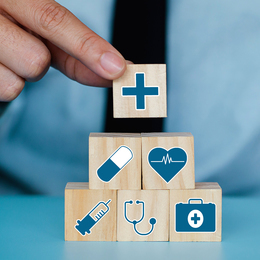 Health Care Roundup
Health care news in our region - May
On April 6, plans to convert a former Dick's Sporting Goods building into Inspira Health medical offices and a surgical center were unanimously approved by the Deptford Planning Board. The conversion to first-floor medical offices is expected to be complete by 2023's end or the first quarter of 2024.
MD Anderson Cancer Center at Cooper recently opened a 13,000-square-foot multi-service outpatient unit at its flagship Camden location. The previously vacant space on the center's top floor offers diagnostic and treatment services in the malignant hematology clinical, hydration and blood production
infusion, and interventional radiology suites, as well as a full-service physical rehabilitation facility.
Deborah Heart and Lung Center Department of Cardiology, Section of Nuclear Medicine, was granted a three-year term of accreditation by the Intersocietal Accreditation Commission (IAC) in nuclear cardiology last month.
Virtua Health recently opened its Camden midwifery practice dedicated to offering personalized pregnancy care and reproductive wellness care. Patients also have greater access care to screenings for cervical and breast cancers, menopausal symptom management, gynecological oncology and more.