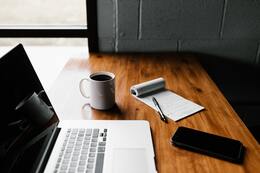 On the Move
April 2022
Real estate title insurance and settlement company National Integrity Title Agency recently announced that it hired Victoria Zabala as part of its business development team's expansion. Based in the company's Marlton headquarters, Zabala will focus on building and strengthening realtor relationships.
Last month, Deborah Heart and Lung Center welcomed Brian Case as its new vice president of strategic planning and business development. Case comes to the hospital from RWJBarnabas Health and Community Medical Center, where his most recent role was assistant vice president of business development.
The Garden State Wine Growers Association recently appointed travel and tourism expert Devon Perry as its new executive director.
Law firm Parker McCay welcomed retired New Jersey Supreme Court Justice Faustino J. Fernandez-Vina to its team early last month. The Barrington resident will serve clients throughout the Delaware Valley from the firm's Mount Laurel location.
AKCG – Public Relations Counselors has welcomed Adam Dvorin as vice president. Dvorin brings more than 20 years of public relations experience to his new role, which he will use to help guide the firm's proactive practice.
Beau C. Wilson, Esq., is the newest associate to join the Hyland Levin Shapiro team. Wilson, a Haddon Township resident, previously served as deputy attorney general at the Office of the Attorney General and will continue his concentration in commercial litigation.
Duly Noted
After serving as interim director for the past year, Andrew Chapman, DO, FACP, was recently named director of the Sidney Kimmel Cancer Center (SKCC) – Jefferson Health, as well as executive vice president of oncology services. Chapman has played an instrumental role in advancing the center's work and, as director, will continue to ensure that SKCC remains a nationally ranked leader in cancer care.
Robin A. Walton was recently announced as the Rowan College at Burlington County Board of Trustees' new chair. Walton, whose role was made official last month, is the first woman to serve in the county college's leadership position.
Last month, area law firm Capehart Scatchard announced that its commercial litigation department associate Stacey R. Gorin, Esq., will receive the Young Lawyer of the Year award from the New Jersey State Bar Association's Young Lawyer Division. The award will be presented to Gorin during the association's annual meeting in May.
State Sen. Nellie Pou was named the new president of the National Hispanic Caucus of State Legislators. Pou, New Jersey's first person to serve in this capacity, will begin a two-year term.
Numbers
20
The number of New Jersey companies that were named to the Forbes 2022 list of the country's best large employers. Three—Merck & Co., Johnson & Johnson and Rutgers University—cracked the top 100 of the 500-company list.
24
The number of key tourist destinations across New Jersey to receive grants for installing electric vehicle chargers as part of the state's Electric Vehicle Tourism Program, for which the New Jersey Board of Public Utilities has awarded more than $1 million in grants.
$500,000
The amount of a taxpayer-funded training grant that will allow Rowan University to prepare its students for employment in the developing wind-power industry.
68
The number of conditional license applications for recreational cannabis cultivators and manufacturers the Cannabis Regulatory Commission approved during its March 24 meeting, marking New Jersey's first authorized applications for recreational marijuana sales.
Twice
The number of times S&P Global Ratings raised New Jersey's credit rating in March. At the end of the month, the agency increased New Jersey's General Obligation Bonds from a BBB+ to A-, citing a stable outlook.
$4 billion
The amount American Heritage Credit Union reached in assets earlier this month. The local credit union, which has doubled its assets in the past four years, reached another milestone recently when it welcomed its 250,000th member.
$2M+
The fiscal 2022 grantmaking total of Community Impact Grants awarded by Campbell Soup and the Campbell Soup Foundation. The money is being used to help organizations across the country where the company operates, starting in its hometown of Camden where $120,000 has been allocated.
$834.56 million
The amount New Jersey will receive in federal transit funding as part of the Biden Administration's $1 trillion federal infrastructure bill.
THE BREAKDOWN
The Employment Situation
What happened: The U.S. job market continued to post positive gains in March, adding 431,000 jobs as the unemployment rate dropped slightly from 3.8% to 3.6% according to the Labor Department's Bureau of Labor Statistics' latest report.
Where the jobs are: The leisure and hospitality sector continues to lead the way with 112,000 new hires during the course of the month. Meanwhile, professional and business services contributed 102,000 new jobs with retail (49,000) and manufacturing (38,000) also adding significant numbers.