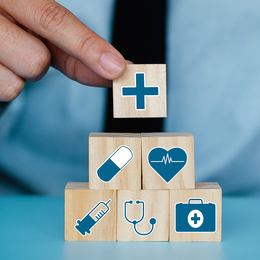 Health Care Roundup
Health care news in our region - April
For the sixth year in a row, the Society of Thoracic Surgeons (STS) has awarded Deborah Heart and Lung Center's cardiothoracic surgery program several three-star ratings, its highest rating. The STS's latest report was released last month and, using data gathered from June 2018 through June 2021, gave Deborah three stars for the following: coronary artery bypass graft surgery; aortic valve replacement combined with coronary artery bypass graft surgery; mitral valve replacement and repair; and mitral valve replacement and repair combined with coronary artery bypass graft surgery.
A medical team including the Cardiac Partners of Cooper and Inspira members Dr. Janah Aji, Dr. Sajjad A. Sabir, as well as Dr. Georges I. Kaddissi, a member of both Cooper and Inspira medical staffs, recently observed a procedural milestone. They performed not only the first commercial-use heart procedure using the MitraClip, a device for patients deemed too high-risk for open-heart surgery, but also the 100th. The Cardiac Partners team's efforts at Cooper were crucial in getting FDA approval for the MitraClip, a small device that treats the most common heart-valve defect by attaching to a patient's mitral valve.
Two members of the Jefferson Washington Township Hospital team were recently both peer-nominated for and recognized with awards. Nurse Dina Zdon was honored with a DAISY Team Leader Award for Extraordinary Nurses. The manager of same-day surgery, Post-Anesthesia Care Unit, endoscopy and infusion, had been nominated by a colleague for her support during an especially challenging shift. Zdon has been a Jefferson Health employee for 29 years.
Maxine Schneidt, one of the hospital's environmental services housekeeping attendants, was presented with a BEE Award for excellence in supporting nursing care. The nomination noted how Schneidt always goes out of her way to ensure that her coworkers have a clean and well-maintained work environment.
Inspira Health and Gloucester Township recently finalized a five-year contract designating Inspira as the official emergency medical services provider for both the township and nearby Pine Hill. The contract, which went into effect April 1, outlines that two ambulances stationed in Gloucester Township will provide 24/7 911 ambulance services, with one to be dispatched from Sicklerville's Erial EMS station and the other from Blackwood's Glendora EMS station.