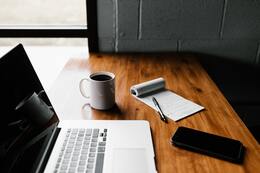 OFFICE SPACE
March 2022
Numbers
75,000
The number of KN95 masks Inspira Health donated to more than a dozen Cumberland, Salem and Gloucester county organizations as part of its ongoing pandemic response.
$2.008 million
The amount that two PennReach locations will receive from two of M&T Bank's six affordable-housing grants. The Cherry Hill facility for adults with developmental disabilities will be granted $1.008 million to build 63 units, while its Glassboro location will receive $1 million for two phases ultimately totaling 125 units.
7,629
The number of new and retained jobs in the state last year, thanks to Choose New Jersey, which assisted 32 companies in relocating or expanding to the Garden State. The development organization's annual report, released last month, indicated its efforts created $1.6 billion in capital investment.
Seven
The number of off-campus hubs that have been added to Stockton University's Stockton Maple Project. They will produce maple syrup and research the industry's local viability, and include Burlington County's Maples in the Pines and Pinelands Preservation Alliance, as well as Jefferson Farms in Gloucester County.
$8.1 billion
The amount that South Jersey Industries (SJI), the parent company of South Jersey Gas, was recently purchased for. SJI agreed to be acquired by the Infrastructure Investments Fund, a private firm that owns nearly $20 billion worth of utility and transportation businesses. SJI said in a statement that its current management team will remain as will its headquarters in Folsom.
68
The number of brick-and-mortar stores across New Jersey that Amazon will be closing, including bookstores, the company's 4-star stores and all pop-up shops. The planned 4-star store set to open this year at the Cherry Hill Mall will also no longer happen.
$150,000
The amount DraftKings was fined by New Jersey gambling regulators after it was discovered that a woman in New Jersey was placing bets for her boyfriend in Florida. State regulations prohibit proxy out-of-state betting.
15 years
How long it's been since Moody's Investor Services gave New Jersey a credit rating upgrade. The rating agency recently upgraded the state's general obligation bonds to an A2, its sixth-best rating, with a stable outlook.
9th
New Jersey's rank in the country for the most venture capital dollars invested per state. In 2021, the state secured $5.5 billion, an increase from its $1.7 billion in 2020. The increase moved New Jersey's ranking up three spots from the previous year.
THE BREAKDOWN
The ANCHOR Property Tax Relief Program
What it is: Gov. Phil Murphy recently proposed a new property tax relief program as part of the 2023 fiscal year budget that would provide an eligible 1.8 million homeowners and renters with rebates to offset property tax costs.
How it works: Homeowners making up to $250,000 per year are eligible for a $700 rebate in an effort to lower the effective rate to levels seen in 2016. Renters who earn up to $100,000 would qualify for a $250 rebate.
Of note: The ANCHOR program would expand on and replace the current Homestead Rebate Program and in turn make nearly four times more New Jerseyans eligible to receive a property tax rebate. Gov. Murphy has proposed a three-year ramp-up for the program with property tax rebates growing to an average of $1,150 per eligible household by 2025.

The Employment Situation
What happened: The U.S. job market continued to post positive gains in February, adding 678,000 jobs as the unemployment rate dropped to 3.8%, according to the Labor Department's Bureau of Labor Statistics' latest report. It was the biggest monthly jobs gain since July.
Where the jobs are: The leisure and hospitality sector added the most jobs for the month with 179,000 new hires, yet it remains 1.5 million behind pre-COVID levels. Other industries that showed notable gains include professional and business services, health care, construction, transportation and warehousing, retail, manufacturing and financial services.
On the Move
Last month, Vantage Commercial announced that Nicole Anderocci is the newest member of its commercial real estate team. In her new role as sales advisor, Anderocci will help clients realize their goals when it comes to retail space, redevelopment, industrial opportunities and more.
WSFS Financial Corporation recently announced that Stephanie Saint-Cyr is its new senior vice president, director of wealth advisory services. The Moorestown resident will lead the Bryn Mawr Trust Wealth Management wealth advisors while deepening client relationships and enhancing their wealth-management experiences.
Southern New Jersey Development Council Vice President Jane Asselta is the newly appointed New Jersey state director for rural development. Asselta, whose appointment to the U.S. Department of Agriculture mission area was made by President Joe Biden's administration last month, will lead a team of more than 20 specialists helping the state's rural communities access economic opportunities while improving their quality of life. She is the first woman to hold the position.
Alexis B. Batten has joined Archer as the firm's newest partner in its public finance group and will work out of the Voorhees-based firm's Red Bank location. Batten brings 15 years of experience in public finance transactions and previously was of counsel with Parker McCay. Battenis the vice president of the Cape May County Bar Foundation and past president of the Cape May County Bar Association.
Ashley Donecker will serve as acting president of Junior Achievement New Jersey, the Garden State chapter of the national nonprofit, which uses experiential learning techniques to prepare young people for successful career paths.
Duly Noted
Virtua Health recently announced that it has both a new board of trustees chair and new board members. Edward B. Cloues II was formally appointed board chair, with a two-year term that began Jan. 1. Cloues has served on the board since 2010. Dr. Shahram Jay Mirmanesh and Adolfo "Pepe" Piperno join the board as its two newest members.
Michael Saccomanno has been appointed partner-in-charge of Friedman LLP's forensic accounting, litigation support and valuation services (FLVS) practice. Saccomanno, who joined the firm in 2011, specializes in valuation, forensic accounting and litigation support services for numerous industries. He succeeds Barry Sziklay, who served in the role since 2008 and remains a Friedman partner.
Brian W. Jones, president and CEO of The First National Bank of Elmer, will serve as chair of the Jefferson Health Foundation - New Jersey Business Leadership Council. The foundation works to develop philanthropic funds through donations, grants, special events, capital campaigns and planned giving, which support the projects, programs and people of local communities, hospitals and clinics.
The New Jersey Economic Development Authority (NJEDA) has promoted Kathleen Coviello to its chief economic transformation officer. Coviello has worked with the organization since 2005. Additionally, the NJEDA welcomed Mary Maples as its new chief strategy officer.
Mark E. Manigan is the newest president of RJWBarnabas Health, overseeing New Jersey's largest health system. Previousy, Manigan served as chief strategy and business development officer with the organization and he replaces outgoing president and CEO Barry H. Ostrowsky, who will retire at the end of 2022.