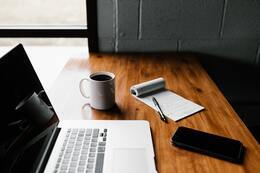 OFFICE SPACE
January 2022
Crunching Numbers
Almost 500
How many accounts were created in the first four hours of the New Jersey Cannabis Regulatory Commission accepting applications for recreational cannabis licenses.
Two
The number of states—New Jersey and Arkansas—selected for participation in a program intended to modernize unemployment insurance. If successful, the Claimant Experience Pilot could be the first step in improving the unemployment system on a national scale.
$230,000
How much the South Jersey Institute for Population Health awarded to various organizations for their projects researching the region's population health challenges in an effort to improve and enhance residents' quality of life.
$4 billion
What Atlantic City's casinos surpassed in gross gaming revenue in 2020. This is the first time they've cleared that amount since 2008.
$10,000
The grant amount that Arc of Cape May County received from the Community Foundation of South Jersey to pilot a telemedicine service designed for individuals with intellectual and developmental disabilities.
$1.3 million
The amount of a federal grant allowing Cooper Medical School of Rowan University's physician faculty to provide effective, life-saving opioid-addiction treatment to more than 185 patients who otherwise wouldn't be able to afford it.
18
How many New Jersey airports will benefit from November's $1.2 trillion infrastructure bill. Of that amount, $54 million will go toward upgrading Newark Liberty, Atlantic City, Trenton-Mercer and 15 smaller municipal airports.
On the Move
Andrew O'Brien has recently joined Vantage Commercial's commercial real estate team. The new business development manager will connect with clients to develop and implement growth opportunities within and between the full-service commercial real estate brokerage and other organizations.
Capehart Scatchard has announced several new additions to its firm.
The associate attorneys joining its Mount Laurel office are: Patrick J. Graham, Nuo Jiang, Paige A. Joffe, Benjamin P. Ojserkis, and Bridget E. Velez.
Graham, Jiang and Joffe focus on litigation through the federal and state courts in New Jersey. Ojserkis focuses on cannabis law, policy and regulatory compliance, as well as health law. Velez represents employers and public entities in labor and employment law policy, procedural and litigation matters.
In its workers' compensation department, the Mount Laurel office has also welcomed Salma Attia, Dawna M. Coffey, Julie M. Gotchel and Natasha T. Sawh as associates representing insurance carriers and employers in the defense of workers' compensation claims.
Earlier this month, Inspira Medical Centers Mullica Hill and Woodbury welcomed new chief administrative officer Lydia Stockman, RN, MHA, FACHE. Stockman began her career as a Cooper University Hospital nurse in Camden and has more than 20 years of experience in health care management. She will oversee the Mullica Hill and Woodbury locations' operations, and direct senior management.
Effective next month, Wesley Matthews will serve as president and CEO of the nonprofit economic development organization Choose New Jersey. Matthews is a career diplomat who has served at the American embassies and consulates in India, Germany, Saudi Arabia, Nigeria, Pakistan and Washington, D.C., since 2008. He also established the State of New Jersey's Office of International Trade and Investment at the New Jersey Economic Development Authority, serving as its director and vice president.
Duly Noted
Berkshire Hathaway HomeServices Fox & Roach recognizes the Mullica Hill North Office's sales associates who were named November's office leaders. Individually, West Deptford resident Dale Riggs has been recognized for listings while Michele Lupton of Mantua was recognized for volume and units. Teams receiving recognition are: The Jeanne D'Ottavi Team for listings; The Dawn Proto Team for volume and units; and The Ron Bruce Team for listings, volume and units.
Accounting and advisory firm Friedman LLP has announced its Marlton location's newest partners, effective Jan. 1. Those new partners and their areas of expertise are: Michael Bowen-Ashwin, tax; Patrick Dugan, audit; Ken Harris, audit; and Brad Slavinski, tax.
The Princeton Mercer Regional Chamber named Swedesboro resident Christian Amato, president of the full-service communications, marketing and association management firm CMA, its 2021 Entrepreneur of the Year. Amato began his career with the firm in the '90s and returned in 2015; since then, he has modernized the company's offerings and operations to be more profitable and sustainable. He was honored at the chamber's Business Leadership Awards Gala last month.
Cooper Levenson recently announced that attorneys Jennifer B. Barr and Brittany A. Bonetti are its two newest partners. Barr, based in the Atlantic City office, leads the firm's appeals and research practice group. Bonetti, based in Cherry Hill, is a member of the firm's health care, cannabis and tax law practice groups.
Additionally, Cooper Levenson COO Kenneth J. Calemmo Jr. was named to the board of directors for Volunteers of America Delaware Valley last month. This is the most recent appointment for the Ventnor resident, whose community service includes serving as an executive board member of the Greater Atlantic City Chamber of Commerce and sitting on the Atlantic County Economic Alliance's board of trustees.
THE BREAKDOWN
THE EMPLOYMENT SITUATION
What happened: The most recent information released in the monthly ADP National Employment Report shows that private sector employment rose by 807,000 jobs in December.
What it means: It was the best monthly jobs report since May's report of 882,000 jobs.
Where the jobs are: Service-related professionals saw the biggest jump with 669,000 new hires while leisure and hospitality jobs increased by 246,000. Larger businesses with 500 or more employees added 389,000 new jobs. The encouraging numbers, however, were tabulated before the Omicron variant had become so widespread.
MINIMUM WAGE HIKE
What happened: On New Year's Day the minimum wage in New Jersey rose to $13 an hour, a $1 increase.
What's next: State legislation passed in 2019 says the minimum wage will raise to $15 an hour by 2024. Smaller businesses who employ fewer than six people along with those who operate seasonally will have until 2026 to reach $15.
The good and the bad: While the increased wages are a welcomed sight for some, some business owners facing increased costs due to the pandemic or burdened by slim profit margins worry about the impact it will have in both the near and distant future.