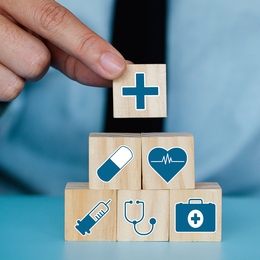 Health Care Roundup
Health Care Roundup
Last month, Virtua Health and Medtronic announced a five-year plan to improve not only access to health care but also treatment outcomes for systemically disadvantaged South Jersey patients living with chronic conditions. Medtronic LABS, an independent organization funded by Medtronic, will launch a separate collaborative program with the Cherry Hill Free Clinic and Virtua to address community health issues. The partnership includes projects related to heart health and outpatient care continuity.
Additionally, national watchdog organization The Leapfrog Group recognized Virtua Voorhees Hospital as one of the nation's top teaching hospitals. This is the sixth time the hospital has earned the distinction in its 10 years of operation.
A new affiliation agreement will be completed in the next several months outlining how Virtua Health will partner with Rowan University to establish a program for the health and wellness workforce of the future, as well as increasing the number and diversity of health care professionals educated through the two institutions. Both organizations plan to dedicate substantial resources to expand their current educational offerings.
Jefferson Health recently announced its plans to bring the Sidney Kimmel Cancer Center's programs and services to Jefferson Cherry Hill Hospital in an effort to meet increasing community needs. Phase I is scheduled to begin this month, with medical oncology services—including on-site physician office hours, oncology infusions and surgical oncology—offered at the Cherry Hill hospital.
Medical oncologists Dr. Ana María López, Dr. Eduardo Fernandez, Dr. Michael Rotkowitz and Dr. Anthony Scarpaci will see patients in Cherry Hill while also maintaining their practice at the Sidney Kimmel Cancer Center – Washington Township.
Last month, the Sidney Kimmel Cancer Center's Washington Township location received a $25,000 donation from First Harvest Credit Union. The monetary gift will be used to offset cancer patients' medical transportation expenses.
Two programs at the Rutgers School of Nursing?Camden are attempting to alleviate a critical shortage of nurses. The Wound, Ostomy and Continence Nursing Education Program (WOCNEP) and the Doctor of Nursing Practice (DNP) aim to prepare the next generation of crucial frontline medical workers for areas of high-demand like primary care, geriatric care and chronic-disease management.
As the only graduate-level tri-specialty program in the nation, WOCNEP prepares nurses to provide acute and rehabilitative care in settings like in-patient, outpatient, long-term care, home health care and more. The DNP program prepares nurses to become leaders in health care, serve vulnerable populations and advocate for reforms in health policy.
Deborah Heart and Lung Center in Browns Mills—working with partner HMR, Browns Woods Apartments—provided holiday cheer for 40 local families. Each department at Deborah "adopts" a family by providing them with gifts and holiday meals, and volunteers from both organizations pitch in for their distribution.
"It warms our heart to be able to sponsor this event every year," says Deborah Heart and Lung Center President and CEO Joseph Chirichella. "We could not do this without the tremendous support of our staff, who each year rise to the challenge and help make the holidays brighter for a family in need."
Additionally, Deborah Heart and Lung Center is among New Jersey's medical centers that The Leapfrog Group has recognized as one of the top teaching hospitals in the country.
Samaritan will hold its annual Celebration of Life Gala virtually on Saturday, Feb. 12. The annual gala celebrates Samaritan's 40-plus years of providing compassionate care to more than 11,000 families annually throughout South Jersey, as well as honor Samaritan's 2022 Circle of Excellence award recipients. Samaritan will also hold its Delightful Dining Raffle and an online auction to support the organization's services, programming and fundraising efforts. Tickets for the raffle and access to the online auction are available at SamaritanNJ.org/Gala.
The Cardiac Partners at Cooper and Inspira announced a recent milestone when they became the first in the Northeast to implant Abbott's Amplatzer Amulet Left Atrial Appendage (LAA) Occlude. The FDA approved the new device in August 2021, which treats patients at risk for strokes with atrial fibrillation and reduces stroke risk in patients for whom blood thinners are not a long-term option. Dr. George E. Mark successfully implanted the device in a patient in October 2021 as part of a multidisciplinary team lead by Dr. Sajjad A. Sabir, director of the Structural Heart Disease Program at Cooper.
Furthermore, a recently signed agreement formalizes Salem Medical Center's intent to join the Inspira Health Network. The transaction is expected to be completed later this year, following the New Jersey Attorney General's review and approval.
Camden Police Chief Gabriel Rodriguez, representatives from Fraternal Order of Police Lodge 218 and the family of Officer Matthew Sviben recently presented a $9,000 check to MD Anderson Cancer Center at Cooper. The donation was made in honor of Sviben, who passed away in September from colorectal cancer at the age of 26. Nearly 230 Camden County police officers observed No Shave November to help raise the funds, which will support ongoing colon cancer research.