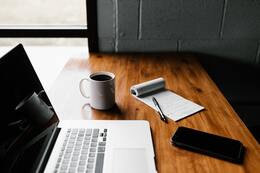 Office Space
December 2021
Crunching numbers
$20 million
How much the New Jersey Economic Development Authority's board OK'd recently when it approved the creation of the Main Street Micro Business Loan, which will finance up to $50,000 for eligible NJ businesses with 10 or fewer full-time employees making less than $1.5 million in annual revenue.

$87.5 million
What the Community Foundation of New Jersey, one of the state's largest foundations, reported it have given in grants for a record-setting 2020.
$400,000
The donation that Amazon is dividing between four Boys and Girls Clubs in New Jersey, including the organization's chapters in Camden and Gloucester counties.
$400 million
How much will be released in capital facilities grants funding four bond programs. Gov. Phil Murphy's mid-November announcement identified the Higher Education Capital Improvement Fund, Higher Education Facilities Trust Fund, Higher Education Technology Infrastructure Fund and the Higher Education Equipment Leasing Fund as the funding recipients.
2023
The target for when construction on the Gateway Tunnel will start. Officials say if federal financing is in place by December 2022, construction could begin in the summer of the following year.
$4.2M
The amount of grant money that was recently awarded to 75 New Jersey nonprofits by Bank of America on "Giving Tuesday" in late November.
$50,000
The amount donated by the New Jersey Bankers Association's Charitable Foundation to help fund veterans programs at Fairleigh Dickinson University, Monmouth University, Rider University and Rutgers University.
40
The percentage of eligible voters who cast a ballot in New Jersey's 2021 governor election. While 450,452 more votes were cast vs. 2017, the increase of registered voters who cast a ballot rose by just 1 percent.

THE BREAKDOWN
THE EMPLOYMENT SITUATION
What happened: The most recent information released in the monthly ADP National Employment Report shows that private sector employment rose by 534,000 jobs in November.
What it means: The three-month average of job gains is 543,000 and since the economic recovery began, 15 million jobs have been added. However, this is still 5 million jobs less than prior to the pandemic.
Where the jobs are: Leisure and hospitality posted the biggest gains, with 136,000 new hires. Meanwhile professional and business services tacked on 110,000 and the construction and manufacturing industries posted 52,000 and 50,000 new jobs respectively.
TOURISM
Attracting visitors: A proposed bill seeks to allocate $25 million in federal pandemic rescue funds to advertise and promote tourism in New Jersey in an effort to attract visitors to the Garden State post-COVID. Of the funds, $5 million would be earmarked for marketing tourism across the entire state while the remaining money would be used to help boost businesses and industries that have suffered during the pandemic, namely bars and restaurants.
A noticeable drop: The state welcomed 84.6 million visitors in 2020, but that is 27% fewer than in 2019 and overall visitor spending was at its lowest level in over a decade.
What's next: The bill, which passed the full state Assembly back in June, is being considered by the state Senate where it must pass before heading to Gov. Phil Murphy's desk to be signed into law.