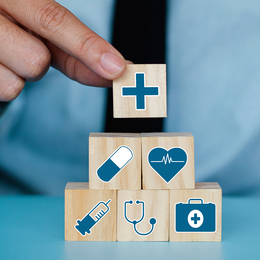 Health Care Roundup
Health care news in our region - December
The boards of trustees for Rowan University and Virtua Health have approved signing a letter of intent to expand their organizations' relationship, further collaborating across education, research and patient care. A new affiliation agreement will be completed in the next several months to define how they will establish a sought-after program to strengthen the future health-and-wellness workforce, expanding the number and diversity of health professionals educated through Rowan University and Virtua Health.
Both organizations plan to commit significant resources to expand educational programs to train new health care professionals for an evolving future. The agreement will include plans to both provide more clinical experiences for Rowan's School of Osteopathic Medicine students and increase residency and fellowship opportunities in South Jersey, as well as continued professional development for Virtua and Rowan nurses through access to educational programs. The enhanced relationship will allow the organizations to expand their roles in research and discovery into new ways to improve health, significantly contributing to the regional economy and South Jersey's reputation for innovation and talent.
Inspira Medical Center Vineland, part of Inspira Health, is now using Auris Health's Monarch platform to look inside patients' lungs and obtain tissue samples for biopsy. The new technology can help physicians make earlier and more-accurate diagnoses of small and hard-to-reach nodules in the periphery of the lung by integrating the latest advancements in robotics, software, data science and endoscopy. Inspira Medical Center Vineland is among the first hospitals in the United States to utilize the platform, which was recently cleared by the Food and Drug Administration.
Inspira Health recently announced that two members of its Emergency Medical Services team received awards during the 2021 National Conference on EMS in Atlantic City last month. Mark Chapman was named 2021 Administrator of the Year, and Larry Sooy Jr. was named 2021 Paramedic of the Year.
Administrator of the Year honors a mobile health care administrator who has served and made a positive contribution to mobile health care in the areas of patient care, public access to EMS, disaster preparedness, and public education and/or training. Since joining Inspira, Chapman has transformed the three-county advanced life support system into a multi-county basic life support, advanced life support, specialty care transport, mobility assisted vehicle, and dispatch system.
Paramedic of the Year honors a currently licensed paramedic who has assumed a leadership role in EMS or the inter-facility environment by achievement in areas of patient care, public access to EMS, disaster preparedness, and public education and/or training. Sooy has served Inspira for more than two decades in various leadership roles.
Cooper University Health Care's Emergency Medical Services received the American Heart Association's Mission: Lifeline EMS Gold Plus Achievement Award for implementing specific quality improvement measures to treat patients with severe heart attacks.
"This recognition from the American Heart Association is a testament to the high level of professionalism of Cooper's emergency medical technicians and paramedics and their commitment to saving lives," says Rick Rohrbach, BSN, RN, CFRN, CCRN-K, MICP, EMS director of air and ground services at Cooper.
Six certified nurse midwives have joined the staff of Jefferson Health – New Jersey as members of Jefferson NJ Primary & Specialty Care. Ellen Appleton, Jennifer Barraclough, Victoria Asturrizaga, Jessica Hayes, Meredith Stein and Katherine Wormster are master's level clinicians who provide primary health care to women of all ages. They will practice at Jefferson's offices in Mullica Hill, Sewell, West Deptford, Haddonfield and Stratford.
A new vaccine mega-site has opened in Mount Laurel inside a former A.C. Moore store located at East Gate Square shopping center on Nixon Drive, adjacent to the Moorestown Mall. The site will provide vaccines to any eligible for the shot, including people ages 12 and up who are not vaccinated; adults eligible for a booster shot; and children ages 5-11 who receive a lower-dose version. The vaccine is free to recipients and health insurance is not required.
"In partnership with Burlington County, the New Jersey National Guard and Virtua Health, this new mega-site offers a centralized location to provide vaccines and booster doses for all who are eligible with the ability to scale up as needed," said New Jersey Department of Health Commissioner Judith Persichilli. "During this holiday season, as people travel and gather with family and friends, it is critical to remain vigilant against COVID-19 and its variants by getting vaccinated if you are not already or getting a booster shot to protect yourself and your loved ones."