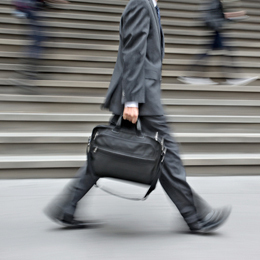 On the Move
Openings, closings, hirings and retirings in our region, and more.
Parker McCay has announced that Alicia D'Anella has joined the firm, representing and advising boards of education. She will also offer professional development training for boards, administrators and staff; handle litigation; and assist with investigations. The Rutgers School of Law-Camden grad will practice out of Parker McCay's Mount Laurel office.
WCRE Property Management has hired Sam Newman as its new director of property management. Newman brings more than two decades of experience the position and most recently was the portfolio manager for Ranger Properties.
On Location, a nationwide provider of labor and management services for exhibits, events and environments, has hired John Zipay as its senior account executive. An industry veteran with more than 20 years of varied experience, Zipay will develop and manage client relationships with a primary focus on fostering strong relations with exhibit houses across the country.
After an exhaustive search, the Partnership for Haddonfield welcomes Michael Marciante as its new Executive Director. The partnership, which is the management corporation for Haddonfield's Business Improvement District, encourages self-help and self-financing programs within the business community, enhances the commercial viability and attractiveness of the business district, and promotes growth and employment within the borough. Marciante is a Cherry Hill resident and began his new role Nov. 3.
Mount Laurel's Admiral Insurance has appointed Daniel Smyrl as its president, taking over for the outgoing Curtis E. Fletcher who has been named chairman of the company. Smyrl has been with Admiral since 2002 and most recently served in the role of executive vice president of underwriting.
Campbell Soup Company has welcomed Diane Johnson May as its new executive vice president and chief human resources officer. She will lead the company's efforts in several areas, including talent acquisition and management as well as inclusion and diversity.

DULY NOTED
Joe Lupo, president of Hard Rock Hotel & Casino Atlantic City, has been appointed president of the Casino Association of New Jersey. He takes over for Terry Glebocki, the former CEO of Ocean Casino Resort, who recently stepped down.
Brian W. Adams has been named co-president of Tabula Rasa HealthCare. Adams is currently the company's CFO, and will simultaneously continue to fill that role until his replacement is found.
Michael Mulry has been appointed president at On Location, a nationwide provider of labor and management services for exhibits, events and environments. Mulry previously served as general manager with the company for 14 years.
Luxor Capital Group, the primary owner of Ocean Casino Resort in Atlantic City, recently announced that the Ilitch Organization has received regulatory approval to acquire 50% of the property, with Luxor retaining the other 50%. The new partnership will include an investment of more than $75 million over the next year, including the addition of more than 460 guest rooms and suites.
The law firms of Stark & Stark and Andres & Berger have announced a new strategic partnership. Shareholder Tommie Ann Gibney will join the Stark & Stark team in the Marlton office while Michael Berger, managing partner at Andres & Berger, will work along with Karen Berger and Abraham Tran in their Haddonfield office.
Fourteen new medical marijuana licenses have been awarded by the New Jersey Cannabis Regulatory Commission. Those granted licenses were among the 200 that applied for them in 2019. The commission has not begun to award licenses for the adult-use recreational industry.
Cape May County Commissioner Marie Hayes was feted by the New Jersey Association of Counties after being named the Maurice Fitzgibbons County Commissioner of the Year.