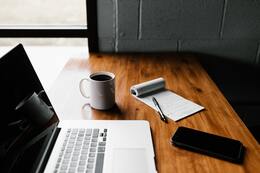 Office Space
November 2021
Crunching Numbers
100,000
The number of COVID-19 vaccine doses administered by Cooper University Health Care as of late October. The milestone was reached over the course of 10 months.
$9 million
How much is still available to small businesses through the Camden County RECOVERS Small Business Grant Program. Eligible businesses can receive up to $10,000 from the program if they apply by Nov. 30.
$1.01 billion
The record-breaking amount of money wagered on sports betting in the state for the month of September according to the New Jersey Division of Gaming Enforcement.
$36 million
The amount of a new fund created by Exelon to support minority-owned business growth. The Racial Equality Capital Fund is expected to invest in numerous businesses throughout Exelon's services areas over the next three years with estimated loan amounts between $100,000 and $300,000 and equity investments of nearly $1 million.
30
The number of New Jersey hospitals that received an "A" in the newly released fall 2021 Leapfrog Hospital Safety Grade. Local facilities include Jefferson's hospitals in Cherry hill, Stratford and Washington Township; Inspira Medical Centers in Elmer and Mullica Hill; and Virtua Voorhees Hospital.
$9 million
The amount of a federal grant that will allow the Port of Salem to expand the terminal's vessel capacity and rail connectivity.
Dec. 15
The day the state's Cannabis Regulatory Commission will begin accepting applications from marijuana growers, processors and testing labs. The application process for dispensaries will open March 15, 2022.

THE BREAKDOWN
THE EMPLOYMENT SITUATION
What happened: The most recent information released in the monthly ADP National Employment Report shows that private sector employment rose by 571,000 jobs in October.
What it means: It was the best monthly jobs report since June and it includes 458,000 increase in service jobs.
The bigger the better: Large businesses with more than 500 employees fared the best, adding 342,000 employees while medium-sized businesses (50-499 workers) gained 114,000 jobs and small businesses (less than 50 employees) saw 115,000 new positions added.
THE INFRASTRUCTURE BILL
What happened: Congress passed a $1.2 trillion bipartisan bill that includes investments in the country's roads, bridges, railways and broadband Internet.
What it means for N.J.: The state will receive over $12 billion to help with several projects up and down the state.
What's next: Gov. Phily Murphy called the bill's passage a "game changer" for the state, which has 502 bridges and approximately 4,000 miles of highway deemed to be in poor condition. It will also help fund the construction of the much-talked about Gateway Program to expand and renovate the Northeast Corridor rail line between Newark and New York City.