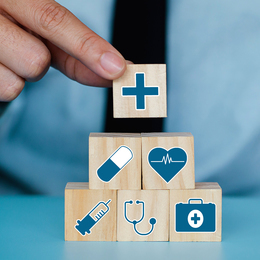 Health Care Roundup
Health care news in our region - November
The New York-based Schweiger Dermatology Group recently announced that it acquired South Jersey-based Warmuth Institute of Dermatology. The deal will give Schweiger new offices in Elmer and Swedesboro, adding to its rapid growth throughout the Northeast. The Warmuth practice was founded in 2002 by Dr. Ingrid Warmuth, who will join the Schweiger team along with Brittany Davis and Lauren Hartman, both physician assistants.
Camden County commissioners, in partnership with Cooper University Health Care and the Rutgers-Camden School of Nursing, formally launched the new Camden County Health Hub at the Camden County College Blackwood campus last month. The new health hub is a one-stop shop for all things COVID- and health care-related, where COVID-19 testing and vaccines (including boosters) and flu shots will be administered by appointment. The site will be operated on the campus parking lot, utilizing pop-up hospital pods, while residents are seen from their cars, and its hours depend on community demand.
Cooper University Health Care is one of America's 100 Best Hospitals for Prostate Surgeries according to Healthgrades' latest research findings. The health system as also recognized in the rankings as a Five Star Hospital for coronary bypass surgery and total hip replacement. What's more, the MD Anderson Cancer Center at Cooper's Rectal Cancer Program has been accredited by the National Accreditation Program for Rectal Cancer. It is the first and only hospital in the state, and one of only 29 across the country, to receive the honor.
The cardiac team at Virtua Our Lady of Lourdes was the first in the nation to implant an investigational defibrillation lead designed to treat people with ventricular tachycardia (VT), an abnormally fast, potentially life-threatening rhythm in the lower chambers of the heart.
Inspira Health earned 2021 Most Wired recognition from the College of Healthcare Information Management Executives (CHIME) for all three of its hospitals—Inspira Medical Center Mullica Hill, Elmer and Vineland. Inspira's ambulatory sites were also honored with Most Wired recognition. Each year, CHIME conducts an annual survey to assess how effectively health care organizations apply technologies, in their clinical and business programs, to improve health and care in their communities.