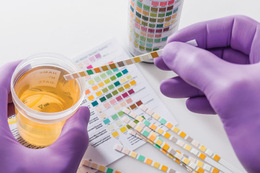 Weed and the Workplace
A year after New Jersey voters approved a constitutional amendment legalizing recreational marijuana for adult use, area legal and HR experts are fielding more and more queries about how to apply complex new guidelines to their offices and workforce.
Last November, New Jersey became the first state in the Mid-Atlantic region to legalize recreational cannabis for adults 21 and older. It fulfilled Gov. Phil Murphy's campaign promise nearly a decade after former Gov. Jon Corzine legalized medical marijuana statewide, even though it still remains a tightly regulated Schedule 1 narcotic federally.
The state law went into effect Jan. 1, 2021, and a cannabis commission, a wide-reaching act, and countless legal and HR professionals are still endeavoring to work out just how to accommodate users of a newly legalized substance without bias while ensuring communities stay safe and workplaces stay drug-free. For a complicated, still-evolving issue with countless moving parts to consider, progress has been made but plenty of confusion about applying new provisions and procedures still remains.
"Because of the uncertainty, employers should be extremely careful in how they handle this area of law," notes Susan Hodges, an employment and labor attorney in Parker McCay's Mount Laurel office.
The Timeline So Far
When New Jersey voters turned out to overwhelmingly approve a constitutional amendment legalizing recreational marijuana a year ago this month—2,737,682 (or 67.08%) votes in favor versus 1,343,610 (32.92%) votes against—it was just the beginning.
In February of this year, Gov. Murphy issued the state's Cannabis Regulatory, Enforcement Assistance, and Marketplace Modernization Act (CREAMMA), which outlines the rules and regulations regarding legalized recreational marijuana. It's a mission that's just about as heady and dense as the act's name itself, given the complexities of implementing new rules enhancing medical marijuana's decade-old legal guidelines. (Outgoing Gov. Corzine signed a flurry of new bills into law on his last day in office in January 2010, including the Compassionate Use Medical Marijuana Act, which allowed individuals with a number of chronic or terminal illnesses to use medical cannabis.)
While CREAMMA asserts that an employer can neither fire an employee nor rescind an applicant's job offer based on a positive marijuana test alone, substance testing to ensure a drug-free workplace is still a critical component in ensuring everyone's safety.
"Employers should be aware that CREAMMA allows them to maintain and enforce their current drug-free workplace policies that prohibit the use, possession or being under the influence of marijuana in the workplace and during work hours," Hodges says. "Employers are permitted to take adverse employment action against employees who violate their drug-free workplace policies."
This past August, the New Jersey Cannabis Regulatory Commission (CRC), which oversee the state's medical cannabis program and the general adult cannabis market, published its Personal Use Cannabis Rules, the first set of regulations that make CREAMMA's provisions not just operative but effective, outlining the likes of employment provisions, municipal relationships, fairness and safety as realities rather than hypotheticals. But legal experts say it still has much ground to cover in future updates.
Navigating the Present
Any regulations in their early days are bound to be confusing or at least complicated, and this one is no exception. In fact, both the CRC and the Department of Labor (DOL) are directing individuals to consult with their legal representation on a case-by-case basis, since there is so much nuance and newness to address with each query.
"It's important that you still test!" emphasizes Lauren Iannaccone, an associate at the law firm Connell Foley, which has offices in Cherry Hill. "Employers aren't just looking for the presence of marijuana, but other substances as well. If an employee notifies you that they are recreationally using marijuana on weekends, not at work, your inquiry is not over. First, you want to make sure you have a standard procedure and you are treating all of your employees the same. Second, do not forget you are testing for other substances as well."
While adult-use recreational cannabis might be allowed in private residences, it, much like alcohol, is still not allowed in most public spaces, especially the workplace. However, Frank Plum, president of the payroll and HR provider Workplace Human Capital Management in Marlton, points out that while metrics like blood alcohol concentration limits can determine whether or not an individual is legally too inebriated to function, no such THC threshold exists.
Additionally, it's much easier to prove a person is drunk at the time of an incident than it is to prove someone is high, as traces of marijuana stay in someone's system much longer than alcohol and there are currently no marijuana tests capable of accurately detecting real-time impairment.
"There's no Breathalyzer for marijuana: If you suspect someone is completely baked out of their mind right now, and they test positive for marijuana in their blood, in their hair, in their urine, who's to say that's not from the weekend?" he explains. "Because it's legal, what people do outside of work can't be brought into the office, and they can't be fired over it. Employers need to be careful in how they handle this and really focus on creating HR guidelines that promote safety, quality of work and performance."
He adds that on-site performance and especially accidents or any other potential insurance issue warrant further examination, though the company handbook will need to have those procedures already in place prior to an employee investigation.
"If you have someone who's driving a forklift and they're bumping into everything, now you have something to go on," Plum says. "For insurance purposes, addressing any kind of impairment—marijuana, alcohol, heroin, cocaine—is going to help the employer."
And so it will fall to certified Workplace Impairment Recognition Experts (WIREs) to prove an employee is under the influence. The WIRE certification program was established by the CRC to train and certify dedicated experts to conduct physical evaluations on employers' behalf to determine if an individual was using cannabis while working. It is a complex process in and of itself that, according to Iannaccone and Hodges, has yet to be codified.
"The (WIRE) should conduct a physical examination to help determine if an employee is impaired," says Iannaccone. "The program to certify these experts is not up and running yet."
As Hodges notes, "when the CRC published its 'Personal Use Cannabis Rules' on Aug. 19, 2021, the rules said virtually nothing about employer drug testing practices."
"CREAMMA tasked the CRC with adopting standards for a WIRE, who must be trained to detect and identify an employee's use or impairment from marijuana or other intoxicating substances," she continues. "The CRC stated that until it 'develops standards for a Workplace Impairment Recognition Expert certification' in consultation with the Police Training Commission, 'no physical evaluation of an employee being drug tested in accordance with [the new law] shall be required.'"
Both Hodges and Iannaccone have observed that testing's current deficiencies are creating more confusion for employers who, as Iannaccone points out, just "want to make sure that their employees are not under the influence of marijuana during work hours."
Addressing a complication in terms of actually doing business, Plum says that his company works with a number of banks that are backed by the Federal Deposit Insurance Corporation (FDIC), the independent agency that provides deposit insurance to American depository institution. That federal element makes it incredibly challenging to work with cannabis-based businesses.
"It is still difficult for us to work with medical or even recreational marijuana companies and dispensaries because most banks are FDIC, so you can't do ADH (Automated Clearing House), direct deposits or move money—even though the government will take the taxes, the government can still come after Workplace for assisting marijuana-based businesses with their payroll," he explains.
Proceeding Proactively
As testing and regulations become more refined by and responsive to real-world scenarios over time, Hodges notes that there is nothing wrong with enforcing drug-free workplaces. It does, however, become a problem when individuals who use marijuana, either recreationally or medicinally, are treated like criminals or subjected to invasions of their privacy or violations of their bodily autonomy.
"CREAMMA prohibits an employer from taking adverse action against an individual solely because that person does (or does not) use marijuana recreationally and, in doing so, creates a new 'protected class' under New Jersey law," she says.
Of course, marijuana use is still prohibited for federal employees and those working under federal contracts since it remains illegal per the Controlled Substances Act of 1970. But those are currently the only exemptions in New Jersey, and it's up to companies to draw up their own policies to ensure the safety of not only their employees but also their clients and communities.
That's why, for now, Plum advises companies to draw up their own drug-free workplace policies before they begin to see issues arise—though too stringent a policy comes with drawbacks all its own.
"In any company, you should have some kind of employee handbook or manual that spells out your take on drugs or alcohol or anything that's going to impair an employee from doing their job," he says. "You can do random drug tests and screenings from time to time, but most businesses don't do that because it's going to turn off potential employees. It can be done—but that doesn't mean it's the best practice. Look at the labor shortage right now: Who wants to go work for someone that's going to randomly drug test them?"
Iannoccone advises that employers keep their eyes on the testing market for inevitably improved options, as well as reminding them to keep in mind the state's black-and-white areas of cannabis legality.
"If a 19-year-old employee tests positive for marijuana, you want to follow the New Jersey medical marijuana rules for employers," she explains. "This includes notifying the employee of the positive test in writing and giving the employee three working days to provide a legitimate explanation for the positive test or request a retest of the original sample."
Both Iannoccone and Hodges echo the CRC's and DOL's suggestion that any employer needing additional clarification should consult an attorney. Hodges additionally notes that "this is going to be a developing area of the law, and one that may lead to some very interesting workplace issues."
"Until there is guidance on the subject, employers should approach these issues with experienced labor counsel," she concludes. "For now, however, if an employer becomes aware of a positive drug test for marijuana, they should not take any adverse employment action against an employee or potential employee, unless there is another reason for doing so."