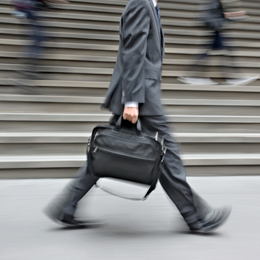 On the Move
Openings, closings, hirings and retirings in our region, and more.
WSFS Bank announced Dr. Michelle L. Burroughs as its new vice president, director of diversity, equity and inclusion (DE&I). Burroughs brings almost 20 years to WSFS Bank due to her experience in building and leading collaborative environments with a focus on diversity initiatives. She most recently served as community engagement director at Nemours Children's Hospital, where she was a core leader on the Diversity, anti-Racism, Inclusion, Value, and Health Equity taskforce.
Morgan Law LLC has welcomed Debra Foca, Esq. as of counsel. Foca previously was in-house counsel for a major restaurant organization and an investment property company. Foca brings extensive experience in leasing, purchases, sales, financing and complex commercial matters.
Opeyemi (Yemi) D. Akinde has joined Hyland Levin Shapiro LLP as an associate, working as a member of the litigation and employment practice groups. Prior to joining the firm, Akinde served as a law clerk to the Honorable Benjamin C. Telsey, A.J.S.C. in the Superior Court of New Jersey.
Jeffrey Catalano has joined Parker McCay at the firm's Mount Laurel office as an associate in its public schools and education department. Catalano has over a decade's worth of experience representing private and public entities in matters relating to labor and employment, contract negotiations, real estate, asset purchases and business litigation. In his new role, he will represent school district clients in matters including negotiations, employment disputes, discrimination and special education litigation.
Inspira Health named Steven Krefetz, PhD. as the new vice president of Inspira Medical Group. With more than 20 years of experience in the health care industry, Krefetz will support and advance the implementation of Inspira's strategic plan by focusing on driving business growth plans and guiding the network.
The law firm of Florio Perrucci Steinhardt Cappelli Tipton & Taylor recently appointed John Mininno as of counsel. Mininno is working out of the firm's Cherry Hill office as a member of the litigation group.
Charny Karpousis Altieri & Donoian, P.A has hired Leighann Reilly as an associate. Prior to this, Reilly was an associate attorney with Rabkin Law Offices, where she also focused her practice on divorce and family law.
Duly Noted
Michael Weinberg, a partner at the Marlton law firm Weinberg, Kaplan & Smith, P.A., has been named Lawyer of the Year for Family Law in Cherry Hill by Best Lawyers in America 2022. Weinberg received the highest feedback from his peers to be awarded this honor. Only one lawyer per practice field and geographic location are recognized as Lawyer of the Year.
Joseph's House of Camden, a South Jersey homeless shelter committed to providing resources, social and housing services for those in need, announced that Gina DiMarco has been named director of development. DiMarco will manage all development initiatives for Joseph's House, further strengthening the organization's ability to raise awareness and financial support from residents, regional businesses and local governments.
Matthew Csik, director of water quality and environmental compliance for New Jersey American Water, is the recipient of the National Association of Water Companies' 2021 Living Water Award due to his efforts to identify the presence of 1,4-dioxane that was detected during routine water testing in the Delaware River by New Jersey American Water.
Capehart Scatchard's Sanmathi "Sanu" Dev recently was selected as the "Woman of the Week" by Burlington County's Women's Advisory Council. Dev was nominated by the council for her outstanding service to the Burlington County community.
Century Savings Bank recently announced two promotions within the company. Joseph F. Rehm, former senior vice president of commercial lending, will now serve as executive vice president, chief lending officer. In addition, Debbie Holman has been appointed as senior vice president, director of marketing and retail banking.
After 14 years with the New Jersey Bankers Association, John McWeeney will retire as CEO in June of next year.
Carlos Bollar, a partner at Archer, was recently sworn in as the 44th president of the Hispanic National Bar Association.
Paul Marden, who has served as the CEO for UnitedHealthcare Employer & Individual of New Jersey since 2015, has now assumed leadership of the Pennsylvania and Delaware health plans. Marden is now in charge of providing health care services and benefits for employers across all three states.