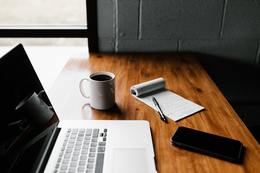 Office Space
October 2021
Crunching Numbers

$8 million
How much money Camden County is making available to nonprofits seeking COVID-19 recovery funding. Just as federal money has supported private businesses, the COVID-19 Community Recovery Grant Program will also assist mission-driven institutions.
$10,000
The maximum in wage subsidies that new statewide program Return and Earn will provide for employers to hire and train new employees with identifiable skills gaps. It also includes a $500 incentive for businesses with 100 or fewer employees to onboard new hires.
$2.3 million
The record-breaking amount of money raised by The Cooper Foundation at its 11th Annual Red Hot Gala. In the last decade, the event—which was held virtually this year—has raised nearly $20 million.
44,000 square feet
The size of a new $73 million Jean and Ric Edelman Fossil Park Museum being constructed in Mantua Township. The park is expected to debut in 2023 and welcome an estimated 200,000 guests per year.
$21
The new hourly minimum wage being offered by Bank of America. By 2025, the company plans to increase the wage to $25 an hour, a 121% increase from its pay rate in 2010.
$1.25 million
The amount in federal funding awarded to the New Jersey Department of State's Business Action Center for its State Trade Expansion Program. The program provides funding on a first come, first served basis to small businesses in the state that are new to exporting, as well as others that currently sell their goods and services to other countries.
$35B
The amount of money that has been paid in unemployment insurance benefits to 1.6 million claimants since March 2020, according to the New Jersey Department of Labor and Workforce Development. The money was given to workers ineligible for regular unemployment with the help of federally funded emergency response programs.
$265 million
The sale cost of a 1.1 million-square-foot distribution center being leased by Target in Logan Township. The transaction set a new record for price per square foot in the region.
THE BREAKDOWN
The Employment Situation
What happened: The most recent information released by the U.S. Bureau of Labor Statistics showed an increase of 194,000 jobs in the month of September and that the unemployment rate fell to 4.8%. The increase in jobs was lower than August's report of 235,000.
What it means: The report fell well below expectations, with private payrolls increased by 317,000, while government payrolls declined 123,000. The jobless rate declined to 8.5%, a new low during the pandemic.
What's next: There is hope that increased hiring will begin to take place as the Delta variant wanes and conditions surrounding the pandemic continue to improve.
SAVE THE DATE
Chamber of Commerce Southern New Jersey: Women's Conference
Oct. 28, 11:30 a.m.-5 p.m.
The Westin Mount Laurel
ChamberSNJ.com
$15 virtual registration, $60 ($70 after Oct. 21)
Register on website