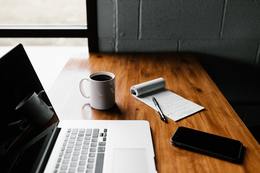 Office Space
September 2021
THE BREAKDOWN

VACCINE MANDATE

What it is: President Joe Biden recently announced a six-point plan to try and curb the pandemic and it includes a vaccination requirement for companies with more than 100 employees.

What it means: Businesses with more than 100 employees would have to require their employees to be vaccinated or face weekly COVID-19 testing. Companies that do not comply face $14,000 fines per violation.

What's next: The mandate is sure to face some legal challenges. It has the potential to impact close to 1.4 million workers in the state of New Jersey.

THE NEW JERSEY WIND PORT

What it is: A 200-acre wind port set to be built in Lower Alloways Creek Township in Salem County.

Why it's important: In addition to the construction jobs, officials estimate the port will create as many as 1,500 new jobs and generate $500 million in economic growth.

What's next: Construction will be handled in two phases between 2021 and 2026, with the first phase expected to be completed by 2023. The port is expected to become operational between 2024 and 2026.

24

The approximate percentage of power outages caused by trees coming in contact with electric infrastructure and wires, according to Atlantic City Electric. The utility company is in the midst of trimming trees and vegetation along more than 1,800 miles of aerial power lines.




$478,619

The amount of debt for 540 students that has been forgiven by Camden County College thanks to money provided through the CARES Act Higher Education Emergency Relief Funding.




2,100

The number of backpacks that Cooper University Health Care donated to students in several Camden schools as part of the health care system's charitable foundation's annual Operation Backpack.




$376,473

The amount of a grant awarded to Rowan College at Burlington County to help boost the graduation rate of veterans. The funding is being directed to help create a Center for Excellence, which will offer veterans academic advisement, by next fall.




25.8%

The increase in occupancy taxes collected in Cape May County during the first half of 2021, marking a boost for the state's tourism industry.




15

The number of New Jersey colleges and universities that made the Forbes' 2021 America's Top Colleges list of 600 schools, including The College of New Jersey (174); Rutgers University (212); Rowan University (352); and Stockton University (452).




8,700

The number of workers that Amazon is looking to hire across the state of New Jersey. The e-commerce company is set to open its 17th fulfillment center in the state in Salem County later this year.




$26,000,000

The total investment that Comcast Business is making to expand its broadband network in New Jersey and the Greater Philadelphia area.

Click here to subscribe to the free digital editions of South Jersey Biz.