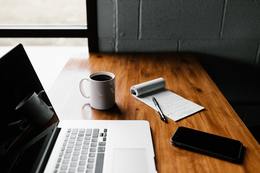 OFFICE SPACE
August 2021
Executive Q&A
As a business leader, what is something that keeps you up at night?
George E. Duffield Sr., CEO and co-owner, National Integrity Title Agency
"Cybercrime—think of all the private data stored, confidential information transferred and financial transactions conducted with a click of the mouse. The idea that there are hackers constantly lurking and how even the smallest breach can literally shut down a business. And that's just at the office. Identity theft, cyber bullying and password trafficking can hit much closer to home. The vulnerability is more than enough to cause sleepless nights."
Crunching Numbers
$161.25 MILLION
The amount of money being handed out to the state's 21 counties to use on bridge and road upgrades. The money will come from New Jersey's Transportation Trust Fund, money collected via the gas tax.
$80,000
The amount of a state grant received by Stockton University to help expand its campus food pantry.
$75,000,000
The total of an extension granted by the New Jersey Economic Development Authority for the commercial components of the Economic Redevelopment & Growth program. The residential component of the program had already been extended from $50 million to $125 million.
TWENTY-FIVE THOUSAND
The total donation made by ShopRite Partners in Caring and Kellogg's to help support three New Jersey food banks. All told, Kellogg's has pledged $50,000 to fight food insecurity through the ShopRite program.
$748,000
The total of a combined grant "seed funding" for 10 clean tech startup companies to help develop technology to recapture or cut down on carbon emissions. Known as the Clean Tech Seed Grant Program, each firm will use the funds to pay for work toward their proof of concept and prototyping stages.
$1.56 BILLION
The amount that DraftKings is paying to acquire Golden Nugget's online gambling platform. In an all-stock transaction, DraftKings will buy Golden Nugget Online Gaming and both entities will be managed by the newly formed holding company New DraftKings.
11%
The approximate estimate of drivers who do not use EZ-Pass according to the New Jersey Turnpike Authority. As a result, the authority is launching a $500,000 campaign to persuade holdout drivers to open an account.