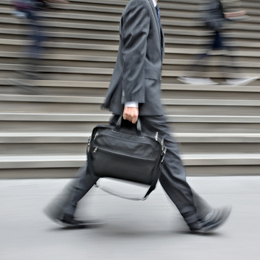 ON THE MOVE
Openings, closings, hirings and retirings in our region, and more.
Parker McCay has welcomed Christopher A. Orlando to the firm as a shareholder in its
municipal and real estate and redevelopment departments. Orlando recently held dual roles as county counsel for Camden County and as executive director of the Camden County Improvement Authority.
Felician University has named James W. Crawford III as its sixth president after serving that role on an interim basis. Crawford is a retired admiral and the 43rd Judge Advocate General of the United States Navy.
Deborah Affonsa is PSEG's new vice president and chief customer officer. In this newly formed position, Affonsa will be responsible for leading, planning and managing the transformation of the company's overall customer experience.
Alexis Bailey has joined the New Jersey Business & Industry Association as director of government affairs. The Rider University graduate will work with others on the team to conduct research and legislative policy analysis, with a strong focus on employment and labor issues.
Samaritan has named Susan McCann, MSW, as its new COO. She will oversee all of Samaritan's clinical services as well as human resources, information technology and volunteer services. McCann has been with the organization since 2003 and previously served as both VP and director of human resources as well as manager of social work and bereavement services.
Grounds for Sculpture has appointed Kathleen Greene to the newly created position of chief audience officer and Marissa Reibstein to chief development officer.
Inspira Health has announced the appointment of Robin A. Walton as the new vice president of
government and external affairs. In her new role, Walton will forge collaborative relationships on behalf of Inspira with local, regional and state political representatives and government officials. She will also represent Inspira as a member on associations where public policy and advocacy are key goals, and counsel Inspira leaders on health care bills and legislation.
Duly Noted
Jefferson Health has promoted Autum Shingler- Nace to vice president of operations at its
Washington Township campus. Shingler-Nace will oversee daily operations at the hospital as well as have oversight of the Sidney Kimmel Cancer Center – Washington Township and the Vickie & Jack Farber Institute for Neuroscience. She will be replacing outgoing chief administrative officer John Graham.
Modia Butler is the new chairman of the Casino Reinvestment Development Authority. Butler is a highly respected public affairs expert with extensive experience in government relations, political campaigns and strategic communications in both New Jersey and Washington, D.C. He has had a seat on the organization's board since November 2018.
Cooper Levenson's Rebecca Lafferty was recently sworn in as president of the Atlantic County Bar Association. Her father, Randolph Lafferty, previously served as president of the association in 1995, making this the first time in the organization's history that a father and daughter team have both filled the seat.
Matthew J. Walsh, of Stout & Caldwell Engineers and Surveyors, recently received his professional engineer license. Walsh will now be able to expand his role with the company to include signing and sealing of engineering plans, submitting drawings for public comment
and testifying before planning boards.
Dilworth Paxson LLP has appointed Mark Schiavo as managing partner of its Cherry Hill office. A member of the firm's executive committee since 2018 and partner in its litigation group, he focuses his practice on construction issues, breach of contract, uniform commercial code, creditors' rights/loan workout, business torts and insurance coverage disputes.
Parker McCay's William Morlok has been promoted from associate to counsel. Representing the firm's public schools and education department, Morlok focuses his practice on representing school boards in all areas affecting their operations. He has been with the firm since February 2019 and has over a decade of litigation experience.
Voorhees resident Dr. Jenice Baker has been elected as the first Black president of the New Jersey chapter of the American College of Emergency Physicians. Baker has practiced emergency medicine for over 15 years and is currently the chair of emergency medicine at Chestnut Hill Hospital in Philadelphia.
Stark & Stark has announced that Bhaveen R. Jani and Max L. Schatzow have been elected shareholders of the firm. Jani is a trial attorney in the accident and personal injury group department while Schatzow is a member of the firm's investment management and securities group.