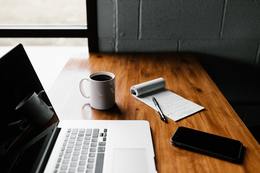 OFFICE SPACE
July 2021
Executive Q&A
How do you continue to grow and develop as a business leader?
Nicole Donoian-Pody Esq., Partner, Charny Karpousis Altieri & Donoian, P.A.
"Lawyers are not typically trained to lead a business. When Karen [Karpousis], Michelle [Altieri] and I acquired the firm I was nervous as there were so many things I did not know about running a business. To educate myself, I sought advice from other business owners that I knew and respected. I learned quickly you have to be able to handle, amongst other things, personnel issues, financial issues, strategic planning all while practicing law. Four years later, I continue to grow and develop by talking with my business partners, calling other business leaders for advice and reading books and articles that offer tips for successfully running a business."
Crunching Numbers
No. 26
New Jersey's ranking in CNBC's America's Top States for Business in 2021. The study was based on 10 metrics including the cost of doing business, infrastructure and access to capital.
$117,000,000,000
The cost of the proposed 15-year plan that would address infrastructure issues along Amtrak's northeast corridor. The long-term investment was developed by the Northeast Corridor Commission (consisting of eight commuter rail agencies across several states), the federal government and Amtrak and would include 150 improvement projects along the route from Boston to Washington, D.C.
2
The number of South Jersey companies which made the most recent Fortune 500 list. Campbell Soup Company ranked No. 335 (down 13 spots from the previous year), while Burlington Stores was positioned at No. 471 (down 47 spots).
$155,000
The total amount of money awarded to 16 South Jersey nonprofits by The Community Foundation of South Jersey, courtesy of its COVID-19 Response Fund. During the pandemic, the foundation has awarded more than $848,000 to over 110 nonprofits across the area.
TWO
The number of casinos in Atlantic City offering high rollers private chartered jet service from several out-of-area markets across the country to the properties. Hard Rock Casino Atlantic City launched Hard Rock Air while the Borgata has introduced Fly Borgata.
$75 MILLION
The cost of AtlantiCare's recently announced expansion of its Mainland Campus in Pomona. The multi-year project will include the addition of two floors and approximately 35,000 square feet to the Meadow Pavilion. The second phase will include the renovation of the Meadow Pavilion's existing second floor for a new expanded ICU, while phase three will see renovations to the Harbor Pavilion.
$13,351,408
The amount of a grant awarded to Cape May County Airport, Atlantic City International Airport and Morristown Municipal Airport by the Federal Aviation Administration. The money will be used to rehabilitate and upgrade runways, lighting and safety areas.
Click here to subscribe to the free digital editions of South Jersey Biz.

To read the digital edition of South Jersey Biz, click here.

Published (and copyrighted) in South Jersey Biz, Volume 11, Issue 7 (July 2021).

For more info on South Jersey Biz, click here.
To subscribe to South Jersey Biz, click here.
To advertise in South Jersey Biz, click here.