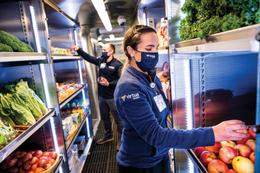 Best of Health Care
From the individuals who are moving medicine forward to the programs that are improving patient care, the health care industry has never been stronger in South Jersey.
If there ever was a time to recognize the many people and places that make up South Jersey's medical landscape, it's now. After spending the past 12 months under the dark cloud of the pandemic, there's been a renewed focus on one's physical and mental well-being and thankfully our area is home to some of the best resources available. For our annual Best of Health Care, we are highlighting the doctors, researchers and more who are pushing the boundaries while also taking a look at the latest advancements and breakthroughs that are helping redefine patient care in the modern medical world.
CANCER CARE
AtlantiCare Regional Medical Center
At the end of 2020, AtlantiCare began offering robotic bronchoscopy to diagnose lung cancer, becoming the first hospital in New Jersey to use Auris Health's Monarch Platform. The platform enables earlier and more-accurate diagnosis of small and hard-to-reach nodules in the periphery of the lung. Physicians are able to use a controller-like interface to navigate the robotic endoscope to give them greater insight into the external boundaries of the lung. The technology combines the traditional endoscopic views into the lung with computer-assisted navigation on 3D models of the patient's own lung anatomy.
"This new technology is a game changer for diagnosing lung cancer at its earliest stages, when treatment is most successful," said Dr. Amit Borah, interventional pulmonologist, AtlantiCare Lung Nodule Clinic. "The cameras and biopsy needles we use can go deeper into the lungs than previous technologies have allowed. This is one of the most promising technologies I've witnessed in my career."
South Jersey Radiology
Dr. William F. Muhr Jr., South Jersey Radiology's (SJRA) president and CEO, says the organization's history in the community—which dates back to 1938—means that patients can rest assured they are getting the correct scan on the correct equipment. "We pride ourselves on the latest and greatest optimized equipment and keeping it state of the art." And the results are evident as SJRA is the only center in the region to be awarded the Diagnostic Imaging Center of Excellence by the American College of Radiology.
Currently, SJRA is helping improve patient outcomes with the use of CT lung cancer screening, which allows radiologists to see smaller things with greater resolution, providing a broad overview to help determine the best path forward.
Additionally, SJRA has recently updated its 3D mammography equipment and can now create a synthesized 2D image from a 3D scan, which reduces the amount of radiation for patients while also creating the ability to enhance certain features in the breast to help identify abnormalities and detect cancer early.
CARDIAC CARE
Cooper University Health Care
A new breakthrough in health care launched right here in South Jersey as Cooper was the first hospital in the world to use The REAL Immersive System, a new virtual reality technique that is helping patients rehab following a stroke. After working directly with the device's producer to help research and develop the system, field testing at Cooper helped refine the technology for patient use.
Patients are outfitted with a head-mounted display and a series of sensors which have mechanical and electrical components that can measure motion and direction in the physical space and then translate that into a virtual environment. A therapist uses a tablet to choose various activities that prompt the patient to move their upper extremities while interacting in the virtual world. This type of immersive experience helps stimulate the brain and enhances a patient's motor recovery as the therapeutic exercises feel real. And because the technology is completely wireless and can be easily transported, it can be utilized at the hospital bedside or at an outpatient clinic.
COVID OUTREACH
Deborah Heart and Lung Center
While the medical world is still learning more about the coronavirus each day, Deborah is taking the lead to address the lingering effects of COVID-19. Under the direction Dr. Andrew Martin, a new pulmonary medicine program aims to help patients who have contracted and overcame the virus but are still dealing with continuing health problems. Based on the diagnosis, individualized treatment plans are formed that could integrate other specialties such as cardiology, hematology, radiology, pulmonary rehab and physical therapy. John Hill, Deborah's vice president of pulmonary services, feels the program addresses a critical need in the community.
"After a year of studying the coronavirus, we now know that COVID-19 is exceptionally hard on the body. … This is just the beginning. I suspect we are going to be dealing with the effects from COVID for many years in the future," Hill said.
Virtua Health
In response to the pandemic, Virtua Health cared for huge influxes of gravely ill and highly contagious patients while also creating COVID-19 testing and vaccination centers. But the provider also took things a step further by introducing other innovations to help the community manage the crisis.
Led by Dr. Martin Topiel, chief infection control officer and chief of infectious diseases, a groundbreaking treatment called monoclonal antibody therapy proved to be a real difference maker, as this one-time IV infusion helped reduce the rate of COVID-19 hospitalizations up to 70% for high-risk patients experiencing mild symptoms.
Furthermore, Virtua created a remote patient monitoring program to keep COVID patients connected to care after being discharged from the hospital. The special kit enables a nurse to remotely monitor a patient and helped cut hospital readmissions by 3%. Overall, more than 175 patients recovering from coronavirus have benefitted from the program.
And to address food insecurity during these trying times, Virtua launched the "Eat Well" Mobile Grocery Store, a 40-foot supermarket on wheels that travels to neighborhoods in need to provide healthy, affordable and culturally relevant foods.
HEALTH CARE CHAMPIONS
Dr. Evelyn K. Balogun, Medical Director of Employee Health Urgent Care and Occupational Medicine, Inspira Health Network
Balogun has served in her current role since 2014 after spending a decade as a medical director with Temple University Hospital. Since she's been with Inspira Health, she's made an impact with her peers, who appreciate the means by which she rises to any occasion and tends to go above and beyond to assist both her colleagues and the community. "Well deserved," is how one senior leader at Inspira responded when told Balogun was being recognized for her efforts.
During the pandemic, she has been instrumental in providing key information about the virus to interested parties, ranging from Inspira employees and area residents to school administrators and local clergy. Whether offering insight about coronavirus vaccines during an online video chat or hosting a virtual town hall for large groups, Balogun has been viewed as a steady, calming force during such an uneasy time.
Melissa Fox, COO, Acenda Integrated Health
With operational responsibility for all of Acenda's 100 programs, Fox's years of developing and implementing efficient health care operations as well as her belief on "focusing on the outcome" greatly helped Acenda navigate the challenges caused by the pandemic. Along with her team, she created the Here2Heal online direct-to-consumer counseling service to address mental health issues and she received a grant to launch the first Certified Community Behavioral Health Clinic in Gloucester County.
And during the handful of years that she has served as COO, Fox has also ushered in an era of innovation for Acenda, positioning the organization to find creative solutions for its most pressing needs with an eye toward the future. When she's not hosting discussion groups or creating new platforms to track health initiatives, Fox lends her expertise to the community. A board member for the Camden Coalition, she has also been recognized for her work in urban affairs including being named a "Game Changer" by the Gloucester County NAACP.
Dr. Noah Lindenberg, Founder, Lindenberg Cancer and Hematology Center
As an oncologist, Lindenberg is passionate about providing personalized, individual care for his patients and forming a nurturing environment where they feel comfortable and supported. "Data shows when patients have more optimism, support, warmth and loving care, they do better. There's no amount of medicine that can replace that," he said.
Lindenberg's credentials are impressive, as he also serves as the medical director of the cancer genetic program at Virtua Health in conjunction with the University of Pennsylvania, and an investigator for clinical trials through Virtua and UPenn as well. In 2017, he decided to open his private practice so he could offer patients specific treatment options that extend beyond chemotherapy, such as hormone therapy, targeted therapy and immunotherapy. In the past year, the practice has grown even more, increasing the size of its facility and adding state-of-the-art equipment to better serve patients.
Nahid Turan, Ph.D., Chief Biobanking Officer and Matthew W. Mitchell, Ph.D., Program Manager, Coriell Institute for Medical Research (HAS ART)
As the leaders of the National Institute of General Medical Sciences' (NIGMS) Human Genetic Cell Repository at the Coriell Institute, Turan and Mitchell are tasked not only with maintaining one of the most diverse and important biobanks in the world, but growing it as well. The collection includes samples from more than 1,000 rare, heritable diseases and is always accepting skin or blood tissue donations from eligible donors. The repository contains many lines of what are called induced pluripotent stem cells, which are lab-made and can be coaxed into nearly any cell type in the body. This newer technology and these lines are very valuable to researchers around the world and the samples processed at Coriell have been widely used in the development of scientific instruments.
INTEGRATED HEALTH & WELLNESS
Oaks Integrated Care
Oaks Integrated Care's South Jersey roots trace back more than five decades when a small group of volunteers sought to establish a mental health organization to provide counseling and emergency intervention to families and individuals 24 hours a day. Today, the nonprofit has grown to offer 230 health and social service programs throughout the state resulting in the direct impact of approximately 34,000 lives each year.
During this period of growth, Oaks has honed its integrated approach to mental and physical wellness. Recognizing that individuals living with mental illness face an increased risk of chronic medical conditions, the organization has furthered its reach by offering expanded services including primary care, substance abuse support, nutrition planning and more. This evolution has led to the opening of Oaks' Certified Community Behavioral Health Clinics in Camden and Mercer counties where the desire to improve overall health is achieved through community-based mental health and addiction treatment.
INVESTING IN HEALTH CARE
Jefferson Health – New Jersey
Five years since beginning a major $250 million-plus revitalization project on its Cherry Hill campus, Jefferson Health opened its new Patient Pavilion earlier this year. Highlighted by 90 all-private rooms with advanced technology aimed at improving patients' comfort and convenience, the pavilion also houses new medical imaging facilities and a full-service café. In addition, advancements to help staff increase efficiency were based on suggestions from hospital clinical personnel.
"This marks a new era for our health system and our Cherry Hill Hospital," said Jefferson Health - New Jersey President Brian Sweeney. "It elevates the level of service and care we can provide our community members."
Next for Jefferson will be its unveiling of the Silvestri Tower on its Washington Township campus. The seven-story, 240,000-square-foot patient center is slated to open this July.
Click here
to subscribe to the free digital editions of South Jersey Biz.
To read the digital edition of South Jersey Biz,
click
here.
Published (and copyrighted) in South Jersey Biz, Volume 11, Issue 3 (March 2021).

For more info on South Jersey Biz,
click
here.
To subscribe to South Jersey Biz,
click
here.
To advertise in South Jersey Biz,
click
here.