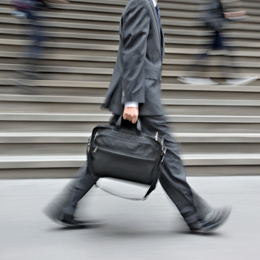 On the Move
Openings, closings, hirings and retirings in our region.
Jonathan Gremminger has joined Lauletta Birnbaum.
Friedman LLP has promoted Scott Croff to partner.
Mariana Diosa-Gomez has joined Parker McCay.
Oliver Lewis has been appointed to executive vice president, head of commercial banking for Columbia Bank.
GREYHAWK Construction Management has promoted Barrett L. Richards, CCC, CEP, PSP to executive consultant.
James Graziano has been appointed as the ABC director.
Robert Radano, senior vice president and chief operating officer of J & J Snack Foods Corp. will retire March 31.
Natalia P. Teekah has joined Hyland Levin Shapiro LLP.
Capehart Scatchard recently announced three attorneys have been admitted as shareholders: Joseph A. Acosta, Christopher M. Chu and Keith E. Nagy.
Cooper Levenson has named four attorneys as the firm's newest partners: Cynthia N. Grob, Erika-Leigh Kelley, Yolanda N. Melville and Jarad K. Stiles.
The New Jersey Hospital Association has hired Raymond Brandes as chief operating officer and Christopher Bailey as chief financial officer.
New Jersey Human Services Commissioner Carole Johnson is leaving the Murphy administration to join the Biden COVID-19 response team as testing coordinator.
Duly Noted
Anthony Minniti, owner of Bell Pharmacy, has been selected as president of the Independent Pharmacy Alliance.
Cooper University Health Care
Co-President and CEO Kevin O'Dowd received the Distinguished Alumnus Award from the
U.S. Attorney's Office for the District of New Jersey
for his leadership during the COVID-19 pandemic, it's first-ever award.
Click here
to subscribe to the free digital editions of South Jersey Biz.
To read the digital edition of South Jersey Biz,
click
here.
Published (and copyrighted) in South Jersey Biz, Volume 11, Issue 1 (January 2021).

For more info on South Jersey Biz,
click
here.
To subscribe to South Jersey Biz,
click
here.
To advertise in South Jersey Biz,
click
here.