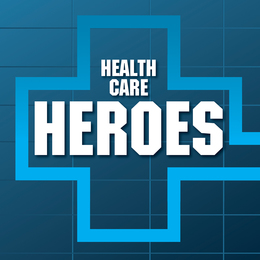 Health Care Heroes
We salute local health care heroes stepping up during the COVID-19 pandemic.
Our June feature is typically Who's Who in Health Care—highlighting doctors and medical professionals making an impact in health care in South Jersey. This year we are changing it up a bit, highlighting those specifically who have responded head on to the coronavirus. The list ranges from infectious disease doctors to supply chain managers making sure health care workers are properly supplied with PPE and nurses going above and beyond, not just treating COVID-19 patients and risking their lives, but being there for them every step of the way while family members and loved ones could not be with them. We are honored to present to you those putting themselves on the front line during this pandemic.
Kevin Emmons
DrNP, RN, clinical associate professor of nursing, Rutgers School of Nursing-Camden
Emmons has been a key player in the response to the COVID-19 pandemic, as he currently serves as chief nursing officer for the New Jersey Department of Health's field hospital in Atlantic City treating COVID-19 patients. Emmons, who was deployed to Iraq while serving in the U.S. Army, has taught at the Rutgers School of Nursing-Camden since 2012. He is director of the school's Veterans Serving Veterans Nursing Fellowship Program, which he was instrumental in establishing. It is designed for student-veterans seeking nursing degrees and is funded by a three-year, nearly $1.5 million grant from the federal Health Resources and Services Administration. The program—the only one of its kind in the Delaware Valley and the state of New Jersey—began in fall 2019 with the dual goal of helping veterans launch careers as nurses and training them to treat the unique veteran population.
Cindy Hou
DO, infection control officer and infectious disease specialist, Jefferson Medical Group
Hou started researching the coronavirus as soon as word started trickling into the U.S. about what was happening in China, and spent hours each day researching its potential spread and impact on health care workers and the public. By the time Jefferson Hospital Cherry Hill had its first COVID-positive patient in early March, she had become versed on diagnostic information and potential signs of the disease. She and David Condoluci, chief patient safety and quality officer, quickly became Jefferson New Jersey's "go-to" resources for clinicians facing this virus.
In addition, Hou has been directly involved in caring for COVID-positive patients at Jefferson's New Jersey hospitals, while offering support to other front-line clinicians. She is also the New Jersey principal investigator for a Jefferson Health enterprise research trial to provide COVID-19 survivors with convalescent plasma donated by recovered COVID-19 patients.
Jack Gutsche
MD, associate professor of anesthesiology and critical care and co-director of the Penn Lung Rescue Program, Penn Medicine
Gutsche is a nationally recognized expert in extracorporeal membrane oxygenation (ECMO) and critical care organization. He is the co-founder and co-medical director of Penn Lung Rescue, a regional mobile ECMO service able to deploy teams to remote hospitals to salvage patients with severe acute lung disease. Gutsche has published numerous research studies investigating the outcomes of ECMO in acute respiratory distress syndrome. In addition, he serves as the associate chief medical officer for critical care for the University of Pennsylvania Health System. In this role, Gutsche leads a team of critical care leaders to improve organization and outcomes in intensive care units across the health system. During the COVID-19 pandemic, Gutsche has helped organize the management of COVID ICUs and rescue patients with ECMO suffering from severe acute respiratory distress syndrome due to COVID-19.
Martin Topiel
MD, head of infectious diseases, Virtua Health
As the head of infectious diseases at Virtua, Topiel is a leader in containing the spread of COVID-19 in the community. For 36 years, he has been instrumental in treating patients suffering from debilitating and often unknown diseases, including anthrax poisoning in 2001. Topiel was instrumental in planning Virtua's response to the COVID-19 pandemic, which included the procurement of sufficient PPE, surge planning and open communication with employees about the impending crisis. Now, he is treating patients who are critically affected by the novel coronavirus and continuing to ensure the safety of front-line staff at Virtua.
Topiel received his medical degree from New York University School of Medicine and is board-certified in infectious diseases. During his training at George Washington University, he attended lectures by Dr. Anthony Fauci, the physician leading the national response to the pandemic.
Joe Hreno
director of supply chain management, Inspira Health
Hreno is known for his positive outlook and unwavering dedication when responding to global shortages of PPE. From the earliest days of the pandemic, he led the effort to ensure Inspira's care teams had the supplies and equipment they needed to provide safe care. He directed his team to contact and visit businesses, including paint stores and building contractors, that might have needed items such as masks. He reached out to new suppliers around the world, working all hours to secure critical supplies.
As a member of the emergency operations center, Hreno has been responsible for keeping the organization updated on current PPE inventory and expected deliveries. His accurate real-time updates enabled clinical leadership to make informed decisions regarding PPE use and conservation. Through Hreno's efforts, and those of his team, Inspira employees were able to protect themselves and their patients during these unprecedented times.
Paul Lambrecht
vice president of quality and patient safety, Inspira Health
Lambrecht immediately stepped up when concerns first arose about the novel coronavirus. Well before it became a pandemic, he initiated regular calls with the infection prevention and emergency management teams to monitor the situation and begin preparing the health system. His regular communication with leadership and staff has provided invaluable situational awareness throughout the organization.
Lambrecht has led Inspira's Emergency Operations Center—seven days a week—since it was mobilized in March. In this role, he has coordinated Inspira's response and weighed in on virtually every critical decision, clinical, operations and communications, related to Inspira's response. He also serves as Inspira's liaison with local, regional and national agencies.
Lambrecht continues to lead the organization through its recovery phase in a systematic and thoughtful way with a keen focus on patient, staff and physician safety.
Jennifer Khelil
DO, MBA, senior vice president and chief medical officer, Virtua Health
As chief medical officer, Khelil is responsible for the oversight of the daily medical operations of five hospitals and 280 affiliated centers and ensuring the safety of all patients and staff. During this pandemic, Khelil has provided invaluable leadership to Virtua's medical teams on matters affecting the public health of its communities. She is a member of Virtua's pandemic advisory team, which is responsible for the health system's planning and response. Under her guidance, Virtua patients receive the highest standard of medical care available.
Khelil is a graduate of the Virtua Physician Leadership Program and the Health Management Academy Physician Leadership Program.
Belinda Myers
BSN, RN, Jefferson Health - New Jersey
Myers has been with the health system since February 2016 and has devoted herself to caring for a unique and complex group of patients. She is compassionate and caring, and treats all of her behavioral health patients with dignity and respect. During the past few months of COVID-19, Myers enthusiastically volunteered to join the ICU team as a support RN, assisting with caring for the most vulnerable and sick patients, and not once did she hesitate or retract from her commitment. Her smiling face and positive energy bring support and comfort to those in her presence, and her compassion is evident in the ICU setting as well. The ICU team feels that during the worst of the COVID storm, it could not have endured without her as part of the team. Myers went above and beyond what was expected in the scope of her behavioral health role.
Diane Floyd
BSN, MSN, TCRN, CCRN, NE-BC, assistant vice president of patient care services, Cooper University Health Care
With nearly 40 years of nursing and leadership experience in critical care and trauma, Floyd's career work has been focused in support of creating and building high functioning teams, producing positive patient outcomes. She has demonstrated success in the implementation of evidenced-based practices to improve the delivery of safe, quality patient care and service. She has established collaborative relationships through the engagement of direct care staff, physicians and leaders to attain these achievements. Floyd has published and presented this work in national and international forums and continues to seek opportunities to promote excellence in nursing practice. Throughout the COVID-19 pandemic, Floyd has provided leadership for several critical care units.
Mark Mikkelsen
MD
, chief of medical critical care, Penn Medicine
Mikkelsen is a nationally recognized critical care physician and critical care epidemiologist and health services researcher. He serves as the chief of the medical critical care section at Penn Medicine and as the director of the medical intensive care unit at Penn Presbyterian. He is passionate in his pursuit to improve the outcomes of the critically ill through patient-oriented research. His clinical areas of expertise include sepsis and long-term outcomes after critical illness. These efforts align with his leadership roles in the Society of Critical Care Medicine, American Thoracic Society, Hospital and Healthcare Association of Pennsylvania and Centers for Medicare and Medicaid Services. During the pandemic, he has served on the health system's COVID-19 Taskforce, helped create the Penn Medicine Predictive Healthcare CHIME model used across the United States, and helped to lead the response at Penn Presbyterian Medical Center.
Marjorie Ivins
MS, BSN, RN, chief operating officer, Samaritan Healthcare & Hospice
As chief operating officer, Ivins ensures the highest quality care for more than 10,000 people served by Samaritan each year. To accomplish this responsibility, this compassionate 20-year Samaritan veteran oversees all clinical operations, strategic growth initiatives, information technology, quality and compliance.
From the onset of the COVID-19 pandemic, Ivins has worked diligently with Samaritan's medical team, clinical management, human resources and others to ensure the safety and well-being of staff, patients and their loved ones. Ivins led the transformation of Samaritan's Mount Holly inpatient hospice center to care exclusively for COVID-positive hospice patients. She launched telemedicine services to connect patients with their Samaritan physicians, nurses and counselors, and extended Samaritan's healing complementary therapies to the broader community. Most importantly and reflecting the organization's 40-year legacy as a South Jersey-based, not-for-profit provider, Ivins ensured that there was no interruption in services for Samaritan's hospice, palliative medicine or primary care patients since the pandemic began.


David Miller
MD, DABR, chief medical information officer, South Jersey Radiology (SJRA)
Miller is an 18-year veteran of SJRA specializing in diagnostic radiology/neuroradiology and a graduate of Washington University School of Medicine with internships, residencies and fellowships at Albert Einstein Medical Center, North Shore University Hospital and the Hospital of the University of Pennsylvania.
Possessing memberships in the American Society of Neuroradiology, Radiological Society of North America and American College of Radiology, Miller brings a wealth of knowledge and expertise in his current role as chief medical information officer of SJRA. He has been instrumental in developing policies and protocols for helping patients and staff safely navigate the coronavirus pandemic.
Michael S. Awadalla
PharmD, BCGP, CMWA, Senior Vice President, Clinical Services and Medication Safety, Tabula Rasa HealthCare (TRHC)
Awadalla is a licensed pharmacist who oversees and mentors more than 100 board-certified pharmacists and certified pharmacy technicians. Awadalla drives advances in process improvement, creation of advanced clinical key performance indicators, and adoption of cutting-edge technology platforms—all while successfully leading a formal business culture program among his teams.
Awadalla joined the company in 2011 as a clinical pharmacist, and shortly after became TRHC's director of clinical pharmacy operations for Programs of All-inclusive Care for the Elderly (PACE). Under his leadership, TRHC now provides medication safety services for more than 40 percent of PACE organizations, or over 21,000 patients.
In 2016, he was essential to the design and launch of TRHC's Enhanced Medication Therapy Management and Pharmacovigilance programs, leveraging clinical and technological innovations and connecting pharmacists to at-risk populations with a focus on improving medication safety, improving outcomes and reducing healthcare costs.
As TRHC provides COVID-19 testing for PACE, he and his team of pharmacists are the point of contact for medical directors, providing clinical guidance for patients who have positive results.
Jean-Sebastien Rachoin
MD, MBA, Medical Director, Center for Hospital-Based Services, Cooper University Health Care; Co-Medical Director, Center for Critical Care Medicine and Associate Professor of Medicine, Cooper Medical School of Rowan University
Rachoin has been with
Cooper since 2004 where he completed his Internal medicine residency, chief residency and fellowships in nephrology and critical care.

During his 16 years at Cooper he has served in many roles and is board-certified in internal medicine, nephrology, critical care and is a clinical hypertension specialist. Rachoin was a key leader in Cooper's response to COVID-19 because of his dual roles in critical care and hospital medicine. "

I love the spirit of camaraderie at Cooper every day, it makes us feel like a large family," he says. "Throughout the pandemic, I felt very supported and people from every department came to help."
Click here to subscribe to the free digital editions of South Jersey Biz.

To read the digital edition of South Jersey Biz, click here.

Published (and copyrighted) in South Jersey Biz, Volume 10, Issue 6 (June 2020).

For more info on South Jersey Biz, click here.
To subscribe to South Jersey Biz, click here.
To advertise in South Jersey Biz, click here.