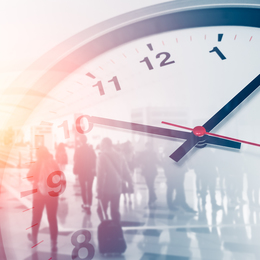 Close of Biz: Off the Clock



We started off 2020 by closing our January issue on a personal note, talking about South Jersey executives and their passions outside of the workplace. We're going off the clock even more this month and getting a small glimpse into how other executives start and end their day.


Q: WHAT'S IN YOUR BRIEFCASE?
Anthony Bellia, President, Bellia Interiors Group
"Besides the basics, I always carry around with me a Tide stick. How many things stain my shirts on a daily basis? Well, it doesn't matter because my Tide stick saves the day!"

John Herring, New Jersey Market President, Liberty Bell Bank
"Business cards, something to write with and on, mints, Advil, sunglass cleaner, a thumb drive and my work iPad."
Matt Boyce, Executive Vice President, Garden State Home Loans
"A Garden State Home Loans notepad and pens, a laptop and a selfie stick."

Teresa Sydorko, Director of Communications, Delco Development
"My laptop, a mini notebook and definitely a lipstick or two."
Nick Pantle, Vice President, Financial Planning Services, Masso Torrence Wealth Management
"My writing pad, business cards, pens and currently my wife's lost hair clip!"
Q: BEST BREAKFAST ON THE GO?
"There's nothing better than coffee from Grooveground in Collingswood— can't beat it."

John Herring
"Chocolate, banana and peanut butter protein shake."

Teresa Sydorko
"I try not to eat breakfast on the go, but if I do, it's usually yogurt and granola or a breakfast burrito."
"Banana and granola bar."
Q: HOW DO YOU UNWIND AFTER WORK?
"There is no way I want to unwind when I come home to my two boys and wife, Kim. They deserve
all of my energy, even when I have nothing left to give. When all that calms down, Netflix, YouTube and Twitch keep my sanity."

John Herring
"A mix of exercise, refreshments and hot tub."
"Terrible television such as The Bachelor/Bachelorette, which I force my wife to watch

Teresa Sydorko
"Yoga! Movement makes me feel alive; it's a great destresser."
"After work I typically like to unwind watching a show or two with my wife