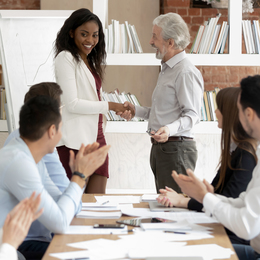 Quick Take: The Importance of a Great Workplace Culture


Strong corporate culture is closely tied to business success. SJI and its subsidiaries, including South Jersey Gas and Elizabethtown Gas, prioritize a positive work environment as a cornerstone of a high impact culture—investing in employees, offering meaningful careers and uniting employees behind our mission to deliver safe, reliable, affordable natural gas to the communities we serve. A few keys to our culture include:



Purpose


Employees spend a lot of time at work—it must be meaningful. We connect employees to corporate strategic objectives through a performance management process and financial incentives, as well as through meaningful dialogue with leaders. Through CEO lunches, "coffee and conversation," a Q&A with executives and quarterly leadership meetings that join over 140 leaders from across SJI, we engage employees to communicate their impact within our business. Then, we measure the effectiveness of our efforts—through comprehensive engagement surveys, as well as through targeted, post-initiative surveys that shape future outreach to drive inclusion and engagement.

Learning and Development Opportunities
Another way we shape the "culture of can" that drives our success is to empower employees through continuous development opportunities. From our recent career pathing work, which helps employees build a bridge to their next opportunity, to long-standing programs like industry-knowledge training and financial support for continuing classroom or professional education, we provide resources that allow employees to take control of their development.



Recognition and Appreciation


Successful organizations recognize that employees are motivated differently. Beyond traditional means of recognition, we've adapted to support evolving benefits, including greater flexibility in work schedule, "Summer Fridays" that encourage employees to cut out early and enjoy a longer weekend, spot bonuses to timely recognize exceptional work with financial reward and remote work options in positions that support them.



Flexibility


South Jersey Gas and Elizabethtown Gas have been serving New Jersey for more than 100 years, so we recognize the importance of letting corporate culture evolve. Looking to dynamic workplace trends and acknowledging and acting on employee feedback is vital to a strong culture. The evolution of our culture has supported growing workplace diversity and flexibility, allowed us to champion greater work-life balance, seeded the introduction of employee resource groups and seen us through profile-changing acquisitions and divestitures. Most importantly, the evolution of our culture has enabled us to do all this while never wavering in our mission to deliver safe, reliable, affordable service to customers; to deliver growth for our shareholders; and to deliver a rewarding and fulfilling career for thousands of New Jersey residents.

Marissa Travaline is vice president, communications and customer experience with SJI.


To read the digital edition of South Jersey Biz,
click here
.
Published (and copyrighted) in South Jersey Biz, Volume 9, Issue 12 (December 2019).

For more info on South Jersey Biz, click
here
.
To subscribe to South Jersey Biz, click
here
.
To advertise in South Jersey Biz, click
here
.