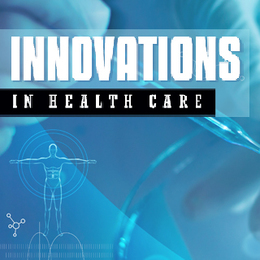 Innovations in Health Care
16 advancements changing health care in the South Jersey region.

New health care facilities and innovations are being built all throughout our region—from facilities that provide specialized treatment and medical schools right in the heart of South Jersey, to mobile applications offering more resources to doctors and patients and multi-million dollar hospitals that are wired with the most advanced technology available. All of these create a safer environment for patients and doctors alike, a faster recovery and a more efficient way in handling patient care. We present to you the 16 innovations that are transforming the local health care field.
Inspira Medical Center Mullica Hill
Inspira Medical Center Mullica Hill is Gloucester County's first new hospital in nearly 45 years and brings the latest in medical and communications technology to a 100-acre parcel adjacent to Rowan University's west campus. With 210 private rooms and a complete suite of smart room technology that is new to the region, the hospital will enhance clinical quality, safety and the patient experience.

Smart room technology automatically places patient vital signs into the electronic medical record; creates virtual guard rails, adding an extra layer of protection for patients at high risk of falls; provides real-time identification of all staff members who enter a patient room; and gives easy access to the internet, patient education videos and entertainment programming.


New medical technology at the hospital includes a biplane cardiac cath lab and state-of-the-art surgical suites, including two robot-assisted surgery systems and a hybrid for advanced vascular procedures.
Steven Gilbert, B.Sc. Pharmacy, MBA, BCPS, vice president of performance improvement,Tabula Rasa HealthCare
Gilbert received the National Alliance of State Pharmacy Associations (NASPA) 2019 "Excellence in Innovation" Award. This award is given to a practicing NJ Pharmacists Association (NJPhA) member and pharmacist who has demonstrated innovative pharmacy practice resulting in improved patient care.

Gilbert's tangible achievements and successes are many—he leads the company's clinicians and analysts to influence prescribing patterns that result in achieving patient-defined treatment goals while containing costs in both at-risk and fee-for-service environments, saving on average 10 percent of medication spending for new clients.
Lindenberg Cancer and Hematology Center
Founder and oncologist Dr. Noah Lindenberg treats many different types of cancer and creates a specialized treatment plan for each patient based on the specifics of how the cancer has progressed. Lindenberg recently expanded the facility to close to 6,000 square feet with all state-of-the-art equipment that offers cutting-edge treatment in addition to chemotherapy, such as hormone therapy, targeted therapy and immunotherapy—a type of treatment that harnesses the power of the body's own self-defense, invigorating it to wake up from a sleep state to attack cancer often without the need for more toxic treatments.

In addition to cancer treatments, the practice has taken the lead in innovation, embracing genomic sequencing techniques to understand the molecular basis of each individual patient's disease—potentially unlocking promising targeted therapies with robust responses often with minimal side effects. The practice is well-known for a friendly and warm staff that embraces each individual patient into a nurturing and comforting environment, essential for the healing process.
Inspira Acute Medical Detox Center at Inspira Health Center Bridgeton
Inspira's new inpatient acute medical detoxification and addiction treatment center provides alcohol and drug detoxification services, including medication-assisted treatment (MAT), for people who require medical supervision during the withdrawal process. For people with chronic health conditions, medically supervised detox is often the only safe option.


Following national best practices, the center creates a safe environment that promotes positive change while also empowering patients to take a proactive role in their own recovery. Upon discharge, the experienced staff works to ensure that each person is connected with the necessary support and services they need to continue on the challenging road to recovery.


The detox center is under the medical direction of Kaitlan Baston, M.D., M.Sc., a board-certified addiction medicine physician.
Voorhees Pediatric Facility and Weisman Children's Rehabilitation Hospital
Voorhees Pediatric Facility and Weisman Children's Rehabilitation Hospital are the first pediatric facilities in New Jersey to adopt the new Masimo Patient SafetyNet and Root technologies. The integrated system provides advanced monitoring, streamlines workflows, automates the integration and transfer of patient data, and keeps clinicians abreast of pertinent changes in a patient's condition even from afar. When changes occur that may indicate deterioration in a child's condition, it automatically alerts staff enabling them to respond quickly to those in potential distress, improving quality of care and patient safety.
A Virtua Health cardiac team is the first in the region to perform BASILICA (bioprosthetic aortic scallop intentional laceration to prevent iatrogenic coronary artery), a new technique designed to prevent potentially fatal artery obstruction during heart-valve replacement surgery. In October, Joseph Callahan, 75, underwent a BASILICA obstruction procedure as part of a transcatheter aortic valve replacement (TAVR). The technique expands Virtua's life-saving use of TAVR—a minimally invasive procedure that enables heart-valve replacement via catheter instead of open-heart surgery.
Deborah Heart and Lung Center is in the process of addressing imperative need with nearly $50 million in investments, including the construction of a new in-patient tower consisting of contemporary private patient suites and the renovation of all current double occupancy in-patient rooms to private. The new design will modernize and enhance patient environments, and include upgrades with the latest technology providing continuous patient monitoring, wellness and comfort. Decentralized work stations will facilitate staff's ability to work closer to the patients, and comforting lounges will provide much-needed respite space for caregivers. Deborah Hospital Foundation has initiated Deborah100: The Campaign to help support this vital initiative.
Grandizio leads the stem cell laboratory at Coriell Institute, which is at the forefront of the cutting-edge field of human induced pluripotent stem cells (hiPSC). These hiPSCs are generated from adult human cells that are reprogrammed back to a pluripotent stem cell-like state. Scientists like Grandizio coax these stem cells to become any other cell type, which are highly valuable for a variety of research purposes. Thanks to the care, effort and scientific expertise of Grandizio and her team, Coriell has earned a reputation for generating, characterizing and distributing some of the highest-quality hiPSC lines available to researchers.
LUXTURNA was the first FDA-approved gene therapy for an inherited disease, targeting a rare form of a blindness caused by a mutation in the RPE65 gene. The therapy was developed by Jean Bennett, MD, PhD, the F.M. Kirby professor of ophthalmology in the Perelman School of Medicine at the University of Pennsylvania, and Albert M. Maguire, MD, a professor of ophthalmology at Penn and an attending physician at the Children's Hospital of Pennsylvania. An estimated 1,000 to 2,000 patients in the United States have the RPE65 mutation, and the therapy is now available at select treatment centers across the nation.
Jefferson Health and Philadelphia-based NeuroFlow have co-designed a patient-focused, mobile-friendly application that offers a variety of evidence-based resources to support the mental wellness of Jefferson Health Primary & Specialty Care OB/GYN and behavioral health patients. NeuroFlow provides health tracking, educational content, sleep tracking, breathing exercises, depression screenings and an area for patients to create journal entries. If a patient's score places them at high-risk for depression, NeuroFlow will immediately alert that patient's doctor, allowing them to reach out.

"Completing psychological assessments at a doctor's office can be nerve-wracking," says Dr. Jennifer Hummel. "With NeuroFlow, patients can answer these questions on their own time and in the comfort of their home."
AtlantiCare Regional Medical Center's Inpatient Telemedicine Endocrinology Program
This program enhances access to real-time, physician-led care for patients who have a diabetes-related crisis, thyroid conditions and other metabolic diseases. A dedicated physician and advanced nurse practitioner—along with other hospital providers and staff—coordinate in-hospital visits to patients in person or through a live synchronous video meeting. Patients have a wide range of issues, including diabetes-related admissions, heart bypass or brain surgeries, and elective procedures. The team does a comprehensive medical history review and develops individualized plans to help patients manage living with diabetes after they leave the hospital by linking patients with outpatient specialist appointments and educational services.
RowanSOM and Rowan Medicine's new campus at Rowan College of South Jersey
In September, officials from Rowan University and RowanSOM, together with Rowan College of South Jersey (RCSJ) and the Gloucester County Board of Chosen Freeholders, joined with New Jersey Senate President Steve Sweeney to celebrate the groundbreaking of the new campus for RowanSOM and Rowan Medicine on RCSJ's campus. The two-story, 56,545-square-foot medical and academic building is scheduled to be completed by February 2021.

"What we are doing is pioneering. There is no other place in the state where a community college has built a medical school on its campus," says Sweeney. "The partnerships that we have created with Rowan University, Rowan College of South Jersey, the county and the state, will benefit not only our students, but the entire region."
Penn Medicine's The Pavilion
When completed in 2021, this innovative, $1.5 billion hospital facility will provide inpatient care for the Abramson Cancer Center, heart and vascular medicine and surgery, neurology and neurosurgery, and a new emergency department. The Pavilion will house 504 private patient rooms and 47 operating rooms in a 1.5 million-square-foot, 17-story facility across from the Hospital of University of Pennsylvania and adjacent to the Perelman Center for Advanced Medicine. Some of the distinguishing features include an adaptable room concept through which patient rooms are equipped to flex between an intensive care unit setup, if needed, and a standard room as patients recover, or as the patient population and caregiving needs change in the coming years, and telemedicine functionality that allows remote monitoring and consultations as well as technology to link patients to their friends and families at all times.
Virtua Health is first to provide a pregnant woman with minimally invasive replacement of the heart's mitral valve. Elenilza Tritten received her valve replacement in April, when she was 16 weeks pregnant. Postponing the procedure could have been fatal, due to the increased demands on the heart from pregnancy. The valve replacement was done through a catheter (a thin tube), rather than via open heart surgery. She was the first person to receive TMVR (transcatheter mitral valve replacement) while pregnant. In October, she delivered a healthy baby boy.
Brevera Breast Biopsy System
South Jersey Radiology is the only practice in the region to use the Brevera Breast Biopsy System, a technology that's able to diagnose and biopsy suspected breast tumors. The system saves time and increases efficiency while eliminating several steps in the typical biopsy process by combining tissue acquisition, imaging, veri­fication and sample preparation. "The Brevera Breast Biopsy System is less invasive and requires fewer samples to be taken," says Dr. Sherrill Little, a board-certified radiologist at SJRA. "Before Brevera, I would typically need at least six samples per patient. With this technology, I may need only one. An added benefit is that patients experience faster recovery and less pain since fewer needles are involved."
LINX Reflux Management System
Cooper University Health Care recently became the first hospital in South Jersey to offer the LINX® Reflux Management System for people whose chronic gastroesophageal reflux disease (GERD) cannot be controlled medically. Unlike standard surgical treatments for GERD, the minimally invasive LINX treatment uses a tiny bracelet of magnetic titanium beads to surround and compress the lower esophageal sphincter. The magnetic attraction between the beads prevents gastric pressure from pushing open the muscle. The bracelet is flexible enough that the force of swallowing allows the beads, which are strung with titanium wire, to expand with the normal passage of food into the stomach.

The LINX procedure generally takes less than an hour and is performed laparoscopically, under general anesthesia. Because no surgical alteration of the stomach or the esophagus is needed, most patients are able to go home the day after surgery and most are able to resume a normal diet immediately.

To read the digital edition of South Jersey Biz,

click here

.



Published (and copyrighted) in South Jersey Biz, Volume 9, Issue 12 (December 2019).

For more info on South Jersey Biz, click

here

.
To subscribe to South Jersey Biz, click

here

.
To advertise in South Jersey Biz, click

here

.