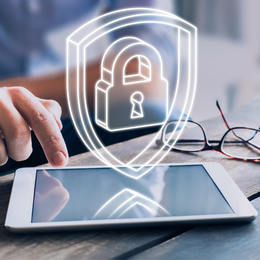 Quick Take: Technology Takeover
Two technology experts offer ways to protect you, your employees and your business.

Technology is constantly evolving, and it isn't always a good thing for your business. Protecting your company from malware is something that should be at or near the top of your list, along with cleaning up your business, especially with a new season upon us—scheduling assessments of your computer networks and properly training your employees on security awareness.


Arthur Leiby
Owner, president, The Lerepco It Group
Protect and dry everything out
As summer transitions into autumn, our heightened awareness for school buses, layers of clothes, flu shots, vehicle maintenance and overall protection kicks in. Have you scheduled the NetCheck Health assessment of your computer network, business technology and end-users? A netcheck will audit your network and identify vulnerabilities that could leave your organization at risk of a business interruption. Does anyone work from home, use a work cell phone, store unencrypted passwords on the computer, phone or desktop? Do you employ temporary workers, share files, social media or access pictures online? You can minimize your risks by training your employees with ongoing security awareness and proper end-user training. It may cost you upfront initially, but it will be worth the peace of mind.
The pruning of a fruit tree is very important, which involves the cutting and removing of the selected parts to benefit the whole tree. Cutting off one allows the other branch to grow and become the dominant branch. Microsoft states, "every Windows product has a lifecycle." The end of the Windows 7 lifecycle is set for January 2020. Microsoft can block support for any machine at any time, so Windows 7 users should be prepared. In preparation of the change in season, take the time now and review your current system.
Clean tools and store properly
The must-do project of cleaning, oiling and storing away tools can be daunting. Remembering and keeping passwords stored safely are a challenge and can have adverse consequences if the devices are hacked. Many of us also have bad password creation habits. Using your name, address, kids' names, birthdates or other personal info could be gleaned from your Facebook page and expose you to unnecessary risk. Using a password manager can be a viable alternative. A few advantages to using one: They are convenient and can be accessed from all your devices. Password managers will help you set and store the assorted characters, cases and digits that many secure sites are asking for these days. With a password manager, you'll only have to remember one 'master' password. You can change hundreds of passwords within seconds due to a security breach.

Protecting Business from Technology Disasters
by
David Suleski
President, founder #TECHSTARTERS
Ever lose sleep over HIPAA compliance? Randomware? Lost data? You're not alone. Here are ways to vet your technology company to better protect your business:
Business backups—what is backed up, where are they stored and when do they occur? The answer is always an assumption, but never assume. If it's not written, it's not happening. IT companies do
this intentionally to protect themselves from liability. Ensure detail of the backups are written on the monthly invoice. This serves as your ongoing record and holds your IT company accountable.
Entry Level vs. Experience
Ask complex questions to an inexperienced CPA and you'll get short answers that lack detailed certainty. An inexperienced CPA can cost your business big bucks, but an inexperienced IT person can delete your business.
Surprisingly, almost all new clients we acquire have what we call golden door-stops. Essentially, network firewalls that physically look installed, but have the security firearms turned off. Network firewalls run complex subscription-based software. Protect your business by asking your managed IT company to email a list of the specific firewall subscriptions that were set up. They'll either admit configuring a firewall is not their expertise or email a long list of security features that were set up. Most importantly, ensure threat detection and response is set up, which is the No.1 reason to protect your business from a devastating ransomware attack.
Relationships and Compliance
Everyone knows someone who is an expert with SEO, websites and IT, right? The most crippling business mistakes come from good intentions coupled with a lack of contextual experience. Year to year, we've received a sharp increase in new client calls from private medical practices failing PCI (credit
card) scans and HIPAA (medical) surprise audits as a result of insecure setups unbeknownst to the owners. Don't risk HIPAA violations.
Visit your general doctor with a foot pain and they'll refer you to a top-notch foot specialist in a blink of an eye. Ask your part-time web designer to refer a hosting company and they'll provide all the wrong answers that sound great to you. You'll hear GoDaddy or a similar $20/month hosting provider, and not question because the price sounds great. Hosting matters to SEO, speed and security—just like Office 365's encrypted email matters to compliance, or network firewalls matter to security. Ask why and request a detailed answer. If they cannot provide satisfactory insight into why they made their recommendation, get a second opinion.

To read the digital edition of South Jersey Biz,

click

here.



Published (and copyrighted) in South Jersey Biz, Volume 9, Issue 9 (September 2019).

For more info on South Jersey Biz, click

here

.
To subscribe to South Jersey Biz, click

here

.
To advertise in South Jersey Biz, click

here

.