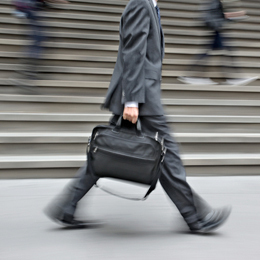 On the Move
Openings, closings, hirings and retirings in our region.

Sandra Brown-Evening
has been appointed vice president, commercial loan regional manager for Columbia Bank.
John Swartz
, who began his real estate career with RE/MAX nearly 18 years ago, recently announced his return to RE/MAX, joining RE/MAX Community in Williamstown.
The Watermark at Logan Square has promoted Steven Stefanelli, NHA, from nursing home administrator to associate executive director.
Wohlsen Construction added Steven Craig as senior project manager and Jennifer Meyers as MEP Field Coordinator.
M&T Bank announced the following promotions: Ira Brown has been promoted to area executive. He previously served as regional president for the bank's Philadelphia and South Jersey region, and in his new role will add Central and North Jersey to his responsibility. Bernard T. Shields has been promoted to regional president for the Philadelphia and South Jersey region, reporting to Brown. He previously served as the group vice president and group manager for the bank's commercial real estate group.
Columbia Bank has appointed Oliver Lewis to senior vice president, commercial banking market manager. In his new role, Lewis will be responsible for the bank's commercial and industrial (C&I) and middle market activities in Central and Southern Jersey, as well as parts of Pennsylvania.
New Jersey American Water

named Debbie Albrecht vice president and general counsel for its Eastern Division and David Mayer as its director of government affairs for New Jersey.
Melissa Murray Rigney
has joined Dewberry as a senior project manager and site acquisition lead for the firm's northeast telecommunications group. Murray Rigney focuses on growth opportunities related to the firm's telecommunications and site acquisition services throughout New Jersey, New York and Philadelphia. She has been in the industry for nearly 15 years, both as an attorney and as a site acquisition manager.
Dilworth Paxson LLP has added associate Silvio A. Trentalange to the firm's litigation department.

Rowan University has appointed Dr. Anthony Lowman as provost and senior vice president for academic affairs. He previously served as dean of the university's Henry M. Rowan College of Engineering since 2013. He succeeds Dr. James Newell, who now serves as senior vice president for medical affairs & affiliated campuses.
Lori St. Maur
has been promoted to manager of client relationships at Coordinated Project Solutions.
Trinity Rehab recently announced the hiring of Kenneth Field as director of physical therapy at its Marlton facility. Field will be responsible for all patient care plus take part in business development and educational outreach efforts throughout the community.
Vantage RES has hired Alan J.
Sussman
as director of investment sales. He will focus on large-scale projects including investment-grade, multi-family and large-scale investment properties.
Michelle Gasiorowski
of Bowman & Co. LLP has been promoted to partner.
Stout & Caldwell Engineers & Surveyors has hired Samuel J. Agresta as professional engineer and project manager.
The Center for Family Services made the following announcements: Nyeema Watson Ph.D., assistant chancellor for civic engagement at Rutgers University, has been named chairperson of Center for Family Services' board of trustees, and Judyann McCarthy, associate vice president of child and adolescent counseling behavioral health services, has been elected 1st vice president for the National Association of Social Workers - NJ Chapter.
The Food Bank of South Jersey has announced four new members to its board of trustees: K. Siobhan Keefe, Michael H. Kinzler, Megan Dunleavy Shea and Neal D. Walters.
American Heritage Credit Union's
President and CEO, Bruce K. Foulke, was invited by the World Council of Credit Unions to speak at the Nepal Federation of Savings & Credit Cooperative Unions Ltd. CEO Summit 2019 Conference, held in May.
Over 600 Savings and Credit Co-Operative Society (SACCOs) managers, regulators, central bank and global economic development leaders attended this conference. Foulke spoke to the topic of "Management Excellence: Steps and Strategies," which supports the growth and development of SACCOs movement in Nepal.
Richard Michner
, an obstetrician/gynecologist with Cape OB/GYN Associates, was recently elected to the board of directors for the Southern New Jersey Perinatal Cooperative. Michner is also a member of the agency's Healthy Mothers, Healthy Babies Coalition of Cape May County, as well as its fetal and infant mortality review team for Atlantic, Cape May and Cumberland counties.
Linda Bowden, New Jersey regional president at PNC Bank, has been elected chair of the New Jersey Chamber of Commerce board of directors and will serve a two-year term. Bowden has been serving as the Chamber's first vice chair for the past two years.
Judy Persichilli
was
officially nominated
by Gov. Phil Murphy on Tuesday as state health commissioner.
Persichilli will be the first nurse to hold the post. She will replace Dr. Shereef Elnahal
who will take over
as president and chief executive officer of
University Hospital
in Newark on July 22, where Persichilli has been acting president and CEO since last December.
Bowman & Company LLP
is celebrating its 80th year of providing accounting, audit, tax and consulting services.
GREYHAWK
received two 2019 Project Achievement awards from the Construction Management Association of America (CMAA) Mid-Atlantic Chapter: MaST II Community Charter School Phase I won for the private sector project under $20 million category. The Rowan College at Gloucester County Math & Engineering Center won for higher education under $20 million.
Nancy Pontes
, an assistant professor at the Rutgers School of Nursing–Camden has been selected as an American Academy of Nursing (AAN) fellow, one of the highest honors in nursing scholarship. She will be inducted into the AAN during its annual meeting in Washington, D.C. in October.