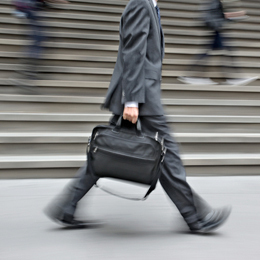 On the Move
Openings, closings, hirings and retirings in our region.

Kimberly Mutcherson has been named co-dean of Rutgers Law School in Camden. She is the first woman, the first African-American and the first LGBT law dean at Rutgers. She succeeds Michael Cahill, who recently was named dean and president of Brooklyn Law School.

Archer partner Steven K. Mignogna has been named to the advisory committee of the Heckerling Institute on Estate Planning.

Mark Clouse has been elected president and CEO of Campbell Soup Co., effective Jan. 22. Clouse will succeed Campbell's interim president and CEO Keith McLoughlin, who will remain a director of the company.

Law firm Parker McCay has promoted Mariel J. Giletto and George M. Morris to shareholder.

Dilworth Paxson's Chairman and CEO Ajay Raju will receive the American Jewish Committee's (AJC) prestigious Judge Learned Hand Award on Jan. 31. The AJC Judge Learned Hand Award is presented annually to a leading figure in the legal community for excellence in the field and service to the community. Named for the noted jurist who authored over 2,000 legal opinions mostly relating to the rights of the individual, the award recognizes individuals who have made a lasting impact.

Wolf Commercial Real Estate (WCRE) welcomed new members to its team: Kevin Coleman, who joins as chief sales officer and executive vice president, and new sales associates Tyler Martin and Mike Scanzano.

Wohlsen Construction hired Gary Dehlin as superintendent.

Joshua Baker has joined the Greenblatt Pierce Funt and Flores employment law and civil rights practice groups.

Phillip W. Heath has been named chair of the Samaritan Healthcare & Hospice board of trustees.

Kate Gillespie is The New Jersey State Nurses Association's 47th president.

Cooper University Health Care recently announced that Dr. Anthony Mazzarelliand Kevin O'Dowd will become co-chief executive officers effective June 1. Current CEO and executive chairman Adrienne Kirby will retire on June 1.

Gerard Bellino has joined Vantage Real Estate as marketing coordinator.

GZA GeoEnvironmental, Inc. has named Patrick F. Sheehan, P.E., as chief executive officer. He succeeds William E. Hadge, P.E., who has served in the role since 2013. John Murphy has also been named as the company's first chief operating officer.

Duly Noted
Columbia Bank will host a Valentine's Craft Day on Saturday, Jan. 26 from 10:30 a.m. to 12:30 p.m. All are invited to attend this complimentary event at any Columbia Bank branch. A craft with necessary materials and a festive giveaway will be offered while supplies last.

Rutgers University-Camden Chancellor Phoebe A. Haddon has been selected as the recipient of the 2019 Ruth Bader Ginsburg Lifetime Achievement Award from the Association of American Law Schools (AALS) Section on Women in Legal Education. This prominent award honors individuals with exemplary careers who demonstrate outstanding contributions to the legal academy and the legal profession through their teaching, service and scholarship.

Lourdes Health System employee and Mount Laurel resident Joyce Haag, MPH, BSN, RN, has been selected as the recipient of Lourdes' prestigious 2018 Sister M. Elizabeth Corry, OSF award. The annual award is the highest honor bestowed upon a Lourdes Health System employee and is named after the former president of Our Lady of Lourdes Medical Center.

The Leapfrog Group named Virtua Voorhees a Top Teaching Hospital in the nation for the fifth consecutive year. Performance across many areas of hospital care is considered in establishing the qualifications for the award, including infection rates, maternity care and the hospital's capacity to prevent medication errors. Virtua Voorhees is one of 53 teaching hospitals in the nation to earn this distinction.

Atlantic City Electric has earned international recognition for its commitments and efforts to reduce the environmental impacts related to its business operations across New Jersey. This latest environmental achievement includes certification from the International Organization for Standardization, which recognizes companies across the world that have adopted environmentally responsible business practices.
To read the digital edition of South Jersey Biz, click
here
.

Published (and copyrighted) in South Jersey Biz, Volume 9, Issue 1 (January 2019).
For more info on South Jersey Biz, click
here
.
To subscribe to South Jersey Biz, click
here
.
To advertise in South Jersey Biz, click
here
.