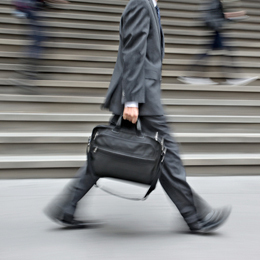 On the Move
Openings, closings, hirings and retirings in our region.

Lauletta Birnbaum, LLC recently welcomed David Hollander and Max Perricone. While at Villanova School of Law, Hollander was anextern in the law department of UGI/AmeriGas. Perricone, a graduate of Boston University School of Law, spent a semester interning with the U.S. Securities and Exchange Commission.

Jamie Bratton recently joined Innovative Benefit Planningas the director ofdevelopment andcommunications.

Former NFL defensive back and broadcaster Beasley Reece will take the helm as the CEO of the Mount Laurel-based NFL Alumni.

Security and facility services company Allied Universal has named Andrew Vollero its new chief financial officer.

Robert M. Brown has joined the board of directors of the Capstone Legacy Foundation.

Columbia Bank announced that Deborah L. Scelzo has been appointed senior vice president, commercial credit officer, and William T. Brex has been appointedvice president, commercial credit technology officer.

PJW Restaurant Group has named Jim Fris as chief executive officer, to replace current CEO and founder Bob Platzer, who will assume the role of executive chairman.

Dr. Emily Stein has been named director of health care services with Vantage Real Estate Services. This position was created to support health care clients and promote innovation.

Lloyd Freeman of Archer & Greiner has been appointed to the new role of chief diversity officer, andwill serve as chairman of the diversity and inclusion committee. In this role, he will serve as a trusted advisor to the firm'sexecutive management and the office of the president. Freeman will also carry out the firm'svision to grow diversityand inclusion in the legal profession, as well as implement policies and procedures and foster programs to promote diversity throughout the firm.

NAI Mertz has added two commercial agentsto its Mount Laurel headquarters: Joseph Riggs,senior vice president, office division, and Josh Johnson, sales associate.

The Law Offices of Marc Neff announced longtime associate Matthew Sedacca has been named a partner with thefirm. The offices will now practice under the name Neff & Sedacca.

Duly Noted
Ed Hutchinson— president of Hutchinson, an energy/ mechanical services contractor—was recognized as the "inaugural honoree" for his outstanding service to the YMCA and the South Jersey community at the Mount Laurel YMCA's Wine and Food Classic. He served as board chairman and was a member of the board of governors and various committees for several years, where he helped to raise awareness about the Y's mission.

The General Building Contractors Association has recognized Dewberry's Trenton Makes LED sign upgrade in Trenton with its best electrical construction project of the year award.

Rowan College at Burlington County nursing students Caris Norway and Jessica O'Shea each received a $1,000 scholarship at The National League for Nursing and the New Jersey League for Nursing 2018 Gala.

Ryan Kastner of Innovative Benefit Planning has been appointed as United Way of Greater Philadelphia and Southern New Jersey's Campaign Cabinet chair.

Inspira Medical Center Woodbury was named a Top General Hospital by The Leapfrog Group for the second time in three years.

Atlantic City Electric received PA Consulting's 2018 ReliabilityOne Outstanding Midsize Utility Award for providing exceptional reliability last year that resulted in customers experiencing the lowest average number of electric outages in the company's history, as well as the fastest restoration times ever.

Haddon Heights resident Joanna Gardner, a third-year student at Rutgers Law School in Camden, is one of 28 law students nationwide to be awarded a Skadden Fellowship to pursue the practice of public interest law on a full-time basis after graduation. The Skadden Foundation postgraduate fellowships provide two years of full-time funding to graduating students who wish to pursue projects at public interest organizations that will improve legal services for the poor.

From now through Jan. 31, Osborn Family Health Center is collecting new pajamas in all styles and sizes for its third annual Mom's Pajamas drive. Mom's Pajamas is a nonprofit organization supporting survivors of domestic violence living in local shelters.

Wohlsen Construction was presented three awards from the Associated Builders and Contractors New Jersey Chapter at the Excellence in Construction Conference and Expo. Wohlsen received Project of the Year and a first-place award of excellence. Wohlsen was also presented with a gold-level STEP certificate for its achievements in safety.

Willig, Williams & Davidson has been named a "Best Law Firm" for 2019, achieving national rankings in the practice areas of employee benefits, law and labor and employment litigation.

The Law Offices of Manuela M. Morais announced it has changed the name of the firm to Morais Law. The new name reflects the firm's unique solutions-based approach to corporate immigration and its commitment to providing comprehensive "Big Law" experience from a boutique firm.

The Mathematical Association of America appointed Rowan College at Burlington County mathematics instructor Jonathan Weisbrod to serve a three-year term on its two-year colleges committee.


To read the digital edition of South Jersey Biz, click
here
.


Published (and copyrighted) in South Jersey Biz, V
olume 8, Issue 12 (December 2018).
For more info on South Jersey Biz, click here.
To subscribe to South Jersey Biz, click here.
To advertise in South Jersey Biz, click here.