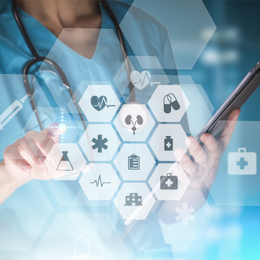 Innovations in Health Care
A look at the latest technology, programs and treatments in the region.
South Jersey is home to many health care professionals, doctors, researchers and scientists who are coming up with new innovations to improve lives, and it's not just the latest technology they are working with. These professionals are thinking outside the box and taking a new approach to provide the necessary tools for patients and residents, as well as giving them more access to interact with their health care professionals.

We present 19 innovations in the local health care sector.
CAMDEN OPIOID RESEARCH INITIATIVE (CORI)
The Coriell Institute for Medical Research has teamed up with Camden neighbors Cooper University Health Care and the Cooper Medical School of Rowan University to form the Camden Opioid Research Initiative (CORI). This new partnership will investigate the interplay between genetic and non-genetic factors which impact an individual's risk for opioid use disorder.

First, scientists will establish a bank of biologic samples and genetic data collected from individuals who have died as a result of an opioid overdose as well as consenting family members. This novel collection will be available to addiction researchers for use in their work. Second, CORI will enroll current chronic pain patients who will have their DNA sequenced and will be monitored by researchers as they undergo treatment for pain. Lastly, another study will look at Cooper University Health Care patients who are currently receiving medication-assisted treatment for opioid use disorder. They will have their DNA sequenced as well and will be monitored so researchers can study any genetic implications into which drugs work best for certain genetic makeups.
MAKO ROBOTIC-ASSISTED TECHNOLOGY
Robotic-assisted total joint arthroplasty allows surgeons to generate a personalized surgical plan based upon a patient-specific 3D model obtained from a preoperative CAT scan. The individualized plan, including the size, position and alignment of the hip or knee prosthesis, is executed with the assistance of a robotic arm during surgery. With this technology, total joint surgeons hope to improve patient satisfaction, maximize functional outcomes and increase the longevity of the implants. Robotic-assisted joint replacement is currently being used for total hip replacement, total knee replacement and partial knee replacements. Dr. Eddie Wu from Premier Orthopaedic Associates is the first surgeon at Inspira Health Network to utilize this technology.
RADIANCE-HTN CLINICAL TRIAL
Deborah Heart and Lung Center is a leading worldwide clinical research site for the RADIANCE-HTN Clinical Trial to treat hypertension, led by principal investigator Dr. Kintur Sanghvi. This new treatment studies ultrasound therapy to treat high blood pressure. The idea behind the clinical trial is that by using the paradise renal denervation system, patients undergo a minimally invasive procedure to tone down overactive nerves leading to the kidney. With a small flexible catheter inserted into the groin and placed in the artery leading to the kidney, patients receive ultrasound energy—or sound waves—delivered to the tissue. The generated heat disables the over-activity of the sympathetic nerves leading to the kidney, which in turn lowers blood pressure. The trial is moving into the next phase of research focusing on efficacy and safety prior to the FDA approval process.
The Inspira Innovation Center, located in the South Jersey Technology Park, opened in October and was designed for teams to work collaboratively on projects that will improve the delivery of health care and the patient experience. The Innovation Center also houses a patient room designed to model those in the future Inspira Medical Center Mullica Hill. A sophisticated simulator mannequin allows for clinical training and the opportunity to test various configurations of technology, clinical processes and equipment.
Inspira recently unveiled this technology to help seniors manage their medications. The MedaCube device has the capacity to store a 90-day supply of up to 16 different medications. Its touchscreen is equipped with pre-programmed medication doses, schedules and the names and contact information of family members and caregivers. Once programmed, an alarm will sound when it is time to take the medication and it then requires the patient to touch a "dispense pills" button on the screen. If the button is not pushed the medications are not dispensed and a message is sent to the caregivers via text, phone or email that the medication has not been taken.
South Jersey Radiology's 3 Tesla MRI provides a new diagnostic option which may detect prostate cancer early. Prostate cancer is difficult to spot early because it is often silent and most men do not show any signs of the disease. However, there are now ways to diagnose prostate cancer that were not available until recently. Prostate cancer was previously diagnosed by performing random biopsies on men who were at risk. Now, with improved imaging technology with 3 Tesla MRI, the prostate can be evaluated in a noninvasive way. Any suspicious lesion can then be evaluated with targeted biopsies of the prostate to improve accuracy in diagnosing cancer.

BRACHYTHERMIX
In partnership with Thomas Jefferson University and backed by the Rowan Innovation Venture Fund, BrachyThermix—an oncology device company—is developing a novel technology to significantly improve clinical outcomes following surgical removal of brain tumors such as glioblastoma. The technology simultaneously and uniformly treats the tumor cavity with heat and radiation by implanting a balloon during surgery in the cavity left after tumor removal. The balloon is filled with magnetic nanoparticles heated by an external magnetic field and radiation comes from a seed delivered into the center of the balloon by a high-dose-rate afterloader, a medical device commonly found in cancer centers. The treatment will take two to five days after which time the balloon is removed; current radiation treatment is daily for three to six weeks and has significant side effects. Based on a previous clinical trial, BrachyThermix anticipates at least a doubling of the two-year survival rate in glioblastoma.
JEFFERSON HEALTH'S LUNG NODULE CENTER
The Lung Nodule Center at the Sidney Kimmel Cancer Center—Washington Township provides ongoing care for high-risk patients diagnosed with a lung nodule, defined as an abnormal spot or lesion on a lung scan. High-risk patients include people ages 55-77 who have smoked tobacco for at least 30 "pack-years" (the equivalent of a pack of cigarettes a day for 30 years, or about two packs a day for 15 years); as well as those either currently smoking or who quit less than 15 years ago. The center's multidisciplinary team consists of pulmonologists, thoracic surgeons, nurse navigators, certified tobacco treatment specialists and certified medical assistants.
InSight Telepsychiatry is the leading national telepsychiatry service provider organization with a mission to transform access to quality behavioral health care through innovative applications of technology. InSight has two decades of experience with telepsychiatry— the delivery of psychiatry through real-time videoconferencing—and serves hundreds of organizations in a variety of different settings and populations across the country with its on-demand, scheduled, connected services and Inpathy divisions. InSight is uniquely positioned to offer scalable and consistent telepsychiatry services in settings across the continuum of care. It is an effective form of care delivery and a convenient, cost-effective way to safely expand psychiatric support without the challenge of staffing an in-person psychiatry provider.
Nemours Children's Health System has named Dr. Mary M. Lee as enterprise chief scientific officer to lead the organization's efforts in developing better treatments and new cures to help tomorrow's children. Lee also serves Nemours as an enterprise vice president and physician-in-chief of Delaware Valley operations. She has a significant history of funded and published research and promotions and is nationally recognized for her research in the field of endocrinology and her keen interest in mentoring others.
According to Nemours' President and CEO Dr. R. Lawrence Moss, the appointment of a scientist of Lee's stature underscores the health system's deepening commitment to research excellence and the organization's commitment to battling disease and improving the lives of children by helping to advance life-changing medical care.
Virtua Samson Cancer Center
Spanning 48,000 square feet, this brand-new, state-of-the-art facility is focused on the patient experience with a peaceful, healing atmosphere, and provides a range of oncology services under one roof. Some of the services include medical oncology (including chemotherapy) and radiation oncology, as well as many support services, such as social workers, support groups, genetic counseling services and nurse navigation. Virtua also created the RCCA Hair Boutique within the center, which provides professional salon services donated by Rizzieri Salons, Spa and Schools. Patients experiencing hair loss receive wig-fittings, head wraps and head-shaving services at no cost.
Virtua's programs bring much-needed health care services into economically distressed communities and demonstrate a new take on the health care model. Many people face barriers when accessing health care, such as transportation and cost, which causes conditions to worsen over time. With three mobile units, Virtua hopes to get ahead of these problems before they develop. Units include the Pediatric Mobile Services Unit—a fully equipped program on wheels that offers dental and developmental screenings, lead poisoning education, flu shots and additional community resources; mobile mammography; and the Mobile Farmers Market, which is among the largest of its kind in the nation and one of 10 nonprofit finalists chosen by Rachael Ray to compete in its "Feed it Forward" contest.
LOURDES HEALTH SYSTEM'S CARDIOFORM SEPTAL OCCLUDER
Before birth, a baby's heart has a hole with a flap-like covering between the upper two chambers of the heart. The opening helps the baby access oxygen-rich blood from the mother. After birth, the flap typically closes. However, in one of four people, this hole, called the patent foramen ovale, doesn't close. In most people, this doesn't pose a problem. But in some people, the flap can allow blood clots to pass from the right side of the heart to the left, possibly leading to a stroke. A new device, from the makers of Goretex, is inserted through a catheter and plugs the hole to prevent strokes. Lourdes cardiovascular surgeons are now offering this potentially life-saving procedure at Our Lady of Lourdes Medical Center in Camden.

PENN MEDICINE'S GLIOBLASTOMA MULTIFORME TRANSLATIONAL CENTER OF EXCELLENCE
The Translational Center of Excellence in the Abramson Cancer Center focuses on glioblastoma multiforme, the most common and lethal form of brain cancer. The team will investigate new immune therapies for glioblastoma and, in particular, design and test new CAR T therapies. This involves engineering patients' T cells (the cells that act on behalf of the immune system) to attack tumor cells. The world's first gene-based cancer therapy, immunotherapy— or CAR T cell therapy—was pioneered at Penn Medicine and became the nation's first FDA-approved personalized cellular therapy for cancer in 2017.

ATLANTICARE'S NICU UNIT
The Roger B. Hansen Center for Childbirth
at AtlantiCare Regional Medical Center Mainland campus includes the only Level III NICU in the region. The team cares for babies born as early as 22 weeks' gestation and babies who are born sick or with other needs.

This year, AtlantiCare, a member of Geisinger, cared for its lowest-birth-weight surviving baby since it opened its neonatal intensive care unit in 1972. MaKenna Spruill weighed only 13.7 ounces and was 10 ¾ inches long when she was born March 12, arriving 16 weeks earlier than her July 1 due date. MaKenna left the hospital 113 days later, weighing 4 pounds, 10 ounces, and measuring 16 ¾ inches long. Hundreds of AtlantiCare physicians and staff cared for MaKenna and her mother before, during and after MaKenna's birth, including Children's Hospital of Philadelphia (CHOP) neonatologists who
are part of CHOP newborn and pediatric care at AtlantiCare.
Patient First medical centers are open 365
days a year to offer walk-in urgent care for non-life-threatening injuries and illnesses, primary care and occupational health services with a physician always on-site. Each center has on-site digital X-rays, an on-site lab and on-site prescription drugs to save time and reduce the need for extra trips. If requested, Patient First will electronically transmit prescriptions or refills to the patient's pharmacy or provide printed prescriptions.
Patient First is an independent practice that works collaboratively with local health systems and other providers. Physicians have the freedom to refer to any specialist in the community, as appropriate. In addition, they will forward a copy of the visit record to the patient's primary care physician, in accordance with the patient's wishes.
COOPER UNIVERSITY HEALTH CARE AND ADVANCED RECOVERY SYSTEMS (ARS) ADDICTION TREATMENT CENTER
Cooper University Health Care and Advanced Recovery Systems (ARS), which operates addiction and substance abuse treatment centers, recently formed a partnership to provide addiction recovery services to patients. Cooper and ARS are building a state-of-the-art, $27 million, 90-bed inpatient treatment facility in Cherry Hill— the first of several planned treatment facilities in the region. The center will offer evidence-based addiction treatment services, wellness programs and recreational areas for patients, including a yoga room, indoor basketball and volleyball courts and a large workout gym.
Lincoln Healthcare is the first home health
agency in the nation to employ Pediatric HAL, the first robotic technology capable of simulation of life-like emotions through dynamic facial expressions, movement, true mechanical ventilation and speech. Working and learning with HAL equips nurses and caregivers with a first-of-its-kind, hands-on experience and specialized skills to effectively provide care for medically fragile young patients.
CLAUDINE M. DE DAN, M.D.—MDVIP PRACTICE
Claudine De Dan is the only MDVIP-affiliated female family medicine physician in Gloucester County, offering a concierge style practice— the new wave of the future of primary care delivery. MDVIP-affiliated physicians maintain significantly smaller practices, which allows them to spend more time with patients and provide highly individualized primary care compared to traditional practices. For an annual membership fee, each patient receives the MDVIP Wellness Program—a comprehensive yearly health assessment that includes advanced diagnostic tests and screenings to give a more complete view of the patient's overall health. Other benefits of an MDVIP-affiliated practice include same or next-day appointments that start on time and last an average of 30 minutes. De Dan is also reachable 24/7 by phone.

To read the digital edition of South Jersey Biz, click
here
.
Published (and copyrighted) in South Jersey Biz, V
olume 8, Issue 12 (December 2018).
For more info on South Jersey Biz, click here.
To subscribe to South Jersey Biz, click here.
To advertise in South Jersey Biz, click here.