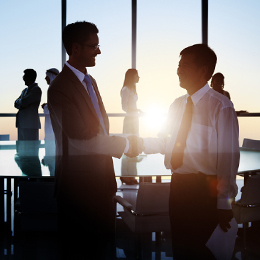 Talking Business
Local professionals share their insight.
South Jersey Biz is asking area business leaders about what makes them tick, by asking a new question each month.

This month we are asking: What is the biggest mistake in business you've made and how did you learn from it?

LEOR HEMO
OWNER,VANTAGE REAL ESTATE
"The biggest mistake in business that Ihave made is underestimating my ability to adapt and evolve as a leader and businessman. I have learned that by being open to new ideas and listening (really listening) to those who challenge me or have opposite views/opinions than Ido—I have become a better leader and businessman."

SHARI HULITT
OWNER, SHARPLINK STAFFING
"One of the biggest mistakes I made when we started SharpLink was trying to do it all. I thought I could manage all of the tasks involved from sales, payroll, website and marketing. It was hard to let go at first but choosing the right partner to outsource and making a few key hires have helped us grow even more."

RACHAEL BREKKE, ESQ.
ATTORNEY, MCDOWELL LAW
"I am fortunate to have successful, lifelong friends that trust me to protect their business and refer clients to my firm. But it's easy to dive into business and forget about the reason you've appreciated and trusted each other for 20-plus years.

Over the years, I've learned to leave work at work and simply enjoy each other's company, invite their families to join us and appreciate the little things in life that make it so special."



Published (and copyrighted) in South Jersey Biz, Volume 8, Issue 7 (July 2018).

For more info on South Jersey Biz, click here.
To subscribe to South Jersey Biz, click here.
To advertise in South Jersey Biz, click here.