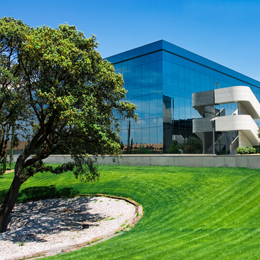 Making a First Impression
Sprucing up the exterior landscape at your commercial property.
We have all heard the value of a well-designed and manicured landscape at home. It draws curb appeal, increases property value and most of all, makes the end of a long day even better. So when it comes to commercial exteriors, who says it has to be different? Why shouldn't coming to work or visiting abusiness be just as nice? Well, it should.

As with a home, one of the first items noticed at any commercial property is the landscaping. It can say a lot about your company. A maintained landscape makes a commercial property appear warm and inviting, attracts customers and instills a level of care that embodies client service. However, one that is ignored can have the exact opposite effect. Visitors are left to wonder, and as they say— perception is reality.

Despite the similar benefits of well-designed residential and commercial landscapes, there are some clear and distinct differences. The purpose is to enhance the property's comfort, functionality and value, which can be done with a combination of components that may include walkways lined with artistically manicured trees and shrubs—plus healthy green lawns such as natural grass or high-quality artificial turf. These are just the basics. Many businesses choose to make a further statement, adding a perennial garden, foundation plantings, water features and lighting systems. The options are virtually limitless, yet the result is the same. Employees and guests may like arriving at the office as much as returning home at night.

To break it down, commercial landscaping has a number of valuable benefits owners and property managers should know when considering the investment.

Nice, neat and well-kept exteriors are seen as a sign of efficiency and often it is part of developing or reinforcing a company's brand and image. It creates a positive workplace that fosters client andemployee retention, as well as adding more meeting space without walls.

So far, these benefits have centered on aesthetics and the visual image an exterior can have on one's eye. However, commercial landscaping also offers economic advantages. It has been said that a positive impression leads people to spend more at businesses they perceive are good. The added appeal can increase property value, while at the same time reduce costs when designed effectively. For example, proper placement of trees and shrubs can have a cooling effect in the summer while insulating warmth throughout the winter. Plants also prevent property damage caused by erosion and protect water quality.

This leaves little question as to the value of a professional commercial landscape. It also answers the question: Who needs commercial landscaping? In short, any type of business may benefit— from offices and industrial complexes to banks and retail stores. But it reaches beyond what some see as traditional commercial sites to include government buildings and schools, as well as homeowners' associations and multi-family or assisted living communities. Some of the most extravagant exteriors are found in the hospitality realm where hotels, restaurants and entertainment venues create complete themed environments.

If you still are unsure or skeptical, take a moment to look around the next time you visit a professional office or pull up to the newest popular lunch spot. It will be this first view that makes an impression and is a window to what lies inside.

Dan Young has been involved in the landscaping industry for over 25 years and is owner and president of Young's Landscape Management. For more information, visit YoungsLandscape.com.