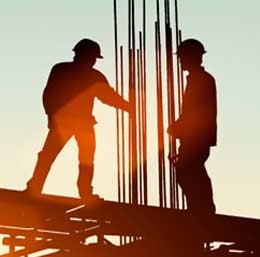 On the Rise
An attractive market and business confidence call for an abundance of new construction and expansions throughout South Jersey in 2018.
So far in 2018, South Jersey's building and construction climate is growing steadily and with more demand for mixed-use facilities, the need for security and the demand in the education and health care sectors, it's only slated to flourish more.
In fact, Republic Bank says that 70 percent of tri-state area small business customers surveyed have said they are optimistic or very optimistic about the South Jersey economy. "Businesses are choosing to invest and build in South Jersey because they have a great deal of confidence in the economic growth potential of the region over the next year," says Rob Worley, senior vice president and New Jersey market manager for Republic.
The biggest industries in the area continue to be education and health care. "Everybody already knows that education and health care are big sectors in the South Jersey market," says Jason Wolf, managing principal for Marlton-based Wolf Commercial Real Estate (WCRE). "We're still seeing a tremendous amount of expansion or repositioning."
In Washington Township, a $12 million senior facility for those who require assisted living is slated to open at the end of this year. "These types of facilities are being built—it's pretty much a growth market right now for these companies," says R. Thorpe Moeckel, vice president of business development for Wohlsen Construction, the group working on the project. Wohlsen is headquartered in Lancaster, Pa., but does much work in South Jersey. The Gloucester County building will have 58 units with about 112 beds. It also will feature rooms for dining, activities, medical needs and recreation.
Jonathan Klear, an industrial specialist and vice president of NAI Mertz, says the desire to expand into South Jersey is even higher now for both developers and builders. He says companies are looking to secure land and build warehouses.
"The demand for warehouses has been increasing as businesses look more toward an online presence a little more than their brick-and-mortar presence. Everything that's getting built is pretty much getting leased out. It's at a very high rate right now and it's just going to continue."
Joe Davidson, principal at Cherry Hill-based Ignarri-Lummis Architects, says the trend nowadays, especially this year, is takeovers. "Some of the major things we're seeing are a lot of takeovers of vacant space from older retailers," he says. "We're also seeing a lot of fitness projects, from LA Fitness to smaller brands like Edge Fitness. Stores like Burlington [Coat Factory], TJ Maxx and Ross are opening up in a lot of retail outfits."
Davidson's colleague, Paul Hoyle, says even though online shopping has exploded in recent years, retail is definitely not dead. "You keep hearing about the death of retail," says Hoyle, the director of development for Ignarri-Lummis. "It's kind of crazy. But, retail needs a gathering place. We're redoing a lot of shopping centers, resurfacing them and repositioning them for today's use. Retail is evolving. It's changing."
The architectural firm says an "incredible amount" of ShopRite grocery stores are opening, like the one in Burlington Township at Wishing Well Center. That area is experiencing a real estate resurgence.
According to a WCRE report, overall vacancy in Burlington, Camden and Gloucester counties is a full point higher this quarter than in the previous quarter. They say that may be attributed to large blocks of space returning to the market.
Davidson says as stores like Kmart, Sears and Toys "R" Us close, and oftentimes, even before they are due to shutter, "landlords and owners are basically having us prepare plans" for their eventual closing.
"Owners are looking for mixed use," he says. "So if you have some offices, some restaurants, some retail, even some residential uses—the more they can spread around, the better the project is." These types of facilities are continuing to open in South Jersey; Ignarri is working on two right now in Woolwich Township and Egg Harbor.
With regard to the residential market, the big story is the continued low inventory, according to NJ Realtors President Christian Schlueter. "It's pushing sale prices slightly higher, but is a concern we're keeping our eye on," he says.
Additionally, New Jersey continues to lead the country in foreclosures and short sales. "We continue to hope that Congress will extend the Mortgage Debt Forgiveness Act so that we can move beyond this issue and return to a normal, vibrant market," Schlueter says.
"If anything, we've seen the modest rise in mortgage rates spur some potential homebuyers who may have previously been on the fence—into buying."
On the education front, higher education and lower suburban school districts are seeing a boost in building. Rowan University's $350 million Rowan Boulevard redevelopment project, linking the campus to downtown Glassboro, has been going on for years and new businesses are continuing to open on the corridor. Chuck Romanoli, principal for New Road Construction Management in Cherry Hill, which does a lot of school projects in South Jersey including some at Rowan this year, says before the university embarks on new buildings, "they first want to maximize the efficiency of buildings already there."
"One of the missions for them is to centralize the functions on the south side of Route 322," Romanoli says. "They are reorganizing and making the campus as efficient as possible."
Expansion at Rutgers University-Camden and Stockton universities are in various stages too, namely the $220 million Atlantic City Gateway Project, which includes a South Jersey Gas office. Some parts of that plan are lined up to open by this fall when students return, with more scheduled for a 2019 completion date.
Builders are also seeing more high school projects, but sometimes it mostly depends on the taxpayers to foot some of the bill. "We need funding for these school projects," Romanoli says. For school districts to build, residents have to approve a referendum for the money needed after the state kicks in their share. "But homeowners are much more inclined to pass a referendum knowing they are getting state contribution rather than putting it all up themselves."
Pennsauken and Northern Burlington schools just recently passed referendums for expansion.
Romanoli says a new administration in Trenton may help some of these other school proposals that have needed funding for quite some time.
In the Haddonfield School District, a referendum to do work at two schools passed in 2016 and work is continuing throughout this year with finishing touches slated for next spring. Classroom wings, the cafeteria and gymnasium are getting reconstructed as well as upgrades and improvements to the track, stadium and roof. But more so lately, there's been a major emphasis on school safety and security.
Protecting children has always been the No. 1 priority, says Dave Fowles, of KDA Architects, but districts are realizing more needs to be done, especially in the wake of the deadly Parkland, Fla., school shooting. KDA is currently working on upgrades to school security systems in Pine Hill and Plumstead Township.
Regan Young, of RYEBREAD Architects in Mount Holly, says a lot of schools are asking for vestibules to be built at school entrances. "We've had a couple districts call and say we want 'this' by September. Suddenly now we have to make magic happen," he says. "It's been a trend for awhile. We've been doing this for the past few years. Now, there's an extra emphasis. The public is demanding it."
In Camden, the city is continuing its advancements in building and construction. American Water headquarters and Subaru are already on the move to the city. Davidson says there's a lot of interest down by the waterfront. He and Hoyle say it's seen as an expansion to Center City, Philadelphia; there's easy access and a lot of jobs are coming in from the surrounding suburbs. Camden had a resurgence a number of years ago that had died down a bit, but now, the number of companies looking to build or move there is increasing.
In the WCRE real estate outlook report, vacancy in Camden County improved in 2017 but so far this year, it jumped a point to 12.5 percent vacant this quarter of 2018. But it's nothing concerning, Wolf says. "You're going to get large pockets of vacancy," he says. "I don't think these properties will stay vacant long term."
Two towns where Wolf anticipates a lot of production are Lumberton and Hainesport in Burlington County. "We are seeing a growth pushout that way."
South Jersey is "well-located," he says. "You can get to Philadelphia in 15 minutes, there's easy, convenient access to Central Jersey and New York City. Roadway access is a big deal. I think also we have great school districts. Demographically we're a small submarket but I think that makes it somewhat attractive if you're a corporation looking to move here."
Published (and copyrighted) in South Jersey Biz, Volume 8, Issue 4 (April 2018).

For more info on South Jersey Biz, click here.
To subscribe to South Jersey Biz, click here.
To advertise in South Jersey Biz, click here.