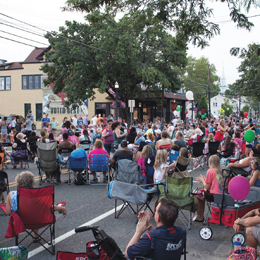 Desirable Destination
Swedesboro/Woolwich Township
When Swedesboro Mayor Tom Fromm and his wife were looking to move in 1984, they wanted to place roots in a town that had affordable housing, a town where you can get more bang for your buck and have that smalltown charm. They found all that and more in Swedesboro, and he says it is the same way today.
"People know when you go to Swedesboro; you're going to get more home for your money than other places and also very affordable homes," he says. "We fell in love with the whole town and know people feel the same way when they come here today."
Tucked inside Woolwich Township, Swedesboro was formed in 1683 and separated from Woolwich Township and incorporated itself as its own town in 1902. Fromm says that rich history is something "you just can't replicate."
"That's what we tell people who think they are going to build a downtown," he says. "You can build something, but you can't recreate what 300 plus years of history have done for this town."
Tight-Knit Community
Fromm says Swedesboro has always been a tight-knit community for years. "The way I look at it, the people in Swedesboro, it's a nice mix of different nationalities and we all work together and all need each other. We have a nice diversity and people get along."
"Swedesboro has a small town uniqueness to it," says Pete Curran, president of the Swedesboro Business Association. "Swedesboro is unique because it still has a downtown, small town feel, and it's busy. On a Wednesday evening you can't find a parking spot sometimes. People do really care about their neighbors."
And the community loves getting together at the many events Swedesboro hosts every year, such as Swedesboro- Woolwich Day, the annual Christmas parade and Olde Kings Jazz Fest. The borough's Economic Development Committee sponsors these events and some of the recent popular ones include Dancing in the Street, where they hold concerts on Kings Highway; Food Trucks Thursdays and Kayaking on Lake Narraticon which offers free kayak lessons.
"It's unbelievable all the things that go on in our downtown," Fromm says. "We put on 13 or 14 major events in this town that are designed exclusively for our residents and to bring people into town to show off our businesses so they come back." What also makes Swedesboro unique is the convenience factor—Fromm says just about anyone in town can walk to all the events going on downtown and all the businesses.
"I walk to my meetings and restaurants —that's what we're about. We want to be a destination where we have more great restaurants and other businesses and we're known as a place that has first-class events. We don't hold back."
The row of restaurants downtown is endless and filled with many different cuisines, and some have been a staple in town for many years, including Botto's, which started in 1964 as a grocery store and has expanded to the immensely popular Botto's Italian Line restaurant and a gourmet Italian market.
Location & Convenience
The Pureland East-West Shuttle, in existence for two years, shuttles residents to various locations in Gloucester County to the Pureland Industrial Complex, which is a 3,000-acre industrial park in Swedesboro that has retail shops, a jogging trail and preserved land.
Swedesboro and Woolwich Township are close proximity to major highways such as Interstate 295 and the New Jersey Turnpike, and the Delaware Memorial Bridge is close by for an easy commute to Delaware. For business owners like Rob Richardson of Allied Document Solutions & Services, having access to those roadways is important to his business and, besides needing more space, was a draw for him to move his business to Swedesboro. "It certainly creates opportunities for us and the accessibility to the turnpike and [Interstate] 295 and the bridges, it makes it easy for me and my sales and technicians to get to where they need to go," he says.
Redevelopment
With a vibrant downtown, easy access to major highways and a desirable school district, especially Kingsway Regional School District, it's easy to see how much of a desirable area Swedesboro and Woolwich Township is. Because of more people flocking to the area, more housing is needed.
"We are talking to a motivated developer who wants to build a combination of retail/commercial on Kings Highway with 46 floor units right in the downtown area that will be one to two bedroom apartments geared toward the younger crowd and we're pretty excited about that," Fromm says.
"The bottom line is this part of Gloucester County has become really desirable, and we need more housing," Haley DeStefano, operating principal of Keller Williams says. "The impact it's going to have on the town is bringing more people into the area because the schools are great, you're close to everything and it's a rural area."
A good chunk of the area is filled with old, Victorian homes that residents are staying in most of their lives."Some of the older homes that people have kept up that have beautiful woodwork and architecture; we're seeing those empty nesters move out of those homes into smaller ones in the town, and their sons and daughters with kids move in," Fromm says.
It's clear Fromm is excited about the whole vibe of the town, and doesn't want that energy and old charm feel to go away anytime soon. "Wherever you are in Swedesboro, you can walk downtown. Our goal is to make it a walkable town where people are coming in and enjoying things in Swedesboro. We're seeing it in a big way—seeing a new energy, I love it. We see new people with new ideas and that's what you need to keep the town going."
WHAT BUSINESSES ARE SAYING
VILLAGE EYECARE
Dr. Sally Halim, Owner/Optometrist
"There's such a sense of community in this town. As a resident of Woolwich, I am fortunate enough to see my patients at the office, but also at places like the soccer field, at the grocery store, or a local restaurant. ... The support for small/local businesses is really wonderful in this town. The people of Woolwich [Township] want to see more small businesses succeed so they spread the word and try to promote what's in town. Word of mouth has been our best referral source and biggest practice grower."
SWEETSBORO BAKERY
Karen Morrison, Owner
"The best part about having a business in Swedesboro is the community. … Swedesboro has helped Sweetsboro Bakery grow by supporting us every step along the way. Since the day we opened our doors we were embraced by the town, which still continues to this day. Swedesboro council has promoted our business and has recognized our shop with awards."
INTEGRITY STAFFING
Ken Bode, Area Manager
"Swedesboro has a wonderful thriving and growing community. The fact that several major manufacturers and warehouses have facilities in Swedesboro combined with the amount of available talent for these businesses is the key to our success and is the primary reason for having an Integrity Staffing office in Swedesboro. Being just a few minutes away from downtown Philly and Wilmington is very convenient, too, and downtown Swedesboro is a true gem."
SPICY AFFAIR
Cindy Minhas, Owner
"The best part about opening the business in the area has been the new friendships we have forged over the past nine months since we opened our doors. The local residents have been phenomenally supportive and have encouraged us all along. … Every day we look forward to meeting new customers and introducing them to Indian food and broadening their culinary horizons."
FARMER'S INSURANCE
Joe Giacobbe, Agent
"[Swedesboro is] a great little community with an old town feel. My business has grown because of my community involvement and most of the community prefers doing business face to face instead of calling a call center. I tell everyone, I live where you live and I am always here to help!"
FLOWERS BY DENA
Dena Brooks, Owner
"Swedesboro has a real sense of community. The people in the town want to help businesses succeed, so they really do try to keep local loyalty. The businesses for the most part do the same. Business to business we really try to help each other grow."
Published (and copyrighted) in South Jersey Biz, Volume 8, Issue 1 (January, 2018).
For more info on South Jersey Biz, click here.
To subscribe to South Jersey Biz, click here.
To advertise in South Jersey Biz, click here.