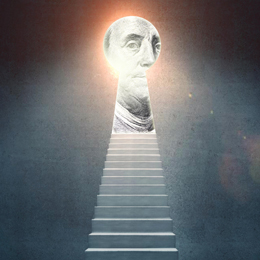 A Bright Economic Outlook
A Growing Economy
2017 was a year of new businesses setting foot in the region, with many projects underway, including revitalizations of downtown Camden and Gloucester County. An abundance of new construction and expansions was a clear sign the economy is growing thanks to business and consumer confidence. So much so, that Joseph Rehm, executive vice president and chief lending officer for Capital Bank of New Jersey, says 2017 was their "best year on record."
"It was fueled by our customers' willingness and ability to invest in their businesses," he says. "We did more loans in 2017 that represented new economic activity, such as lending money to purchase equipment, buy or expand a building and increased lines of credit than we did in any other year of our 11-year history." We've barely scratched the surface in 2018, but if 2017 is any indication, the experts we talked to say the economy is only going to get stronger.
NEW CONSTRUCTION
Almost everywhere you turn in South Jersey, new construction is currently being built or more projects are on the horizon in part due to business owners' confidence in the growing economy, along with the need for more buildings to serve the communities. One of those construction sites is in Cumberland County, where a 32,000-square-foot, $10.5 million manufacturing facility is being built to attract new customers, including a dedicated space for food processors.
"We are funding residential and commercial construction projects that we haven't seen on the plate for quite some time," says Richard Dapp, CEO of Franklin Bank. "The general attitude is becoming much more upbeat."
"Based upon our experience, the general attitude in [South Jersey] is more positive as we enter 2018 than one year ago, especially in the business/commercial sectors," says David Hemple, CEO of Century Savings Bank. "We are working with a significant number of business customers that have expansion plans for 2018. We are seeing increased investment into municipal infrastructure, transportation and food-related businesses. Many of these customers are taking advantage of GROW NJ and other economic incentive opportunities. Additionally, redevelopment of older Jersey Shore area properties was strong in 2017 and shows no signs of slowing down for 2018."
Another sector seeing a boom in new construction and expansion is health care. From the recently announced $35 million proton facility at Virtua Voorhees in partnership with Penn Medicine scheduled to be completed in 2020—the first of its kind in South Jersey—to the new, state-of-the-art, $349 million Inspira Medical Hospital in Mullica Hill scheduled to open in September 2019 that will replace Inspira's current hospital in Woodbury, exciting developments are in the works. Another project underway is the 56,000-square-foot expansion of Inspira Medical Center in Vineland, where two stories are being added to its outpatient wing. These facilities are set to make an immediate impact once they are built, bringing more jobs to the area and the potential for more businesses, such as restaurants, to be built near and around the buildings to assist the growth of population coming to the hospitals. This, in turn, will boost the economy even more.
"You see a company like Inspira build their hospital here [in Mullica Hill], which will be a state-of-the-art facility, and it will bring in jobs and more money to the economy locally," says Michael Pallozzi, president of HFM Investment Advisors, LLC. "From the hospital there has to be other businesses that come from that—restaurants, places to stay, maybe another hotel that will continue to spur the economy. Other medical complexes that will complement the hospital, all the important amenity businesses that have to complement a hospital will have to pop up around it."
REVITALIZATIONS
Rowan University has undergone massive changes in recent years with the addition of Rowan Boulevard, and Pallozzi is seeing this firsthand, since his business is located on Rowan Boulevard next to the new apartment buildings, retail shops and restaurants.
"We've been here for three years, and when we moved in, the building across the street from us didn't even break ground on that yet," he says. "Now, three years later, it's fully occupied from leasing tenants and the apartment is 100 percent occupied in addition to two other buildings they built right next to it; one is fully occupied for students and retail is starting to go into construction. From a Rowan Boulevard position, the economic growth here is incredible."
Camden hopes to see economic growth with the revitalization of the downtown area and new companies bringing their businesses to the city, including Subaru, American Water, Boomerang USA and Valley Power Electric Supply to name a few, and the newly built Philadelphia 76ers training complex and corporate offices. A 180-room Hilton Garden Inn and a 188-unit residential component are supposed to be built and Rutgers University–Camden is going to turn Campbell's Field—which is set to be demolished—into athletic facilities for their sports teams.
"Some of our construction clients are benefiting from the revitalization efforts going on in Camden," Rehm says. "At a minimum, there has been a short-term positive impact."
TAX CODE
The Trump administration recently implemented the Tax Cuts and Jobs Act, which cuts the corporate tax rate significantly and is expected to take burdens off large businesses.
"By cutting the corporate tax rate from 35 percent to 21 percent, the estimated net tax cuts for U.S. corporations total are around $330 billion," says Ted Massaro, CLU, AEP, chartered financial consultant and principal of M Financial Planning Services. "The question is, how will they put this money to work? Looking long term, a business may plan to spend more on hiring and benefits, capital expenditures such as property, plants and equipment—especially with full expensing in the first year, or paying down debt."
Some companies, especially banks like Century Savings Bank, are already feeling the impact. "We already see a huge effect," Hemple says. "Some of the larger banks have already announced immediate minimum wage increases to $15 per hour for tellers and other staff. This represents a 36 percent increase to average starting teller salary based upon local rates. This increased expense is being paid for by reduced corporate tax. While this seems like great news for bank employees, smaller community institutions may not be able to offset new wages with tax savings, and may have difficulty retaining good staff at somewhat lower wages."
Massaro agrees, saying small business owners in a high tax state like New Jersey are "less clear-cut."
"While there's a 20 per cent reduction on taxable business income for business owners, they also now cap their state and local taxes and mortgage interest, which will have a direct impact on many high income earners in the state. Obviously everyone will have to access how the tax law changes directly impact their personal situation."
SHIFT IN GOVERNMENT
2017 saw a major shift in government and 2018 is another year with a new administration, as Gov. Phil Murphy was recently sworn into office. Along with the tax code from the Trump administration, Murphy's policies could change the way businesses are run.
"Business owners take cues from elected officials' stated priorities and use that information as they plan for the future," Massaro says. "Nationwide, many businesses were closely watching the adoption of the new federal tax law, and are already planning how they will be affected. Locally, Gov. Murphy has proposed to further raise the minimum wage, revisit state tax codes, prioritize natural energy and create a State Bank—all issues that will have an effect on our local economy. The business com- munity will be watching closely to see how it plays out."
"We definitely feel that fiscal policy can have an impact," says James C. Ewing, managing director and partner at Ewing/Cona Wealth Management at High-Tower. "For several years business owners weren't sure which policies would pass, which may be repealed, and whether the government would shut down over disagreements between political parties. Some of the policies that have an impact on hiring levels or investments that employers may make in their business have been decided at the very last minute, which can make it difficult for business owners to make longer-term investments or even plan for the year ahead when they don't know which laws will be in effect from year to year. The current administration's policies have been largely pro-growth, but midterm elections are around the corner, so that could all change depending on how the election turns out."
Published (and copyrighted) in South Jersey Biz, Volume 8, Issue 1 (January, 2018).
For more info on South Jersey Biz, click here.
To subscribe to South Jersey Biz, click here.
To advertise in South Jersey Biz, click here.