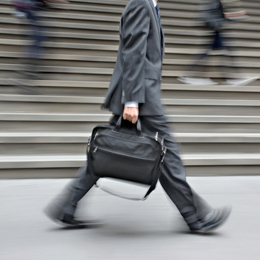 On the Move
November 2017
Dr. Roy Sandau, Rowan School of Osteopathic Medicine associate professor and cancer liaison physician for American College of Surgeons Commission on Cancer, will be promoted from assistant director to chief of surgery at Jefferson Health New Jersey. Sandau's new position entails overseeing surgical services of the Jefferson Health hospitals in Cherry Hill, Stratford and Washington Township.
Heather Conger, director of athletics for Rowan College at Burlington County, was bestowed the Augie Eosso Award by the National Junior College Athletic Association (NJCAA). The award is given to someone who goes above and beyond to show their commitment within the NJCAA region. Conger oversees seven men's and women's sports teams at the college.
Adinolfi & Packman, P.A. welcomed Kimberly Greenfield, certified family mediator, to practice family law. Greenfield was previously associated with Puff & Cockerill and held a clerkship with the Honorable Timothy Chell in Gloucester County.
Kimberly Mellon, Lisa Krause, Jeffrey Vierneza and Melissa O'Sullivan were awarded an accumulated $30,000 worth of scholarships from Annual Nursing Scholarships at Jefferson Health New Jersey. The associates were chosen by Kennedy's Nursing Selection Committee due to their accomplishments of maintaining the facility's mission, vision and values.
Gov. Chris Christie selected Debbie Hart, BioNJ president & CEO, and Daniel O'Connor, BioNJ vice chairman, to be a part of the New Jersey Biotechnology Task Force. The New Jersey Economic Development Authority ensures the duties of the task force which improves communication between state and government.
The Garden State Council from Boy Scouts of America honored Barbara McCormick, MSN, RN, with the "Women of Achievement" for 2017. The Jefferson Health New Jersey associate displayed an outstanding role in business competing against women from six counties in South Jersey.
Financial Times recognized Denise Morrison, Campbell Soup Company CEO, as an OUTstanding Ally Executive. Morrison is not only successful in her career but shows strong support for those within the LGBT community.
New Jersey Hospital Association awarded Sara Isaacson and Paola Rios with $2,000 in scholarships from Health Research and Educational Trust of New Jersey. The program rewards undergraduates who maintain a grade point average of 3.0 and require financial assistance.
Duly Noted
James Ewing, Michael Cona, Brian Buchanan, Bill Cowan and Candi Weinrick, previously Ewing/ Cona Group of Merrill Lynch, just created an advisory practice named Ewing/Cona Wealth Management at Hightower.
Ryan Howard, former first baseman of the Philadelphia Phillies, and his wife Krystle Howard will conduct two book signings for their series "Little Rhino" at the South Jersey Federal Credit Union to encourage good sportsmanship and the importance of literacy.
Jefferson Health New Jersey recognized 31 employees for showing an exemplary performance, professionalism and commitment to hospital patients. The winners will receive a gift and luncheon with Joseph Devine, president of New Jersey Division of Jefferson Health.
Campbell Soup Company was awarded Champion Against Hunger 2017 by the Food Bank of South Jersey. The company donated 800,000 pounds of food and thousands of hours of volunteer work for Camden residents.
HFM Investment Advisors, Inc. plans to break its record of coat donations during its annual coat drive by expanding within the South Jersey region. The company partnered with Heart of South Jersey, which distributes the coats among 20 nonprofit locations.
Port Elizabeth will be the new home of a chassis depot and container storage yard. Dewberry, a private professional service firm, will design layout, offices and gate systems for the yard.
Capital Bank released its quarterly results at a 28 percent increase over the same time since 2016. Additionally, the bank recently held a ribbon-cutting ceremony for the new loan production office in Marlton.
New Jersey Manufacturing Extension Program, Inc. acknowledged six companies for contributing to the Garden State's manufacturing industry. ZaGO, Demountable Concepts, GGB Bearing Technology, Sock Gang LLC, Easterseals and Jim Placa, Davion Inc. , were the winners out of the 24 finalists at the sixth annual Made in New Jersey Manufacturing Day.
The addition of a 95,000-square-foot facility, Joint Health Sciences Center, in Camden will help students attending Rutgers University- Camden, Cooper Medical School of Rowan University and Rowan University School of Osteopathic Medicine. Combining the different facilities and separate disciplines will give better research and training opportunities.
Private wealth management and retirement consulting firm McLaughlin Asset Management, Inc. was the only South Jersey company acknowledged by its assets on the National Association of Plan Advisors' top 401K firm list. The first-time list was comprised of 100 total firms.
The New Jersey Department of Labor and Workforce Development donated $8.4 million in state grants to Rutgers University, Fairleigh Dickinson University, Camden County College, Rowan College at Burlington County, Rowan College at Gloucester County and New Jersey Institute of Technology. The grant will create pathways for the Talent Development Centers in the state's key industries.
BCA Insurance Group, a Marlton insurance brokerage firm, and Saratoga Benefit Services, a Moorestown health benefits firm, announced their partnership. The combined companies want to offer more diverse services while keeping the same values.
Senate President Steve Sweeney, Deputy Assembly Speaker John Burzichelli and Assemblyman Adam Taliaferro announced a $3 million state-funded project that would improve the railroad in Salem County. The Salem County Short Line runs from Swedesboro through Woodstown to Salem Port.
McLaughlin Asset Management Inc., private wealth management and corporate retirement plan consulting firm, was listed on Financial Times Special Report's Top 401 U.S. Retirement Advisors for the third consecutive year. The list is comprised of elite professionals who advise employers on defined contribution plans.
Published (and copyrighted) in South Jersey Biz, Volume 7, Issue 11 (November, 2017).

For more info on South Jersey Biz, click here.
To subscribe to South Jersey Biz, click here.
To advertise in South Jersey Biz, click here.