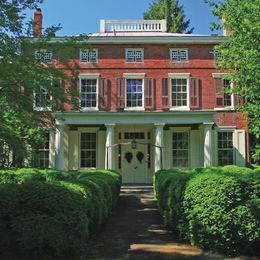 A Thriving County
Burlington County
Right off Exit 6 on the New Jersey Turnpike is what many consider one of the most desirable economic development nodes in the country. That parcel of land is just a piece of Burlington County, which as a whole, spans 827 square miles, equating to the largest county in the state.
With an estimated population of 449,284 as of July 2016, according to the U.S. Census Bureau, and a 2016 median household income of $80,254—an increase of six percent from 2015—the county is experiencing strong economic growth, despite the ebbs and flows of the state and region's economy. Just as its farmland, the county is bearing the fruits of its labor and proving to residents, current and prospective businesses, it's well worth the business.
Visual Growth
Economic and industrial growth and stability can easily be tracked with numbers, but Burlington County is visually showing it. Just by driving along the seven-mile stretch of Route 130 from Burlington to Bordentown, or Routes 38, 73 and 70, you'll see a surge of developmental interest. With the likes of mixed-use projects, new businesses, office and commercial construction, it has resulted in more than 6,500 jobs.
Julie Kronfeld, a sales associate at NAI Mertz, notes new developments that have recently broken ground in the county include Mount Laurel's Lifetime Fitness, a new Walmart along Exit 36 and development of the Route 73/Greentree area, "where a single-story office was replaced by LA Fitness and inline retail. Several office portfolios have traded within this market providing new opportunities guided by changes in ownership's vision and goals."
As far as the medical scene, Virtua is quickly becoming the county's behemoth as it continues updating old facilities and opening new locations and urgent care outlets. "Medical continues to be an economic driver," says Kronfeld. "We are seeing this occur in Burlington County as well as the surrounding counties. On the northern side of the county in Westampton, Virtua Memorial Hospital of Burlington County received state approval over the summer to replace its outdated facility with a new, state-of-the-art facility on its recently acquired 110-acre site on Route 541 and Woodlane Road."
The industrial scene is also seeing a rise in activity, as the county recently welcomed new businesses in addition to existing companies expanding their current operations. From newcomers W.W. Grainger and Owens & Minor now in Bordentown Township to Amazon, B&H Photo and Quality Packaging Specialists International in Florence Township, Camuto Shoes in Westampton and Radwell International relocating to Willingboro, all these companies and more have either brought new or retained old jobs within the county.
The small business sector is also alive and well—not to mention thriving. "This complements our business from an operational standpoint as small businesses are the tenants we serve," notes Jeff Schneider, president of Strategic Funding Alternatives, LLC, a real estate equity and investment company based in Moorestown. "Additionally, this climate solidifies our investors' confidence in the stability of our assets, while anticipating a strong potential for capital appreciation."
Burlington County Freeholder Director Bruce D. Garganio also credits a cut in government spending in spearheading this economic boost. "The Freeholder Board has remained committed to reducing government spending, resulting in a decrease of $29.2 million or 12.8 percent since 2008," he explains. "To put this into perspective, all other counties in the state have had an average increase of $28.4 million over the same time. We have cut taxes, held the line and reduced spending and expanded our services by more than any other county in the state."
An Educated Workforce
With the addition of new and expanded business in the area, there is more of a demand for an educated workforce that continues to evolve while also learning updated skills. In response, Rowan College at Burlington County's Workforce Development Institute was established in July 2015.
Ironically, it was the same time when, as Vice President of Workforce Development and Lifelong Learning at Rowan College at Burlington County Anna Payanzo Cotton explains, the federal government recognized the importance of alignment for community colleges and workforce system partners, giving way to the Workforce Innovation and Opportunity Act.
"[We are] helping people have the skills they need to help the businesses in the area succeed as much as possible and really listening to [them] to understand what their needs are and then prepare their workforce," explains Payanzo Cotton. "Businesses can participate actively in defining what the education programs are and then we've been creating some programs that don't exist after those conversations."
As a result, RCBC's Workforce Development Institute has partnered with local companies including Lockheed Martin, Amazon, Edmund Optics, Radwell International, Del Val Tools and Virtua. "[The Virtua] partnership is … so robust and comprehensive and it encompasses looking at all of our existing academic programs, reviewing the curriculum and making sure the clinical training components are helping to meet their needs," says Payanzo Cotton.
RCBC's Workforce Development Institute has also led the charge with the energy and utilities industries—which gave birth to the WISE (Women In Sustainable Employment) program to prepare women in the field—as well as advanced manufacturing and transportation logistics and distribution. In fact, RCBC was recently awarded a $1.2 million grant from the New Jersey Department of Labor and Workforce Development to serve as the Talent Development Center for Transportation Logistics and Distribution, in addition to a $12,000 grant from PSE&G for the establishment of an Energy Industry Fundamentals (EIF) course.
Additionally, the Burlington County Regional Chamber of Commerce (BCRCC) is connecting businesses through educational and networking events and direct referrals to help with long-term growth and success. "The chamber has spearheaded large conferences with our regional partners, the Healthcare Forum and the Education & Workforce Conference, both of which are slated for continued growth in the next year," explains BCRCC President and CEO Kristi M. Howell.
"We are also focusing on growing our Young Professionals Network to cultivate our next generation of leaders. ... We offer some of the best employee training and education in the state through Rowan College at Burlington County," Howell adds. "We have a proactive county government and many municipal governments that work with businesses to attract and retain them through incentives and ensuring that they are in the right location."
Real Estate Market
With an uptick in the business scene, the real estate market is answering the call of curating more space for employees to live near their workplace. "People are moving here for these new job opportunities, ergo higher demand for housing, which creates increased sales in the local stores and businesses," explains Schneider. "[It's] a great economic ripple effect."
Davis Enterprises—whose multi-family properties include Roger's Walk, Ryan's Run and Allison Apartments, in addition to retail and hospitality properties from The Promenade at Sagemore to DoubleTree Hotel and Redz restaurant—is behind some of the area's biggest communities, as they cater to every lifestyle, stage and income levels from young professionals, empty nesters, newlyweds to retirees.
"As the population grows, I recognized the need for more housing that fits the needs of the community. The distance to local shops and easy access to transit made Burlington County an obvious choice to build," says Davis Enterprises owner and CEO Mitchell Davis. "The balance of good schools, safe communities and proximity to Philadelphia as well as a growing corporate base are creating an increasing demand for housing. Many new residents are seeking close proximity to urban living, paired with suburban amenities and conveniences."
One example of that is their latest property, Jackie's Crossing in Marlton, which is part of Evesham Township's 2020 Vision Plan for the historic Marlton Village/Main Street neighborhood. "The overall goal for this area is to make Marlton Village a more vibrant destination, with civic gathering places and an inviting mix of shops, restaurants and services along a pedestrian-friendly streetscape," explains Davis.
That revitalization is also where Regan Young, AIA/PP, president of RYEBREAD Architects comes in. His team recently upgraded the Pemberton, Southampton, and Mount Holly school districts, in addition to designing a consolidated firehouse facility in Mount Holly.
"These clients understand that making an investment in their facilities pays long-term dividends in increased productivity and lower operating costs, while creating a healthier, more pleasant interior environment," says Young. "Unfortunately, roadside development and suburban sprawl continue to be the norm. There are only a few examples of successful downtown revitalization and mixed-use new urbanism. … While many of our downtowns are struggling, they continue to be the focus of community arts and civic participation. Pedestrian-oriented environments continue to be valued habitats to live, work and play."
The Tourism Scene
Those downtown communities are exactly where tourism thrives, thanks to longstanding wineries and an array of new breweries and restaurants popping up. From Zed's Beer in Marlton, Lower Forge Brewery and Nale House Brewing in Medford, Iron Hill Brewery & Restaurant in Maple Shade, Common Sense Brewing in Bordentown, Spellbound Brewing and Village Idiot Brewing Company in Mount Holly, all breweries are cultivating a strong presence within their communities.
Additionally, restaurants—from Burlington City's Brickwall Tavern and Riverview Restaurant, LaScala's Fire in Marlton, Medford's ITA 101 and more—are also providing a gathering atmosphere. "Dining in Burlington County has really seen a great upswing in recent years—not only in the quality of the new restaurants, but in the diversity of their cuisine," notes Schneider.
Additionally, Burlington County is also home to wineries, Columbus' Iron Plow Vineyards and Valenzano Family Winery in Shamong. "Valenzano has called Burlington County home since 1996 and today remains one of the East Coast's largest wine producers," Garganio proudly adds.
Beyond downtown communities, Burlington County is also known for its open space. Not only do those both attract tourism, thanks to developed parkland, hiking trails, recreational water access, picnic facilities, farms and fairs, it also gives residents a place to buy local through the Farmers Market at the Burlington County Agricultural Center and neighboring farms.
Moreover, the county's Farmland Preservation Program continues to work on saving farmland and recently achieved milestones. "The county preserved two new farms … bringing the total to 250 farms and more than 30,000 acres of farmland preserved by the Freeholder Board in Burlington County," explains Garganio.
Historically, the county is also known for its rich history, as it's home to the Abbott Farm Archaeological Site, Arney's Mount Friends Meetinghouse and Burial Ground, Historic Smithville Park and more. "Our history and location are enticing for businesses who wish to take part in the long-standing success of Burlington County," adds Davis.
With current and prospective businesses and residents looking to call Burlington County home, the Freeholder Board has made it a point to retain the county's true characteristics in sync with the economic growth. "As we work to attract new businesses and jobs to the area, we continue to do so in a manner that does not change the unique character of our communities," explains Garganio. "The Freeholder Board remains committed to preserving, protecting and improving quality of life for residents, with a balance between open space and development.
"We are confident that by working with our municipalities, educational institutions and local businesses, we will continue to attract greater growth, bringing with it good paying jobs and further improving the quality of life for our residents. … We are committed to doing all that we can to continue the economic progress we have seen recently, and to further improve the business climate throughout our county."
Through all the growth and expansion, Burlington County continues to uphold its gleam as a hidden New Jersey gem that is on the rise.
WHAT BUSINESSES ARE SAYING
REPUBLIC BANK
Rob Worley, Senior Vice President and New Jersey Market Manager
"In recent years, the business scene in Burlington County has experienced a great renaissance. Republic Bank is helping the cause, as we're proud to have our South Jersey headquarters in Marlton. … Virtua, Wegmans, Costco and [Rowan College at Burlington County] are a few of the organizations that have led this boom in Mount Laurel and Moorestown. … Equally impressive, there are many nonprofit organizations making an impact in the county. With each new store opening, Republic Bank is honored to partner with a local nonprofit. It's all part of our deep commitment to giving back to the communities we serve."
UBS FINANCIAL SERVICES, INC.
Steven A. Kalodner, Senior Vice President and Portfolio Manager
"Burlington County is full of new vibrant businesses that are doing well in this tough economic environment we are in. My clients in this area are very optimistic about the upcoming holiday season and say they will spend more than they did last year. I enjoy helping my clients invest wisely and when their net worth increases they spend more money in the local community."
SURETY TITLE COMPANY, LLC
Keith Langan, Executive Vice President
"Surety has been headquartered in Burlington County since our inception and we have enjoyed many benefits including access to a skilled workforce, wonderful and active business partners and customers, as well as easy access to the Philadelphia market and the entire state of New Jersey. … We have seen a continued rise in development. Many of our customers are actively pursuing further expansion."
PICS ITECH
Terry Rossi, CEO
"South Jersey—and in particular Burlington County—continues to evolve and grow. Investments in defense, health care and education are all feeding the economy and helping grow our business. The Rowan College at Burlington County partnership is providing a great candidate pool for our business."
KIWI OFFICES
Christopher Jerjian, President
"It's new for us as we have been based in Mercer County for over 30 years—new means many opportunities! I like the fact that each town is a community and once you meet a few people word spreads very quickly. If you have a product that people need then it will bode well for your business as we emerge from a decade-old recession."
LIBERTY LAKE DAY CAMP, LIBERTY LAKE PICNICS AND NEW JERSEY RENAISSANCE FAIRE
Andy Pritikin, Owner and Director
"People move to Burlington County because of the rural backdrop, which attracts a certain kind of laid-back suburbanite, different from folks in Mercer or Camden County who tend to be 'city-centric' in their values and attitudes. The families and staff I work with are down to earth, appreciative of their quality of life, empathetic and understanding."
MILLSTONE RIVER WEALTH MANAGEMENT, LLC
Matthew Siegel, Managing Principal
"Having recently expanded our firm into Marlton, we have enjoyed the sense of community Burlington County offers. It is a Philly suburb, of course, but exhibits its own culture. … There are new restaurants and offices everywhere I look. People are eager to build and expand businesses here and the growth is exciting."
Published (and copyrighted) in South Jersey Biz, Volume 7, Issue 11 (November, 2017).

For more info on South Jersey Biz, click here.
To subscribe to South Jersey Biz, click here.
To advertise in South Jersey Biz, click here.