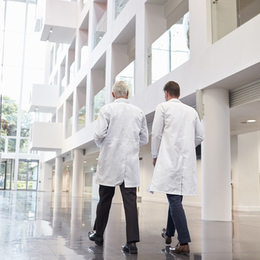 A New Medical Model
November 2017
In recent months, South Jersey has seen major changes to its health care system in the form of hospital mergers and affiliations, with partnerships between Virtua and Penn, Lourdes and Cooper and, most recently, Kennedy and Jefferson. These collaborations promise an expanded level of care and services for South Jersey residents, but in some cases, the decision to team up was borne out of necessity. While patients can benefit from new programs and facilities and enhanced medical services closer to home, the benefits for a hospital when it comes to joining forces with another organization are numerous.
According to Kerry McKean, vice president of communications and member services for the New Jersey Hospital Association (NJHA), potential motivations for joining a larger health system may include a stronger position to negotiate rates with insurance providers, greater access to market share in a competitive environment and access to service lines and capital that they may not have as a smaller facility.
"Financial pressures in health care are another driving factor," she adds. "Hospitals have absorbed deep Medicare funding cuts over the last several years under the Affordable Care Act and under sequestration reductions, so being part of a larger system can put hospitals in a better place to weather those kinds of cuts."
According to McKean, the trend spans across the state, with some 80 percent of the state's hospitals now part of a larger health system. Initially, hospitals were joining into health systems, and now those systems are connecting with other systems— sometimes beyond state lines.
"One of the driving forces behind hospital mergers and health system consolidation is the focus on reducing costs through better coordination of health care services. We're seeing systems coming together not only with hospitals, but also with other types of health care providers like nursing homes and home health to provide more integrated, coordinated care," McKean says. "The goal is more seamless care for the patient and lower health care costs."
Penn Medicine and Virtua is one example of a partnership that crosses state lines; the systems formed a strategic alliance two years ago to support and strengthen Virtua's delivery of care in the areas of cancer and neuroscience. Now patients with cancer have easier access to complex and high acuity care such as bone marrow transplants and advanced hematology and surgery, while patients with brain, spine and nervous system disorders have access to Penn's clinical trials and the most advanced neurosurgical care close to home in South Jersey.
"This partnership is allowing both organizations to do what we do best. Virtua was interested in our robust cancer and neuroscience program, and since Virtua was already providing outstanding coordinated care—and many of Penn's employees live in South Jersey—it seemed like a perfect fit. So far, that has proven to be the case," asserts Kathy Krumenacker, associate vice president of strategic partnerships for the University of Pennsylvania Health System.
"It has also allowed us to provide a multi-disciplinary approach for patients in one location," adds Tracey Commack, associate executive director for Penn Medicine Cherry Hill. "In the same practice where a neurosurgeon is evaluating patients, we also have physical medicine and rehabilitation and pain or musculoskeletal specialists. It's a great benefit for the patient to have those services—or a second opinion— available right next door."
In addition to its strategic partnership with Penn Medicine, Virtua has also teamed up with organizations such as the Children's Hospital of Philadelphia (CHOP) in order to enhance the level of care they can provide to local residents; CHOP physicians are available within the hospital's emergency department, pediatric intensive care unit and neonatology units. "When it comes to developing partnerships, we look at what the community's needs are, what services we already have within our own health system, and then assess where there may be gaps in the level of service we provide," explains Stephanie Fendrick, senior vice president of strategic partnerships and service line strategy at Virtua. "One of the reasons so many hospitals are striking partnerships is because health systems are increasingly being held accountable for the health of the population within their community and may need partners to help fill some of those gaps."
Alliances and Acquisitions
Inspira Health Network and Rowan University have also teamed up to better serve both patients and medical students in South Jersey. In 2016, Inspira Health Network purchased 100 acres of land for the construction of a new $350-million, 200-bed medical center on Rowan's West Campus in Harrison Township. Expected to open late in 2019, the new medical center will employ 1,400 people and replace Inspira's hospital in Woodbury. "As our new hospital is being constructed, we've also continued to expand our affiliation through a teaching program with the Rowan School of Osteopathic Medicine," adds John DiAngelo, CEO of Inspira Health Network. The health care system has also established an innovation lab at Rowan's technology park to develop new services to better serve the needs of the community.
Inspira has also formed partnerships with entities such as Nemours Children's Health System and Cooper University Health Care. Nemours provides pediatric health services at Inspira, such as in-house pediatricians within the pediatric emergency and neonatology departments, while Inspira has also coordinated enhanced programs in fields such as neuroscience with Cooper University Health Care.
"These partnerships have allowed us to increase the complexity of cases we can keep in our facility; we used to have to transfer hundreds of neurosciences cases a year, and we were unable to treat newborns under 28 weeks, but now we're able to care for those patients right here," he adds. "Nobody wants to go to Philadelphia or Delaware if they can have access to the medical services and treatments they need right here in South Jersey."
In addition to partnerships and mergers, the local industry is also experiencing acquisitions, such as Cooper University Health Care's recent letter of intent to acquire Trinity Health's New Jersey facilities, including Our Lady of Lourdes Medical Center in Camden, Lourdes Medical Center of Burlington and St. Francis Medical Center in Trenton.
"We are excited about the opportunity to welcome our colleagues from Lourdes and St. Francis to the Cooper team," says Adrienne Kirby, president and CEO of Cooper University Health Care. "We look forward to joining forces in order to continue our mutual traditions of providing quality health care to residents across the region. This transaction allows us to keep their hospitals open, invest more than $100 million in improvements to the hospital campuses, and welcome all the Lourdes and St. Francis employees to our team."
When complete, the combined entity will become the largest health system in South Jersey, and the fourthlargest health system in the state. The organization is expected to have revenues of nearly $2 billion, more than 12,000 employees, and create one of the state's leading physicians group with nearly 900 employed physicians.
"For our community and our ministry, our partnership with Cooper will create new opportunities for high-quality care and long-term growth," says Dr. Reginald Blaber, president of Lourdes Health System. "We are especially excited to have the opportunity to bring our physician networks together and to develop a regional cardiac center of excellence."
Another significant merger that continues to change the landscape of health care in South Jersey is between Kennedy Health and Jefferson Health; Kennedy's hospitals in Cherry Hill, Stratford and Washington Township have now become part of Jefferson's network. A ceremonial signing took place earlier this fall to commemorate the official merger of the two organizations; the milestone marks the first time a Philadelphia health system has fully merged with a South Jersey health system.
Shared Resources
"When the Affordable Care Act was put into place, we knew the industry would start changing rapidly. … And we decided we wanted to be part of a bigger system so we could provide a more seamless level of care," explains Joseph W. Devine, president of the New Jersey division for Jefferson Health and executive vice president of hospital and health services at Jefferson Health. "We had a previous partnership with Jefferson and felt they would provide the greatest opportunity to experience additional growth in South Jersey and provide an enhanced level of specialty services at the right value for our patients."
The partnership builds on Jefferson's innovative hub-and-hub model, where Kennedy Health will serve as the South Jersey core of Jefferson Health. Local residents will receive care from the same physicians, nurses and staff, while also having access to Jefferson's advanced clinical services and trials.
The mergers within the industry are also leading the way for new technological developments to bring care right into patients' homes; Jefferson Health is in the preliminary planning stages of integrating the organizations and expanding access to specialty and primary care in New Jersey through additional sites of care and Jeff- Connect, a telehealth program that offers patients on-demand video visits at any time of day as well as scheduled video visits, remote second opinions and virtual rounds. Jefferson Health's physicians in New Jersey are anticipated to join Jeff- Connect in the coming months.
"Partnerships in the health care industry are all about creating new advancements and opportunities to help people get the care and services they need. Every health system has a mission to be successful. … And we all have a responsibility in South Jersey to work together as much as possible and make sure that the community is always benefiting," Devine concludes. "We're fortunate in that we have so many great hospitals right here in South Jersey, and as long as these mergers and partnerships are done for the right reason—to improve consumer access to health care— they will continue to provide great new opportunities for local residents."
Published (and copyrighted) in South Jersey Biz, Volume 7, Issue 11 (November, 2017).

For more info on South Jersey Biz, click here.
To subscribe to South Jersey Biz, click here.
To advertise in South Jersey Biz, click here.