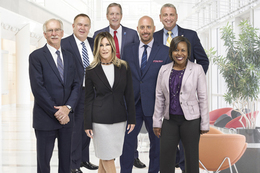 Executives of the Year
December 2017
There's no shortage of impressive stories in our local business landscape, but the cumulative experiences of this year's Executives of the Year are nothing short of inspirational. These men and women have worked their way to the top of their fields with dedication, drive and unmatched commitment in the fields of finance, education, health care, law, real estate, nonprofit, technology and more. We're proud to recognize this year's winners and look forward to seeing what's next on their paths.
KENNETH BARNSHAW
A 30-year veteran in the financial industry, Barnshaw has experienced many changes throughout his career, beginning with Core States Bank, which eventually emerged as Wells Fargo Bank. Today, Barnshaw is the vice president of government relations and community affairs for South Jersey Federal Credit Union (SJFCU), headquartered in Deptford. He believes the keys to success are faith, the ability to listen and a thirst for knowledge and learning. Building the SJFCU brand through relationships with governmental leaders from Trenton to Cape May and regional educational and medical institutions, Barnshaw has increased membership with those institutions, while expanding services to SJFCU members in governmental agencies. As SJFCU has grown, Barnshaw has helped to develop several major infrastructure initiatives and continues to incorporate charitable partnerships with several South Jersey organizations.
DONALD A. BORDEN
Borden was appointed Camden County College's fifth president on April 5, 2016 following a nationwide search by the college's board of trustees. He previously served as superintendent of the Audubon Public School District in Camden County from 2006 to 2013. During his tenure, the district solidified its financial footing while increasing diversity through the implementation of the school-choice program. In addition, his entrepreneurial approach to leadership led to creating partnerships with a number of organizations that increased the district's revenue. He also reorganized the district, which led to greater fiscal efficiency and improvement of the delivery of support services, while maintaining research-based class sizes.
THOMAS D. BEGLEY III
A lifelong resident of South Jersey, Begley earned both his undergraduate and law degrees at Georgetown University. He is the co-chair of the Trusts & Estates Group at Capehart Scatchard in Mount Laurel and concentrates his practice in the areas of estate and tax planning, estate administration, small business representation, elder law and probate litigation. Active in several organizations, Begley is a member of the American Bar Association, the Burlington County Bar Association and the New Jersey State Bar Association. In addition, he is an accredited attorney for the preparation, presentation and prosecution of claims for veteran's benefits before the Department of Veterans Affairs (VA). He is also an organizer, moderator and lecturer for the National Academy of Elder Law Attorneys Symposiums.
ALEXANDER BOTHWELL JR.
Bothwell has extensive experience in operations, team building, and alliance creation. As CEO of Primpepoint LLC since 2000, he is responsible for overall strategic direction and management, with specific emphasis on capital formation, strategic alliances, new business development and implementation of the strategic plan. He spent eight years as an engineer and manager at Alcan Aluminum Corporation and in 1990 joined David Bothwell at dvPayroll. Together they consistently improved the business by expanding the client base, implementing process automation, developing new solutions and increasing profitability. At Primepoint he has created an environment that enables organic growth of 20 to 25 percent annually while expanding the products and solutions delivered. Locally, he chaired his municipal zoning board for eight years, and was a founding member of the youth football organization.
ALFRED CAMPANELLA
Reporting to the Virtua CEO, Campanella's current role includes serving as COO for Virtua's three acute care hospitals, two rehabilitation/skilled nursing centers, a home care agency and numerous hospital-based ambulatory programs in multiple locations. He also oversees community health engagement services, information technology services, telehealth services and media relations. Prior to mid-2017, Campanella served as Virtua's executive vice president for strategic business growth, overseeing various business development opportunities with local and national businesses, information technology, marketing and the access-navigation center. Before assuming that role, he served as Virtua's chief information officer for four years, and for three of those, he was the chair of New Jersey's Health Information Technology Commission. Prior to joining Virtua in 2008, he was a consultant for nearly eight years with CTG Healthcare Solutions and Deloitte, two nationally marketed consulting firms.
JIM CATRAMBONE
Catrambone possesses more than 25 years of executive and management level experience including serving as executive director for The Joseph Fund of Camden, director of major gifts for AtlantiCare Health Systems, managing partner at Federico Associates in West Chester, Pa., and director of institutional advancement for Monsignor Bonner & Archbishop Prendergast High School in Drexel Hill, Pa. In these various roles, he cultivated and solicited philanthropic support and developed strategic plans. In his current role for The Joseph Fund, he is responsible for operations, fundraising, budgeting and community outreach which benefit programs that include providing affordable housing for low- to mid-income applicants, community development, education for children ages 3 through 19, youth programs and transitional housing for homeless citizens.
WILLIAM COSSABOON
Cossaboon has been a Columbia Bank employee since 2001. With 31 years of local commercial banking and lending experience, Cossaboon currently serves as the regional vice president of South Jersey Commercial Lending at Columbia Bank. He also has managerial responsibility for the bank's South Jersey commercial loan department and loan portfolio. A well-known figure in banking, business and community affairs, he is an active member of the Chamber of Commerce of Southern New Jersey. Cossaboon is also a regular supporter of community-based projects and has volunteered his time as a treasurer and board member at The Kings Christian School, Bancroft, March of Dimes and at Habitat for Humanity affordable housing construction projects.
FRANK FILIPEK JR.
Filipek has worked on behalf of Camden County residents for more than 22 years in various leadership roles in county departments including Health and Human Services, Alcohol and Substance Abuse and Economic and Workforce Development. The architect of enhanced agency cooperation and many newly created programs, Filipek left a lasting impact on each of the areas he served. Under his leadership as director of the Department of Events and Community Outreach, Filipek's team carries out the vision of the Freeholder Board as they introduce new initiatives to the county's event portfolio. Most notably, the March Against Gun Violence held in Camden, the Regional Candlelight Vigil honoring those lost to addiction, and the new Camden County Eats event promoting the county's rich culinary landscape and Shop Local campaign.
GREG LALEVEE
Lalevee serves as the business manager of the International Union of Operating Engineers (IUOE) Local 825, chairman of the Engineers Labor-Employer Cooperative (ELEC) and the eighth vice president of the IUOE General Executive Board. A second- generation operating engineer, Lalevee learned about the labor movement from his father. He worked as a crane operator from 1984 through 2000 when he became Local 825's first organizer. In 2011, Gov. Chris Christie named him to serve on the New Jersey Transportation Trust Fund Authority. He also serves as a vice president of the N.J. Building Trades and as a member of the state of New Jersey's Licensed Crane Operators Advisory Board. He is the recipient of numerous awards, including the New Jersey Society for Environmental Economic Development's 2012 Peter F. Smith Labor Leader Award and a New Jersey Alliance for Action Eagle Award in 2013, among others.
BRIAN JONES
Jones is the president, CEO and director of The First National Bank of Elmer. In this capacity, he provides leadership to all bankwide initiatives, programs and activities. He ensures the achievements of all financial and operational goals while supporting the bank's mission, vision, culture and values and maximizes shareholder equity while fulfilling responsibilities to both clients and the communities the bank serves. He has been published in the Journal of Risk Management in Financial Institutions and has been a presenter on multiple aspects of risk management for the Risk Management Association, Community Bank Integrated Risk Management Forum and the American Bankers Association. He was named honorary chair and top fundraiser for the Gloucester County March of Dimes, Walk for Babies 2017 and received the South Jersey Humanitarian of the Year Award from the Volunteer Center of South Jersey in October 2015.
LORI LEONARD
Leonard began her career in 2011 with Habitat for Humanity for Burlington County and Greater Trenton- Princeton as manager of family services. From director of development to executive director, Leonard has worked her way to become the CEO. Holding numerous counseling positions over the last 27 years, she has helped individuals and families with an array of personal issues. Featured in People Magazine and on the Oprah Winfrey Show for being a Hometown Hero, Leonard has also received numerous awards including: Hero of the Year Award from Wish Upon a Hero Foundation, the 2017 United Way Agency Director Award and this year she was chosen to be an Honorary Commander for the Joint Base McGuire- Dix-Lakehurst.
SAM LEONE
As the regional vice president of Conifer, a member of the executive committee and Conifer's senior leadership, Leone has helped develop over 40 Conifer communities. Leading the Maryland region, Leone's corporate responsibilities include overseeing the Plan Review functions, ensuring development quality and consistency, and providing mentorship to development team members. Leone has participated as a featured panelist and guest speaker across the nation in the fields of affordable and mixed-income housing, real estate development and construction. In 2008, Leone was honored by Conifer Realty, LLC with the Outstanding Achievement Award, and in 2013, he received the Dedicated Service Award from the Gloucester County Chamber of Commerce.
GARY MASINO
Masino represents over 4,000 sheet metal workers as the president and business manager of the Sheet Metal Workers Local Union No. 19, and serves as a general vice president of the International Association of Sheet Metal, Air, Rail and Transportation Workers, which represents over 215,000 members in 185 local unions across the United States and Canada. A third-generation sheet metal worker with 35 years experience in the industry, Masino's contributions and tireless commitment to the labor movement have earned him the respect and recognition of his peers, who have elevated him to multiple leadership positions since his election. He is the current president of the Pennsylvania State Council of Sheet Metal Workers and vice president of the New Jersey State Council of Sheet Metal Workers. He also serves as an executive board member of the Pennsylvania State Building Trades and the Pennsylvania AFL-CIO.
JERRY M. MAURO
As the managing director and administrative vice president at Wilmington Trust, Mauro is responsible for providing comprehensive wealth management advice to high net worth individuals and families, business owners, entrepreneurs, and foundations and endowments. With over a decade of experience in the financial services industry, Mauro specializes in business and health insurance consulting for middle-market companies. Currently, he manages a group of specialists in the Philadelphia and South Jersey regions with expertise in planning, trust, investment management, family governance and family office services. Mauro is also a member of the Philadelphia Estate Planning Council, the Union League of Philadelphia and a board member of NHS Human Services Foundation.
VINCENT M. PASTORE, CPA
Pastore is a principal in the Cherry Hill office of HBK, having joined the firm in 2016. With 29 years of experience in the area of taxation, he works with closely held corporations, partnerships and sole proprietors, with a specialty in the areas of construction contractors, manufacturers and real estate. His areas of expertise are tax planning and consulting, which include: business tax planning, entity structure, mergers and acquisitions, individual tax planning, state and local tax planning including nexus studies, estate, gift and trust planning, research and development credits, solar credits, state and local business incentive credits, cost segregation studies and captive insurance arrangements. His tax resolution proficiency encompasses offers in compromise, voluntary disclosure agreements and installment agreements.
MERRICK ROSENBERG
An author, entrepreneur and keynote speaker, Rosenberg, the CEO and co-founder of Take Flight Learning, has done it all. Rosenberg specializes in team building, leadership development and utilizing the DISC training programs. Taking Flight with DISC, a training program designed by Rosenberg, is recognized by Corporate Vision Magazine as the best personality styles training program in the United States. Rosenberg is also the co-founder of Team Builders Plus. An engaging speaker and presenter, he is a regular guest on radio shows across the country and has been invited to speak by such organizations as TEDx, the Association for Talent Development, the Society for Human Resource Management, the Project Management Institute and the International Society for Performance Improvement, among others.
MATTHEW REILLY
With years of experience, Reilly has been the president and CEO of MEND, Inc. since 2002. MEND is a nonprofit affordable housing development and management company located in Moorestown that has been active in the Burlington County region since 1969. Reilly serves on the executive board of the Housing and Community Development Network, and he has also been featured in The Philadelphia Inquirer for his expertise on affordable housing in New Jersey. Reilly and MEND recently received the Governor's Award for Excellence in Affordable Housing for the Duffy School Apartments in Florence Township. MEND has also been The Nonprofit Development Center of Southern NJ's Nonprofit Organization of the Year.
MONIKA WILLIAMS SHEALEY
Shealey became the dean of Rowan University's College of Education in 2013, and at just 39 years old, she was the youngest dean in the history of the institution. Under her leadership, the College of Education established CASE: the Center for Access, Success and Equity in the College of Education. With Rowan's divisions of Student Life and Student Success, Shealey also established Project IMPACT, a program that works to increase the representation of racially and ethnically diverse backgrounds of male practitioners and classroom teachers. Honored for her efforts as a research leader addressing the structural barriers in the teaching profession, Shealey received the Teacher Diversity Research Award from AACTE.
LIZ SORINO
Sorino, executive vice president and cofounder of Marlton-based Xtel Communications, has been instrumental in growing Xtel from a fledgling local and long distance provider into a multi-million dollar regional leader in voice, data, Internet and cloud services. She credits Xtel's growth curve with the deployment of hosted PBX service, allowing customers to enjoy enterprise class phone features without the capital investment. As she celebrates Xtel's 20th anniversary, Sorino plans to grow the business 20 percent by introducing even more cutting-edge technology. An active and communityminded professional, Sorino stays involved with industry organizations, has walked in multiple 60-mile Susan G. Komen 3-Day events, and actively supports Toys for Tots.
WILLIAM F. WHELAN
Whelan is the senior vice president of branch and government banking and community reinvestment at Capital Bank of New Jersey in Vineland. Whelan blends his career in South Jersey banking with 15 years' experience in elected governmental positions including six years as a Cumberland County Freeholder (director for two years), as a member and president of the Cumberland Regional Board of Education and on numerous professional and civic boards. His involvement in several local chambers of commerce, including the Bridgeton Chamber, will culminate later this month with his installation as chairman. He is also a charter board member, and member of the M-25 Initiative, a nonprofit raising money to get at the root cause of and to end chronic homelessness in Cumberland County. Recognition of his service includes the Southern Star Award as the outstanding freeholder within the eight Southern New Jersey counties in 2013.
Published (and copyrighted) in South Jersey Biz, Volume 7, Issue 11 (November, 2017).

For more info on South Jersey Biz, click here.
To subscribe to South Jersey Biz, click here.
To advertise in South Jersey Biz, click here.