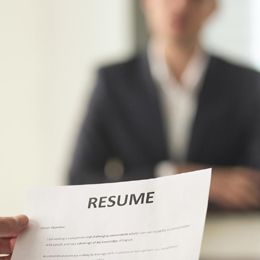 Hiring Survey
Close of Biz
Twenty years ago, hiring experts would have agreed that a college education was key to landing a good job and having a successful career. But, can the same be said of the careers of the future? This month, we asked our readership to weigh in on the topic. The answers that follow might just help you in your next hiring decision.
How important is a job candidate's education versus their experience when hiring a new employee?
When evaluating relevant factors in a job candidate, education is far down the list. Experience, followed by suitability to your culture, demonstrated native intelligence and common sense are major contributing factors.
—@AvalonBill61 on Twitter
I believe work experience should always be considered for a job even without a college degree. Years of real life work experience can provide a lot of value to an organization. If someone does not have a degree but can demonstrate many years of experience in their profession (e.g. an IT position), they should be considered for the role. On-the-job experience cannot be taught in a classroom.
—Liz Brosch on Facebook
In any leadership role, experience is key. Having a background in a comparable field, especially as a leader, in my opinion is just as, if not more important than a degree. It's amazing the number of successful business people I have met whose careers are nowhere near the same field they went to college for and studied in. It's the experiences they've had since leaving school (with or without a degree) that have helped them become experts in their field of business.
—Phil Corradino on Facebook
Although a candidate's education is relevant, experience is more important. Experience indicates whether or not a candidate has applied what was learned during their schooling. How a candidate has performed and what a candidate has achieved in their profession is most important.
—@LouisCappelliJr on Twitter
Her education was important, specifically her concentration in one area of communications. Her emphasis in a particular area was a good fit for my business. But she also came with some quality internship experience that really stood out as well. So, I guess when people are just coming out of college, it's a real mix of both. As they mature, other than checking off a required box that they attained a college degree, in my field, experience will outweigh that degree.
—Janet Garraty (@thegarratygroup) on Twitter on her first-ever hire
Both are extremely important. A certain level of education is often required for a job candidate to even be considered for a position. This level of education rises with the level of responsibility that comes with the job. Even when education is not required, it sets candidates apart from those that do not have a degree or certification. So, education gets you in the door, but it is experience that will get you the job. When employers see hands-on related experience, they see less training time and faster results, two things that are always important in a hiring decision.
—William Emerson, CSP, president, Emerson Group (via email)
We are currently in a talent-driven market. Making a bad hire is extremely costly, as is turnover. A job candidate's education matters to a certain extent, especially in specialty fields such as science, engineering, IT and some finance roles where certain certifications are required by regulatory bodies. But, the CEOs and hiring managers put more weight on a candidate's experience when making a hiring decision.
—David B. Nast, managing partner, Nast Partners (via email)
We first look at a job candidate's character before considering their experience or education; and have a "character first" hiring mentality. With that said, a candidate's depth of experience is critical. Contrary to belief, those that have higher education without the commensurate experience tend to demonstrate only a superficial depth of knowledge versus candidates who have the experience, but lack a higher degree. Great character, depth of experience and higher education are all requirements in our hiring decisions at TechStarters.
—David Suleski, CEO, TechStarters (via email)
Published (and copyrighted) in South Jersey Biz, Volume 7, Issue 9 (September, 2017).
For more info on South Jersey Biz, click here.
To subscribe to South Jersey Biz, click here.
To advertise in South Jersey Biz, click here.