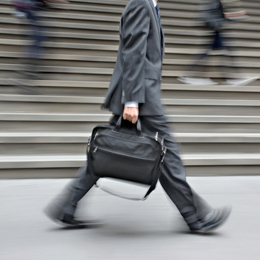 On the Move
September 2017
The Kennedy Comprehensive Breast Center announced Kahyun "Kay" Yoon-Flannery as medical director. She will oversee the breast care program including diagnosis and treatment for all types of breast conditions.
Laura Bishop Communications (LBC) hired Allyson Roberts as account manager and Carly Brady as an account associate. Roberts will focus on grant writing at LBC while Brady will use her skills for social media and work closely with clients.
Charny, Karpousis, Altieri & Donoian announced Michelle Altieri as the co-chair of the Camden County Bar Association Family Law Committee. She will work as a liaison between judges and family law attorneys.
Jim Cawley has announced his resignation as the president and CEO of United Way of Greater Philadelphia and Southern New Jersey. His official resignation date has not been announced but he will work to create a smooth transition for Mike DiCandilo, the interim president. Cawley resigned in order to focus on a new position at Temple University.
The American Heart Association announced two executives from New Jersey, Robert Hilkert and Kyle Jamaitis, will join its board of directors for 2017-2018. Hilkert is a cardiologist and Jamaitis is the vice president of academic development, global education for Abbott.
David Shields, M.D., medical director of the endoscopy lab at Inspira Medical Center in Vineland, won the inaugural Penn-Community Medicine Physician Award. The award is given to a gastrointestinal physician who maintains close ties to the University of Pennsylvania.
Rowan University hired Yatin Karpe as the new director of technology commercialization. His responsibilities include the oversight of industry engagement and the commercialization of Rowan inventions.
Hutchinson announced Clifton Hubbard as commercial project manager. He will oversee projects from pre-construction to completion to ensure that they meet company standards.
Duly Noted
Cooper University Health Care will be acquiring Trinity Health's facilities located in New Jersey. The facilities Cooper will be taking over include Our Lady of Lourdes Medical Center in Camden, Lourdes Medical Center in Burlington and St. Francis Medical Center in Trenton. The acquisition makes Cooper the fourth-largest health system in New Jersey.
Law firms Ballard Spahr and Lindquist & Vennum have agreed to merge on Jan.1, 2018. The name Ballard Spahr will be kept, and the joint firm will employ more than 650 lawyers nationwide.
Holtec International has opened a manufacturing facility in Camden. The facility, which cost more than $300 million to build, will employ 400 people and will be building a new style of small nuclear reactors.
Payroll processing and HR management company Primepoint will be the main sponsor of Trenton's arena football team, the Jersey Flight, for the 2018 season. The team's home games will be played on Primepoint Field.
Inspira Health Network will be the main sponsor of the inaugural Unified 5K Trail Run and Fun Run taking place on Oct. 22 at Rowan University. It will benefit Special Olympics New Jersey.
Cushman & Wakefield announced it had arranged the sale of a large industrial facility in Cherry Hill to GTJ REIT Inc. Avalon Flooring is the sole tenant of the facility, which sold for $7.6 million. The facility includes a new HVAC system, an upgraded building facade and motion sensor lighting.
Kennedy Cancer Center opened a new Lung Nodule Center. The center will provide care to patients who have abnormal lesions or spots on their lungs and will have physicians working closely with patients, treatment, counseling and specialized nurses.
Allied Building Products Corp. donated $3,500 worth of tools to Habitat for Humanity of Salem County to replace tools that were stolen from a construction site. Some tools that were donated include a circular saw, a cordless drill and a hammer drill kit.
Hutchinson received a contract from the Direct Install Program to expand to Atlantic and Cape May counties. The contract will allow the company to perform an energy assessment, replace lighting and energy equipment and help businesses complete applications.
Thomas Edison State University is the recipient of a $10,000 grant from the TD Charitable Foundation. The grant will be used for the N.J. Cultural Competency and English Language Learners Summer Institute (ELL), which will help educators to become more culturally aware of the diverse student population in early childhood and elementary schools.
The American Hospital Association's Health Forum named Cooper University Health Care as the most wired hospital on their Health Care's Most Wired list. This is the second year in a row that the hospital garnered that title.
The International Business Innovation Association and the Rutgers Food Innovation Center launched the Food Business Incubation Network (FoodBIN). FoodBIN is designed to create a network for entrepreneurs to create the best practices throughout the state.
Kennedy University Hospital has been recognized as a Best Hospital for 2017-18 in the South Jersey Region by U.S. News & World Report. The hospital received the title after high performances in heart failure, colon cancer surgery and chronic obstructive pulmonary disease (COPD).
Rowan Boulevard recently opened five more buildings, including a parking garage and four buildings that are designated for classrooms and housing for students.
New Jersey Manufacturing Extension Program Inc. (NJMEP) announced its sixth annual "Made in New Jersey" Manufacturing Day. The event will bring together manufacturers, students, supporters and more to talk about career possibilities along with the 2017 New Jersey Manufacturing Awards.
New Jersey Sustainable Business Council (NJSBC) has been launched by New Jersey business leaders to create a sustainable economic future for all of the businesses in the state. The NJSBC is associated with the American Sustainable Business Council.
Published (and copyrighted) in South Jersey Biz, Volume 7, Issue 9 (September, 2017).
For more info on South Jersey Biz, click here.
To subscribe to South Jersey Biz, click here.
To advertise in South Jersey Biz, click here.