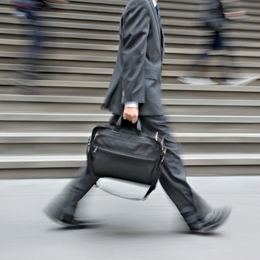 On the Move
Raymond A. Wulk joined Flaster Greenberg as the new executive director. He will be directing all administrative areas including finance, accounting, personnel, operations, technology and marketing.
Robins' Nest welcomed Stacey Barnes to its board of directors. In her new role, Barnes is responsible for oversight and management of the legal and compliance matters for the company's regulated natural gas utility, South Jersey Gas.
Kennedy University Hospital welcomed Dr. Henry Schuitema, Dr. Mark Schuster and Dr. Daniel Tarditi as medical staff officers. Schuitema now acts as the chief of staff, Schuster now acts as the staff vice chief and Tarditi is now the medical staff treasurer. Each will serve a two-year term.
Kenneth R. DeRosa has joined the law firm of Lauletta Birnbaum at its New Jersey headquarters. DeRosa concentrates his practice on securing patent and trademark protection for his clients worldwide as well as intellectual property litigation.
AmeriHealth New Jersey announced Michael Munoz as the company's market president. He will be responsible for the group's profit-and-loss management and the oversight of all business operations.
CRA Partners announced that John E. McWeeney Jr. was appointed to the board of directors. McWeeney also serves on the board of directors of the New Jersey Chamber of Commerce and on the board of the Center for Financial Training.
Rutgers University has teamed with Jordan Zimmerman, founder of the world's 14th largest advertising agency, Zimmerman Advertising, to ensure their new Big Data program delivers groundbreaking content to build a foundation for each program participant.
The American Society for Engineering Education (ASEE) elected Dr. Stephanie Farrell as president-elect. Farrell is a professor and a founding chair of the Department of Experiential Engineering Education in the Henry M. Rowan College of Engineering at Rowan University.
Cory K. Kestner has joined Archer as an associate in the firm's Princeton office. Kestner specializes in eminent domain, local property taxation and redevelopment.
Capital Bank of New Jersey has announced the promotion of Nia Coombs to vice president, the bank's commercial loan officer and SBA loan officer. Capital Bank also recognized the retirement of William J. Hallissey from its board of directors as well as plans to open a new loan production office in Marlton.
James Nesci has been appointed senior vice president, head of national sales of TD Wealth Private Client Group. Nesci will be accountable for growing the U.S. wealth business and deepening customer relationships.
Camden County Regional Chamber of Commerce announced Debra A. Arthur as president/CEO. Arthur has been a part of the chamber for over four years, first as the chamber's marketing coordinator and then as director of events and marketing.
Duly Noted
John B. Kearney has received the William A. Dreier Award from the Products Liability and Mass Tort Section of the New Jersey State Bar Association in recognition of excellence in and advancement of product liability and mass tort law in New Jersey. Kearney is the managing partner of Ballard Spahr's New Jersey office.
Two partners from the law firm of Charny Karpousis Altieri & Donoian were recognized for their expertise in divorce and family law. Karen Rose Karpousis and Michelle Altieri were named 2017 New Jersey Super Lawyers. The Super Lawyer honor is awarded after an extensive process using peer nominations, evaluations and independent research.
Nancy Pontes, an assistant professor at the Rutgers School of Nursing-Camden, has been inducted as a fellow of the National Academies of Practice. Pontes was also inducted as a distinguished practitioner and fellow of the Nursing Academy.
Our Lady of Lourdes Medical Center opened its new Hepatitis C Clinic, located on the first floor. It offers comprehensive evaluation, diagnosis, and treatment for patients with all phases of hepatitis C infection.
Bancroft will name its new campus for children and adolescents in Mount Laurel, the Raymond and Joanne Welsh Campus. Set to open in 2018, the campus will be home to The Bancroft School, the Lindens Center for Autism neurobehavioral program and campus residences, and recreational facilities and programs for students, families and the larger autism and special needs community.
BMW of Mount Laurel has been named a 2017 Center of Excellence Award Winner by BMW of North America. The award recognizes excellent business performance and an intense focus on customer service. This is the second time the dealership has been given the award.
New Jersey Community Capital received a three-star performance rating with Policy Plus and an A+ for financial strength and performance rating from Aeris information service.
M&T Bank has divided $1 million in funding among four organizations through the Neighborhood Revitalization Tax Credit program: Garden State Episcopal Community Development Corporation, New Jersey Community Development Corporation, Unity Square and Saint Joseph's Carpenter Society.
The American Association of Blacks in Energy (AABE) announced a new venture between Rowan University and Rowan College at Burlington County (RCBC) will become its academic partner. The partnership will provide AABE members access to programs and academic courses. RCBC will also host an AABE student chapter.
Published (and copyrighted) in South Jersey Biz, Volume 7, Issue 5 (May, 2017).
For more info on South Jersey Biz, click here.
To subscribe to South Jersey Biz, click here.
To advertise in South Jersey Biz, click here.