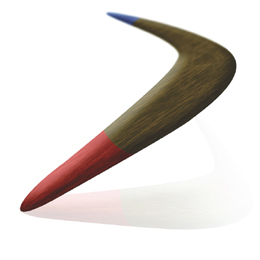 The Boomerang Effect
Letting go of someone who isn't the right fit for your organization can be painful. According to a recent survey, 49 percent of hiring managers have underestimated the complexities of the hiring process and 81 percent admitted to hiring a poor candidate. While it is never easy to let someone go from what was once thought to be a promising role, it can be necessary. Data shows that it takes more than eight weeks for managers to correct a mistake they've made with a bad hire—a process that takes far too long. During that two month stretch, the rest of your staff can feel overworked and underappreciated because they are picking up the slack—causing them to look elsewhere. The best thing any organization can do is not wait too long to admit a mistake—it is not good for the rest of the business or the struggling employee.
Conversely, losing good talent from your organization is even harder—especially if you are in the tech industry. It is hard enough to find talent for the skills and positions in high demand in South Jersey and Philadelphia, specifically in the areas of helpdesk support, business analytics, quality control and software engineering.
In all likelihood, you've spent hours training, grooming and coaching this person to be an integral contributor to your organization. To see that person take their talents elsewhere can be devastating— especially if there isn't anyone waiting in the wings to replace him or her. However, there is hope if you've had to say "goodbye" to a top performer: They could be a boomerang employee—someone who realized the grass wasn't greener on the other side and decides to re-apply.
According to a recent survey from Robert Half, 98 percent of human resources managers said they would welcome back a returning employee who left on good terms. However, 52 percent of workers said it's unlikely that they would apply for a job with a former employer—citing management, role and office culture as the main reasons for leaving in the first place.
So, if you've lost a valuable employee, how can you ensure that they leave on good terms and the door remains open for a possible return?
1. Let them know goodbye now just means "see you later." Tell a departing employee you'd be happy to rehire if the opportunity ever presents itself. Of course, wish them well in their new role and congratulate them, but also let it be known that if this new opportunity doesn't work out, you'd be glad to talk to them about the possibility of a return.
2. Offer to be a reference. Helping former employees to get ahead by attesting to their good performance will leave a lasting impression. It is often good advice for employees not to "burn bridges" on their way out the door. But the same can be said for employers. Even if this person doesn't rejoin your company, they may be inclined to refer other talented people they know to you if you end the relationship peacefully.
3. Network down the road. Professional networking sites make it so easy to keep in touch with former staff members. Reach out directly just to check in and see how they're doing, and to keep them in the loop on anything new and exciting happening within your organization. If they are interested in what is going on, you might get them back sooner than expected.
If you are fortunate enough to have a former employee return, there are also measures you should consider putting into place. Make sure you go through the same hiring process—speak with their most recent employer to find out why it wasn't a fit. There are always two sides to every story. Make sure you get the full picture before welcoming them back with open arms.
In addition, be transparent within your organization. Make sure that they know that a former employee is returning and what his or her roles and responsibilities will be when they re-start. It might seem like an easy decision for the hiring manager, but others need to be aware of the situation and understand the benefits that rehiring this person can bring.
Letting someone go from your organization isn't easy, and neither is bringing back a former employee. Each situation presents a unique set of challenges for hiring managers. No matter the industry, whether it is technology, finance or health care, hiring managers need to know how to approach each situation carefully and gracefully. While letting someone go who wasn't a fit or bringing back someone who was a tremendous asset both seem like easy decisions, they can be met with different reactions internally if not handled properly.
Christina Giglio is the metro market manager for Robert Half Technology & The Creative Group, with offices in Moorestown and Mount Laurel.
Published (and copyrighted) in South Jersey Biz, Volume 7, Issue 5 (May, 2017).
For more info on South Jersey Biz, click here.
To subscribe to South Jersey Biz, click here.
To advertise in South Jersey Biz, click here.