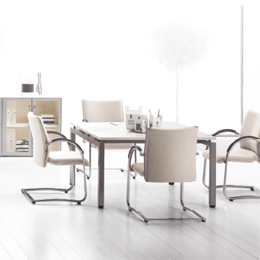 Modernizing Your Workplace
Today's challenge for businesses across the tri-state area is how to attract, retain and grow your most valuable employees in order to maximize productivity and ultimately increase the return on your tangible assets. Did you know that your office can be the single greatest recruiting tool you have? That's because to many employees, where they work is just as important as their salary and benefits. Let's face it; the biggest office problem we have is that most of the real estate in the Delaware Valley was built for the previous generation of baby boomers. The desire for the corner office overlooking manicured grounds with fountains, marble pillars in lobbies and the need to own more and more things is not a vision universally desired by the next generation workforce. We now need to have real estate and workspaces designed for Generation X and millennials and incorporate the new technologies that matter to today's business. This does not mean that we need to demolish and start over. But we can start making changes one fit-out at a time without breaking the bank.
Looking at your space differently
So how do you use your space wisely to retain and attract? You can start by looking at your current allocation of individual space versus collaborative space in your business. Companies that are looking forward are utilizing their real estate differently by eliminating private offices for executives, cutting lavish board rooms and even reducing the amount of individual workspace per employee. This can mean serious savings to your bottom line. According to real estate data provider CoreNet Global, by 2017, North American offices will average 151 square feet per worker. That's down from 176 square feet in 2012 and 225 square feet in 2010. The good news here is that space is not being cut universally across the board. As a matter of fact, a good deal of that space is being repurposed to encourage teamwork by creating open plan environments, communal lounge spaces and multi-purpose project rooms. These areas can also be used for meetings, rearranged for training or opened up for large gatherings and events.
It's not all fun and games
As much as it sounds like a lot of fun to create a ton of these playful social environments, it's important to not go overboard as it could foster more distractions leading to a reduction in productivity. In place of a lounge filled with pool tables, ping pong tables and bean bags, try a café filled with comfortable, residential style furniture to encourage socialization and have it fully wired for teleconferencing and video conferencing to maximize space constraints and increase production. It never hurts to be comfortable while training or sitting on a conference call.
Respecting privacy
While many forward-thinking companies have embraced the collaborative environment throughout the office, it's important not to forget the need for privacy. In the last five years, the benching solution has quickly killed the cubicle in many offices across the tri-state area.
When companies embrace benching for their offices, they need to find other ways to provide employee privacy. One solution is to include privacy booths, one- and two-person workspaces ideal for one-on-one conversations and phone calls requiring discretion. In addition, technologies such as sound-masking devices and sound-absorbing materials can also be used to reduce ambient noise levels in office environments. Taking these necessary steps will allow you to develop the culture that you are looking for while attracting and retaining your best employees.
When you create a workplace that can continuously adapt to the individual needs of employees and teams as a whole, you can turn your office into a valuable strategic asset, particularly during recruitment. There's no doubt that a future-oriented business with workspaces designed with multiple generations in mind has a much better chance to attract and retain top talent, which makes that company more competitive. It's time to take a fresh look at our real estate, technology, internal architecture and furniture if we are ready to compete aggressively for our nation's brightest minds. Will your office start holding you back?
Anthony K. Bellia is President of Bellia Work+Space Professionals. He also serves on the Workforce Investment Board for New Jersey.
Published (and copyrighted) in South Jersey Biz, Volume 6, Issue 5 (May, 2016).
For more info on South Jersey Biz, click here.
To subscribe to South Jersey Biz, click here.
To advertise in South Jersey Biz, click here.