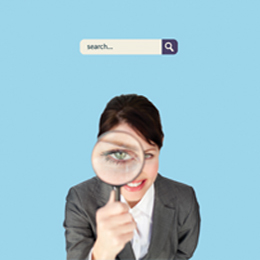 The Google Effect
Employers are turning to online resources to find out more about potential employees.
While background checks have long been a given when it comes to a company looking to bring on a new hire, that process has vastly changed not only with the advent of the internet, but more recently with the prevalence of social media. There are many ways employers can search online to find out more about you—and what you may think is "private" often still has ways of being seen. In this day and age, it's more important than ever to manage your online presence and become more aware of what information you have available for the public to view. After all, what Google says about you does create a sense of who you are—perhaps before you've even walked into the office for an interview.
The Google search
"I don't think there's any question that employers are Googling people—and they're getting savvier about doing it, too," says Len Ward, founder and director of search engine marketing for Commexis, headquartered in Haddonfield. "In the same way that people would search for a specific product they want to buy, they have specifics they're looking for when hiring someone. And they're going to see if they can find those specifics by Googling you."
Ward says that as a search engine optimization firm, it would be remiss for them to ignore the opportunity to explore potential candidates' backgrounds online. Kokua Technologies, based in Marlton, is also making use of the power of Google.
"Kokua conducts strong background investigations into all new hires and that includes Google searches," says Rae Pastore, vice president of sales and marketing for the company. "Our technicians and staff are trusted with highly confidential data and financial information and we cannot afford a misstep in our hiring process."
Darren L. Crane, president of DLC Technology Solutions Inc. in Marlton, agrees that companies are definitely utilizing the internet to find out more about potential hires, adding that they're likely targeting social media in their search. And in terms of managing one's online presence, social media is typically where most people go wrong.
"It's often silly things—a post that the person might not have thought a lot about—that end up catching our eye," Crane says of some of the typical "mistakes" people make online. "For example, bad-mouthing a past employer or divulging some sort of confidential information can be red flags that would make us wonder if the individual was a good fit for our company."
Ward agrees. "By far, the biggest mistakes people make in managing their online presence are on social media," he says. "I don't believe the younger generation realizes that social media can come back and harm your reputation when you're looking for a job. If you're seeking a job, make sure your social media pages are tightened up and private."
Crane says that following a conservative rule of not posting anything you wouldn't want your grandparents to see could also help polish your reputation for employers. Of course, you want to make sure you comb through your past history and delete old photos and posts that poorly represent you as well.
"I also see some individuals who keep more of a business profile page that has their full name and is separate from their personal profile," Crane says. "The personal page may have a nickname or even just be missing the last name. As an employer I'm going to turn to Google and will likely hit your professional page first. After that, I'll probably stop looking."
Search yourself
If you're really serious about better managing your online presence, the first thing you should do is search for yourself. Type your name into Google and see what comes up. If you're unhappy with some of the content, work on removing it, as well as the associated search results.
According to Google, if you find unwanted content online you must first determine whether you or someone else controls that content. If it's something you control—such as a photo from a Picasa or Facebook account—that's easy to take down. If it's something someone else posted, you may need to contact that individual.
In some cases, you can also contact Google. The company does have removal policies and if your concern is covered by their policy, Google will take down that information for you. This would typically cover sensitive data such as a bank account number or a photo of your handwritten signature. Embarrassing pictures are your job to deal with—unless they've crossed the line to be considered offensive. Google's policy says they do their best to remove offensive images and videos or hide them from search results if requested.
In addition to removing unwanted content, it's also important to remember to update content. Crane says that LinkedIn is often one of his first stops when checking out an individual's background. If your LinkedIn page is out of date—or worse yet, inconsistent with what is on your résumé—that could be a negative strike against you.
While the concept of an "online presence" can be a bit overwhelming, the most important thing to remember is caution. If you're more careful about what you're "putting out there," there will be fewer concerns over the management process.
"The No. 1 recommendation for managing one's online presence is simply to be more mindful of the permanence of an internet presence," says Pastore. "Anything that is posted potentially can haunt you, even years later. Make sure you keep your profile, pictures, thoughts, and opinions private amongst your 'friends.' Be aware that your online personal commentary can—and oftentimes does—result in negative ramifications in the professional realm."
Ward adds that you should look at your name as your "brand."
"The bottom line is, if you're looking to start or enhance your career, your name is your brand," Ward says. "You need to do anything you can to make your brand look the best that it can. Google your name regularly and stay on top of the content that is out there. If you find anything that could hurt your brand, take the steps to do something about it."
Published (and copyrighted) in South Jersey Biz, Volume 5, Issue 7 (July, 2015).
For more info on South Jersey Biz, click here.
To subscribe to South Jersey Biz, click here.
To advertise in South Jersey Biz, click here.