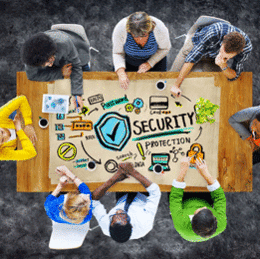 Close of Biz: Safeguarding Your Company
What steps business owners should take regarding security in the workplace.
Technology is regularly upgrading and employees will come and go, but security is one constant that all companies utilize to protect themselves and their businesses.
Without security—both of a company's online systems and their brick-and-mortar buildings—there would be chaos. Businesses would not be able to protect their assets, therefore leaving their consumers' investments at risk. Luckily for both parties, technology is moving along at an incredible pace, and the boom in technology is allowing for companies to invest in the best and most up-to-date security systems.
But before a business can implement a security system, they need to evaluate and identify their assets. Some of the most important assets lie within a company's software and hardware, but employees also need protection. According to David Humphreys of Avasek, LLC, security must be treated as an ongoing program.
"After a company has invested the time, money and resources to improve their security posture to protect its assets, it must be maintained with constant monitoring," Humphreys says. In order to ensure that all proper security measures have been achieved, businesses need to "take the time to have a security consultant come evaluate the security. There are consultants, such as Avasek, LLC, that will offer a free basic network assessment," Humphreys says. "This allows a company to make an informed decision if security consulting services are needed."
Security companies can also survey buildings for risk factors and then further assess what type of security system would be the best possible choice. Once a company can determine if and what kind of security services are needed, they can begin to take action on the steps necessary to safeguard their business. Humphreys suggests businesses take part in quarterly evaluations or audits to make sure their systems are up to date.
"Achieving a certain level of security standard can be time consuming and expensive if too much time goes by," he notes. "Quarterly assessments allow for a progression of improvements over time, stabilizing the cost of security while achieving that standard."
After a company evaluates and assesses the type of security services that are needed, it's time to move on to the installation phase. But what kinds of security measures are the most popular? There are so many different options, from cameras and alarms to spyware and firewalls.
"Alarm systems and camera systems are very popular and economical when business owners are not on site," says Jeffery Gross of Strike Force Protective Services.
Alarm and camera systems are some of the most notable security services provided to businesses. There is rarely a time when a customer enters a store without noticing a camera on the wall or an alarm by the entrance points. These security initiatives are especially helpful when a business cannot afford actual security personnel, or they are too busy and cannot keep up with all the customer traffic in and out of their property.
However, computer protection and online security are two of the most important safeguards companies should be investing in. "[Today], protecting your computer is the most important investment a business can make," Gross says. "The entire business normally operates from a computer. Look at the effect you have when your phone does not work."
It's also important to keep up to date and have systems tested on a regular basis to ensure the company's best chance for continuous protection. Len Simoni, general manager of B Safe Security, agrees that evaluating security needs should be a top priority.
"Technology changes so fast—who can keep up with the latest protection?" he says. "We have security systems installed that are 40 years old and still operating. We recommend that you test your system monthly and have a security professional test it annually. With the technology changes in the last five years, I recommend everyone consider an upgrade."
And one thing that the security experts seemed to all agree on? A large portion of business owners don't believe they need security—until it is too late.
Published (and copyrighted) in South Jersey Biz, Volume 5, Issue 7 (July, 2015).
For more info on South Jersey Biz, click here.
To subscribe to South Jersey Biz, click here.
To advertise in South Jersey Biz, click here.